Travel + Leisure India & South Asia brings you #TLFinds, a weekly series that gives you a sneak peek into new and interesting places and experiences across the country and overseas. The latest in this series of reviews is The Den Corbett Resort & Spa, a pet-friendly property nestled in the woods of Uttarakhand. Text by Sumeet Keswani
What is it?
A pet-friendly property in an Uttarakhand reserve forest offering complete nature immersion, healthy vegetarian food, and wellness experiences.
Ideal for
Nature lovers and families with pets.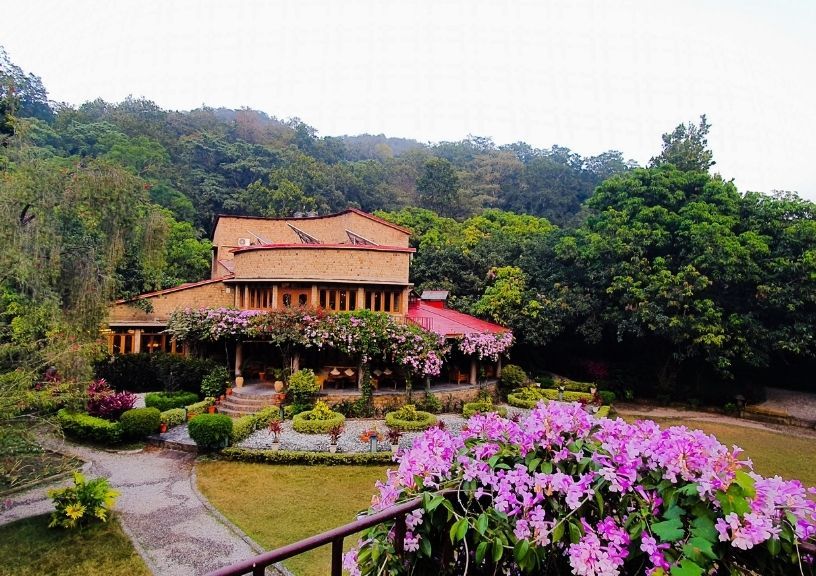 Review
Surrounded by thick woods, The Den Corbett Resort & Spa sits within earshot of the burbling Kosi river. It is spread over 13 acres of reserve forest land, once a hunting ground for the British. In fact, a British rest-house dating back to 1902 still stands nearby. The resort itself was built in 1989. At first it was just enough for family and friends of the owner, but it has gradually expanded and now features 54 spacious accommodation units. These include suites and cottages as well as a Treehouse Machan, which is perched 17 metres above ground level and offers enviable views of the sylvan surrounds.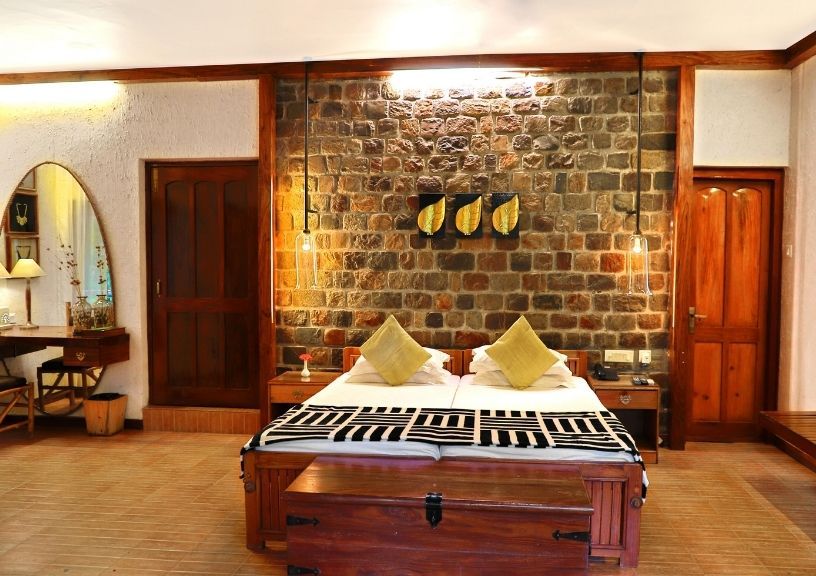 But none of these salient features was the decisive factor behind my choosing The Den Corbett as the retreat for our nuclear family. As parents of a dog with severe separation anxiety, our holiday plans usually revolve around pet-friendly properties within reasonable driving distance of New Delhi. The Den Corbett checked all the boxes.
The resort offers complete immersion into nature, with jeep safaris, birdwatching safaris, jungle treks, leisurely nature walks, and picnics. Safaris in the dense saal forest of Corbett National Park are always a treat. Tigers prowling in dense undergrowth, leopards mounting their kills on trees, jackals peeking out of bushes, herds of anxious deer prancing around, wild elephants bathing in the dirt on vast grasslands, and a variety of birds spreading their wings. Our agenda at The Den Corbett, with a dog in tow, was far from these thrills.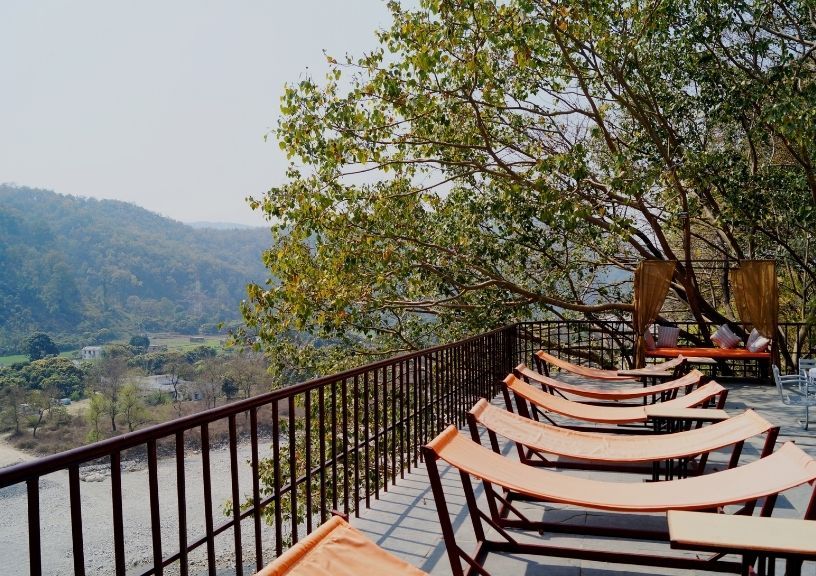 We spent our mornings and evenings walking the 25-minute downhill forest trail to the bank of the Kosi river. Our indie dog, Bella, enjoyed the abundance of space and greenery this activity afforded, a rare luxury for an urban canine. But we also had an unexpected guide: the resort's resident dog, a Labrador also named Bella, joined us on our walk every day. The country dog showed the city dog how to navigate the woodlands, chase away monkeys, and drink river water. The two namesakes couldn't have been more different, and shepherding both of them at once made for an adventure in itself!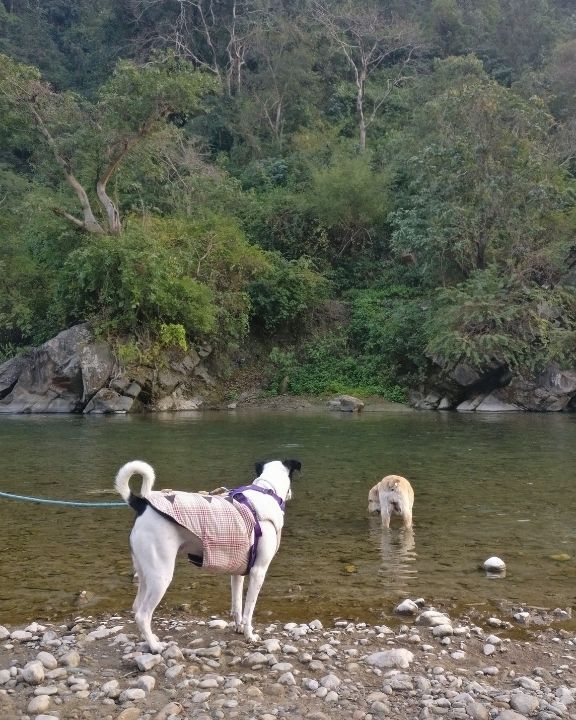 Our cottage was comfortable and kept the chill of December out. While we ordered customised dog meals in the room, our own hunger pangs were quelled at the resort's all-day diner, Spices of Corbett. The restaurant has inviting wooden interiors, with French windows bringing in the Shivalik mountain range and the river that flows below. Alas, dogs aren't allowed inside the diner! So, we decided so make the most of their al fresco seating. Perched even higher, Cafe Kumeria serves tea, coffee, fresh bakes and more all day, while regional cuisine finds its home at Kumaoni Dhaba Aipan, where Kumaoni thali, music, architecture, and costumes come together. Meanwhile, Vanantara Spa offers a mix of Western and Eastern therapies to make a comprehensive wellness menu.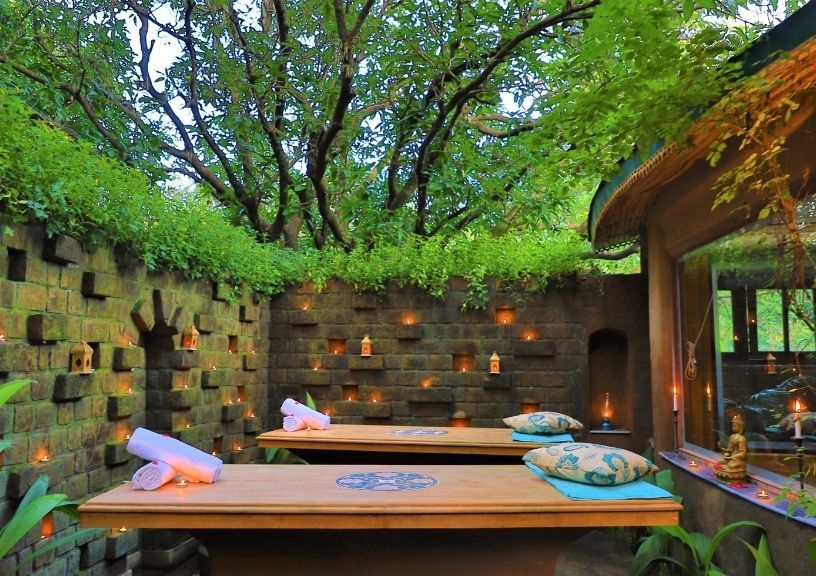 We, however, found our sense of well-being in our freewheeling walks on the riverbank, and the long hours of play that the two Bellas and all the other four-legged patrons of The Den Corbett Resort & Spa enjoyed on its vast green lawns.
Address
The Den Corbett Resort & Spa, Kumeria Reserve Forest, PO Mohan Dist, Almora, Uttarakhand – 244715.
Tariff
Starts from INR 5,500 per night for two.
Contact
+91-9711488820, +91-9711588820
bookings@thedencorbett.in
Related: TL Finds: 36 Palms Beach Resort, A Seaside Retreat in Cherai, Kerala