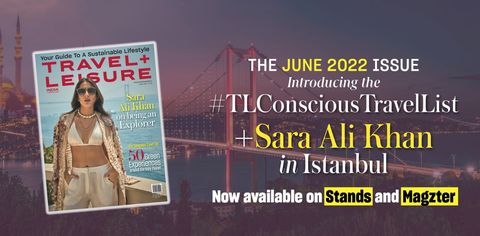 This special edition brings you the #TlConsciousTravelList featuring 50 sustainable experiences. Read conversations with people who are championing conscious travel, embark on a wildlife experience in Central India, learn lessons of sustainability from Seychelles, and more. And you cannot miss our cover star Sara Ali Khan holidaying in Istanbul! By Aindrila Mitra
Conscious Travel has always been the principal guiding motif for the editorial content of Travel + Leisure India & South Asia. The industry that contributes a substantial amount to the country's GDP and employs a huge chunk of the population is also the one backing a cause for the greater good of the environment and our existence. I am often asked what 'conscious travel' really means. To me, it's simply being conscientious about the choices you make while travelling. Is your destination supporting and employing local communities? Does your hotel or resort follow sustainability practices like being energy-efficient and banning plastic? How does your travel impact society at large? These are some of the key questions that we address in this very special issue. From destinations that are making sustainable methods mainstream to hotels that have responsible tourism at their core, The Conscious Travel List gives our readers 50 exciting experiences that are good for the planet. Also, don't miss out on all the responsible lifestyle brands you can sport when you're off holidaying, responsibly.
What to expect in the June 2022 Issue? On our cover, avid traveller and Bollywood superstar Sara Ali Khan checks into Çırağan Palace Kempinski in Istanbul for a feature that will surely inspire you to travel to Turkey. In addition, we have a melee of interesting people narrating how travel can be inclusive and mindful at the same time. Find out how Neha Arora, founder of Planet Abled, has managed to make travel more accessible for persons with different disabilities; Puja Mitra, co-founder of Terra Conscious, tells us about the importance of conscious coastal tours in Goa; and architects Abha Narain and Siddharth Bathla shed light on the various challenges and benefits of restoration. In our other stories, an island-hopping tour reveals how Seychelles is blending conservation and tourism; and a wildlife safari expedition in Central India spots salient sustainability practices in two unique lodges.
What's coming up next? Before bidding adieu, here's a heartfelt thank-you for the tremendous amount of love we are receiving for the Delicious Dining Awards 2022 and the record-breaking number of votes that continue to be cast for your favourite restaurants and bars. Stay tuned for all the winner details in our next issue!
Until then, travel consciously, travel responsibly.
Related: Sara Ali Khan Explores Istanbul And Reveals Her Travel Secrets
Written By