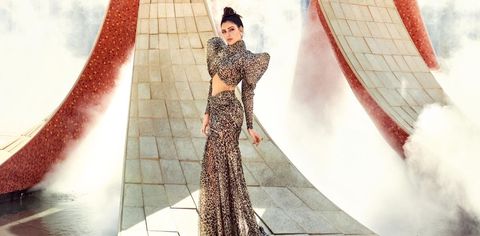 This special edition brings you the best of hospitality with our India's Best Awards 2021. Read about the IBA Icons, who have been trendsetters in their respective industries. Also, get to know our cover star, Samantha at the Dubai Expo 2020. By Aindrila Mitra
This year has brought out the full spectrum of emotions. As we wrap up 2021 and travel makes a cautious comeback, it is time to celebrate the resilience of the travel and hospitality industry with India's Best Awards 2021. And you, our readers, have chosen the winners. In its 10th year, IBA celebrates the fantastic work our winners have put in through a particularly difficult year—across umbrella categories like Best Domestic Destinations, Best International Destinations, Best Domestic Hotels, Best International Hotels, and Best Airlines, Airports, and Cruises. In this special edition, we also launch IBA Icons, awards that felicitate the trendsetters and game changers of this industry. A Sustainability Icon in Hospitality who has singlehandedly changed the landscape of luxury tourism in the Maldives, a Climate Warrior who is using her reach to create awareness, a Champion of Wildlife Conservation who has dedicated his life to the preservation of wilderness, a Community Tourism Icon who shares deep roots with his local community are among those who make up this year's 10 IBA Icons. In our cover feature, we explore the extravagant world of Expo 2020 Dubai with the talented actor Samantha. She loves Dubai, she confesses, and visits as often as she can. Find out how travel inspires her to be a better performer, and her latest rendezvous with the buzzing metropolis. Expo 2020 Dubai is a melting pot of cultures, and offers a glimpse of what future cities should look like—energy-efficient, sustainable, and humane. With over 200 participants from around the world, the Expo also tickles our taste buds with its many gastronomical experiences. In our other stories, we list 10 small properties—in India and abroad—that are big on sustainability; we comb through the Mishmi Hills in Arunachal Pradesh to photograph rare and endemic bird species; we taste la dolce vita in Italy through two iconic properties; we explore unique Indian boutique stays with limited keys that the pandemic has made more desirable; and we check in to IBA 2021's winner of Best Destination Spa Hotel in the Maldives.
Here's hoping that the New Year brings with it more mindful travel plans!
Related: We Savoured The World At Expo 2020 Dubai With December Cover Star Samantha
Written By