A work-from-home lifestyle often means sluggish routines. We speak to fitness gurus to find out the keys to physical fitness and the many forms of workout that can be personalised. By Rashima Nagpal
Physical fitness grabbed a lot of attention in the wake of COVID-19. If the disease itself didn't wreak havoc on your body, staying inside the house 24×7 did. The fear of going out of shape kept some motivated to work out, while some others found that exercise kept pandemic-induced anxiety at bay. From live shuffling sessions to yoga videos and weight training at home, many trends emerged on social media and led to the realisation that there's a lot you can do without a gym membership.
BUILD A HABIT Finding the time and will to work out during a pandemic is a tough ask. Yoga expert Varuna Shunglu believes you cannot rely solely on motivation to push you. "Motivation is great but a limited resource," she says. Instead, she recommends building a habit. "Take up a task and do it consistently for 40 days till it becomes a part of you." According to celebrity fitness trainer Vinod Channa, if you are working 14-15 hours a day, you should take out at least one hour, three days a week, for fitness. Also, it helps if you have a dedicated workout area with no distractions. "It doesn't have to be a huge area. As long as you can roll out a yoga mat, or have just enough space to move your body, it's good," says Pilates expert Namrata Purohit.
KNOW YOUR BODY
Channa believes that personalisation is key. For example, a mesomorph body type reacts rapidly to diet and exercise. "They see results easily. So, I suggest three days of weight training, and a day or two of cardio or yoga." Ectomorphs do not put on fat or muscle easily. "Whatever they eat gets utilised on a daily basis. No more than three days of weight training with a high protein and carbohydrate diet is ideal for them," adds Channa. Endomorphs have a very low metabolic rate. "They need to do six days of cardio and four-five days of weight training to begin to see results."
TRAIN AT HOME
With no access to gym equipment and limited space, many people resorted to bodyweight exercises during the lockdown, says Gurnit Singh Dua, CEO, FSSA Council (Fitness and Sports Sciences Association). Functional training came in handy for those who were multitasking during the lockdowns. According to Dua, if you can push, pull, bend, and lift, twist, squat, and walk (gait) as per your goal, and are able to do the tasks that your lifestyle demands, you are functionally fit! To level it up, however, Dua recommends the use of bands and pulleys in your day-to-day exercises.
SAY YES TO YOGA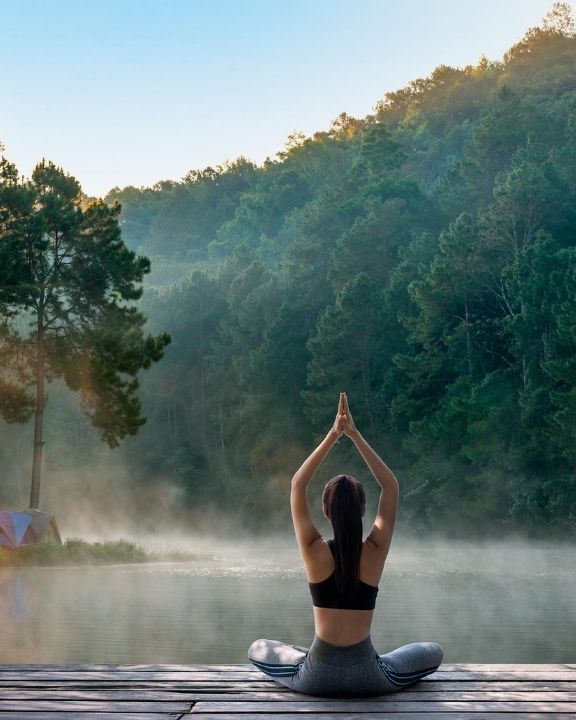 Yoga has lately become the trending way to stay fit. Even the niche online yoga studios, like Varuna Shunglu's, saw a rise in participants. "A year before the pandemic, we were taking classes online. By our ninth month, the number of participants jumped. We still have people calling us through our current student referrals, and we get a large number of queries through Instagram," she says. According to Shunglu, "Using props at home is a great way to go deeper in your practice." Always practise on an empty stomach, keep yourself hydrated, and wear something comfortable, Shunglu suggests.
POWER OF PILATES
A mat Pilates routine is the ideal equipment-free exercise, according to Pilates expert Vesna Jacob. "Resistance bands and infinity loops can add variety to your exercises and help you get more out of mat Pilates. A freeform board is also a great addition—to home or professional gym settings," she says. In the long run, says Purohit, Pilates helps improve your mind-body coordination. "It works every muscle of the body, and helps prevent and recover from injuries. And the best part is that anybody can do it, as it has no impact on the joints," Purohit adds.
WORK YOUR SPINE Constantly working on your phones and computers affects your spinal health. To ease the tension in your spine, wellness coach Deanne Panday suggests a combination of exercises such as a standing cat and cow, high-plank, forward fold with your head down, child's pose, and chest-opening exercises. "Constantly slouching or stooping also leads to the compression of your lungs, so you must strength-train your chest muscles and back muscles," she adds.
ONLINE COMMUNITIES
During the lockdowns, the workout-at-home trend gave rise to online fitness communities, like Unlock. Born in the early days of the pandemic, it is an Instagram account that gives you paid access to workouts with professional coaches, live or in the form of IGTV videos. As the restrictions wax and wane with waves of infections, founder and coach Kunal Rajput says, "It has had a metamorphosis of sorts, from Instagram Live to now being a community of like-minded people with an ecosystem, where all of us are intimately connected, not only during the workouts but also on WhatsApp groups, Clubhouse rooms, and offline workshops."
TRACK YOUR PROGRESS
Jogging around the neighbourhood or training for a 10K run? We've got fitness trackers for everyone!
Apple Watch Series 6 From INR 40,900; apple.com/in
Fitbit Sense INR 22,999; store-in.fitbit.com
Suunto 9 INR 46,500; suunto.com
Garmin Venu 2 INR 41,990; garmin.co.in
Related: The Most Idyllic Fitness Retreats In Southeast Asia For A Healthier 2021