A rainy, idyllic weekend at Ayatana Coorg proved to be an antidote to my travel fatigue. By Rashima Nagpal Photographs by Harshit Doshi
Deep in the woods, beyond countless sylvan hamlets near Karnataka's Madikeri, sits Ayatana Coorg, a nature resort from the WelcomHeritage group of hotels. Heading there for a weekend trip from Delhi felt like a Herculean task. Call it the downside of being a frequent flyer, but not all trips begin with a flurry of excitement. It had been just 10 days since I had returned from an overwhelming work trip to Switzerland; the experience was yet to sink in. So, even though I looked forward to my first visit to coffee-rich Coorg, I wasn't really 'ready' for it. This, I would realise in retrospect.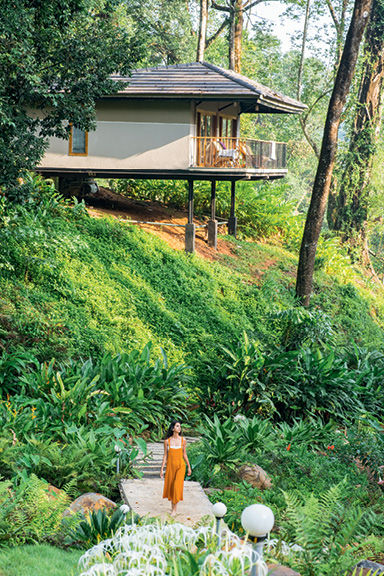 After a customary cup of kaapi in Bengaluru, I hit the road to Ayatana Coorg. May was a good time to spot the gulmohar trees abloom in bright red hues and to snack on unripe mangoes sprinkled with chilli powder. The harsh bends in the latter half of the road trip, however, made me regret the snacking. (Or maybe, it was the driver who mistook the highway for a racetrack!) Investing my thoughts in planning my short Coorg stay seemed like a good means of distraction. By the time we reached Ayatana, I had decided I would spend a generous amount of time hiking the abundant nature trails in the area. There was the roar of the milky-white Mallalli Falls, a leisure stroll of three kilometres and the mist-topped rolling greens of Pushpagiri Hills, a much more challenging hike of 14 kilometres. I could even make road trips to Doddabetta, Bisle Ghat, or the Kotebetta Waterfalls to catch a picturesque sunset from a high vantage point. Spoiler alert: I did not set foot outside the resort.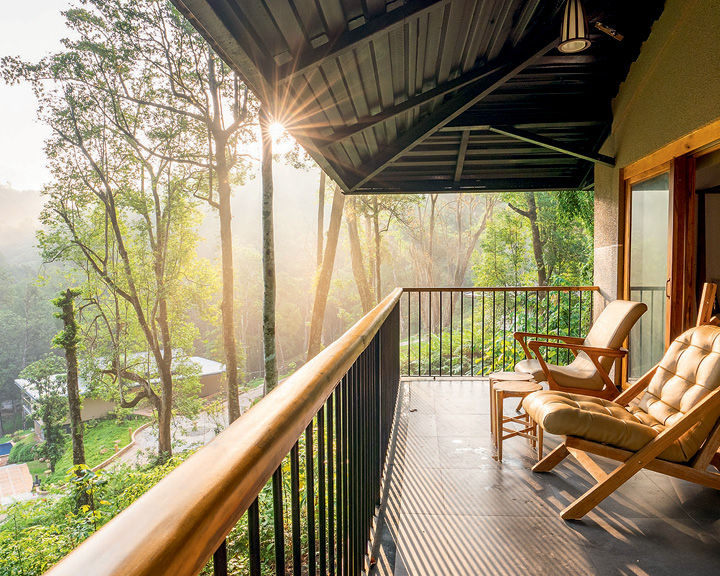 The moment the property appeared, my tired eyes gleamed with awe. The reception welcomed me with a jaw-dropping view of some of the 53 cottages perched on stilts in a dense thicket of the Western Ghats. With the cottages split into 38 standard rooms and 15 suites, including a Family Suite and a Presidential Suite, the property looks like a colony of treehouses. Abandoning all my plans and shrugging off my disorientation, I made my way to my own forest dwelling. The inviting four-poster bed prophesised daytime naps; the deck surrounded by trees overlooked the resort's private waterfall and would become my favourite spot. Just one year old, Ayatana is a new property that's yet to iron out the creases in its accommodations. But its blessed location makes up for all the erring nuts and bolts.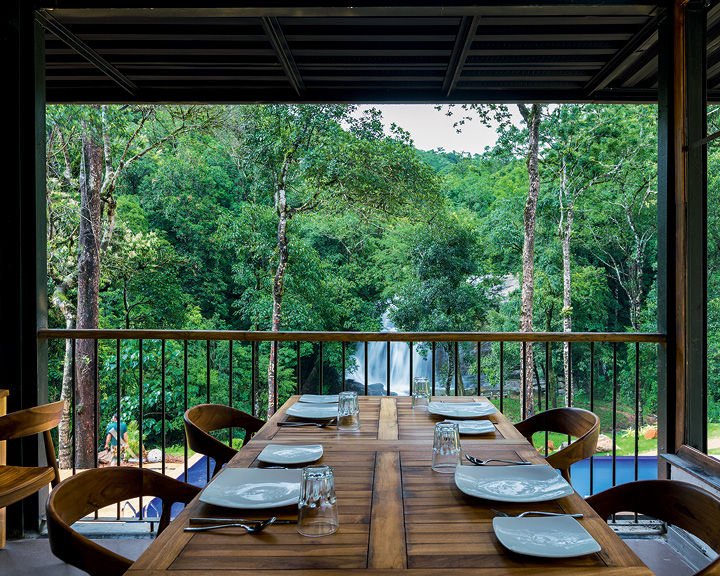 It poured heavily on both the evenings. It was a beautiful downpour, the kind that feels like a breeze of mist on your face and leaves behind a rosy tint in the sky. It was as if the universe wanted to give me more reasons to stay in, observe and absorb. The second evening it rained, I was sitting at The Glasshouse—Ayatana's singular dining venue, which seats 100—having my fill of filter coffee and fritters during the high-tea hour. Elsewhere, guests indulged in competitive snooker and foosball at the property's lounge-bar, The Forest Tavern. When I look back at it all now, a mysterious but melodious bird's song is the background score to every memory.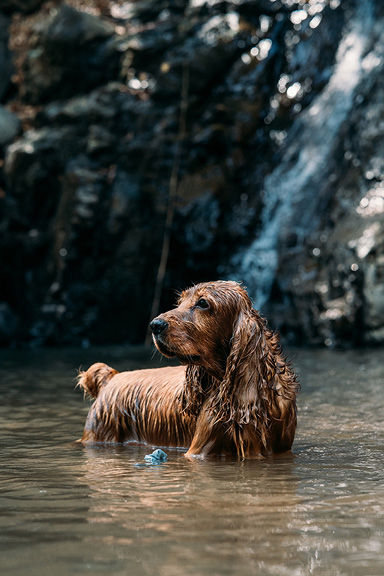 Thanks to the incessant rain, my weekend was invested in eating, resting, reading, observing and almost naturally, reflecting. The stillness, calm and birdsong in the air put my mind at ease—in a way that I did not see coming. I returned with the reaffirmed belief that travel opens you up to experiences—physical as well as metaphysical. Only if you allow yourself to be vulnerable, can you experience the magic of both.
THE DETAILS
GETTING THERE
Ayatana Coorg is best accessed by road from airports in Bengaluru (271 kms) and Mangalore (147 kms). Doubles from INR 16,000.
Related: For The Love Of Quiet & Coffee: Coorg Has It All To Heal Your…