Over the last few decades, the Loire Valley has become the heart of France's natural-wine movement. By Ray Isle
Editor's Note: Travel might be complicated right now, but use our inspirational trip ideas to plan ahead for your next bucket list adventure.
On my last trip to France's Loire Valley, back in March 2019, I did something I'd never done before: I visited several châteaux. The statement sounds ridiculous because castles are as common in the region as grains of sand on a beach—it's hard to not stay in one. But as a wine writer, I'm usually tromping around vineyards with a winemaker, crouching down to study grey whorls of elderly grapevines and asking, literally, about the dirt. Holing up in fairy-tale castles? Not so much.
This time, I found myself standing in the highest tower of the Château de Chambord, built by King Francis I as a hunting lodge in the 16th century. Some lodge: 440 rooms, 282 fireplaces, more than 13,000 acres (52.60 square kilometres) of land. It took 28 years to build. Francis spent less than seven weeks there before he died.
Obviously, a lot has changed since the 1500s, but what's remarkable is that in the Loire, a surprising amount of that change, both in terms of wine and châteaux, has taken place quite recently. Over three decades or so, the Loire has become the heart of France's natural-wine movement. The place is vast, with 87 wine appellations strung along the river, from Muscadet on the coast to Sancerre some 240 miles (386 kilometres) east, and even beyond.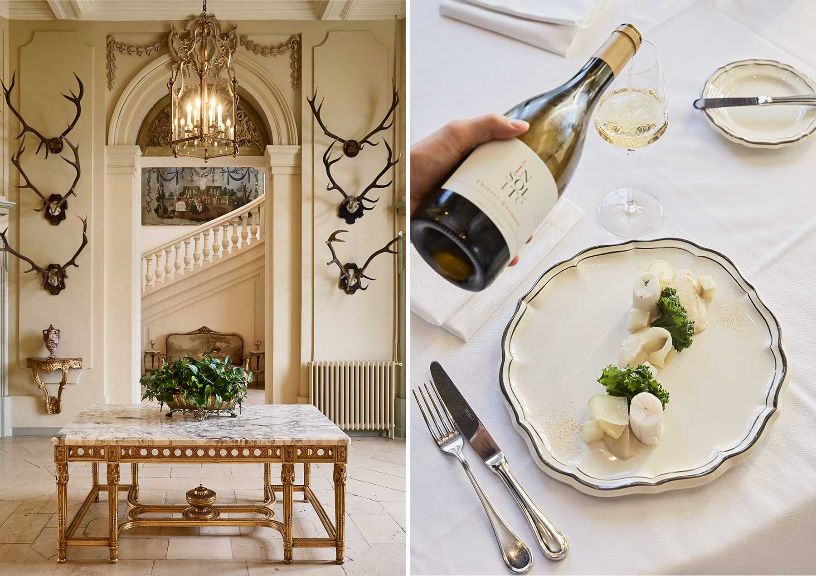 But throughout the region, you can find members of a loose confederation of raffish producers who are making what are often called minimal-intervention wines. Unlike conventional techniques, their growing and vinification methods eschew chemical fertilizers, pesticides, and artificial yeasts, as well as fining agents (which help improve clarity) and other technological trickery. There's also little or no use of sulfur as a preservative. The results can be intriguing or bizarre; the best is absolutely brilliant, full of a kind of vibrancy that's absent from the average mass-produced bottle.
In the past few years, the region has also seen a number of grand châteaux reimagined as luxury hotels. In the Loire, you can live like a king (or at least a marquis) in the evenings and tromp fields like a farmer during the days. The contrast is enlightening.
Among those new properties is the spectacular Relais de Chambord. Built for the king's hunting hounds in the 1700s, the original house didn't have the benefit of modern upgrades, such as the rain showers, velvet-swathed headboards, or luxurious white linen sheets seen in today's guest rooms. Nor could the hounds rent an electric bicycle to drive around the property. Odds are the dogs didn't think much about the building's history or their palatial digs. Then again, it's easy to forget the fact that you're sleeping in a former kennel (albeit an opulent one) when you can wake up and gaze out the floor-to-ceiling windows at King Francis's château—just a few hundred feet away.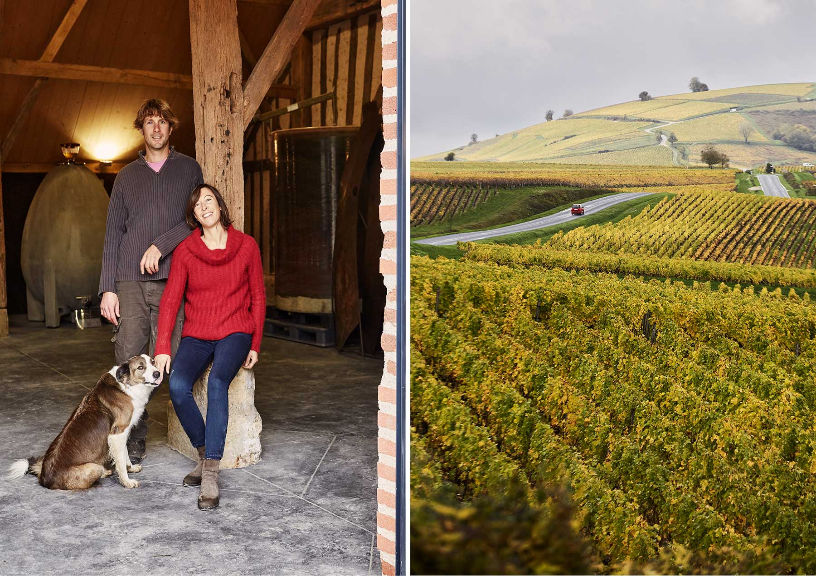 When I drove into the unpaved courtyard at La Grange Tiphaine, Damien and Coralie Delecheneau's vineyard and winery, about an hour away in the Montlouis appellation, I was greeted by an actual hound. Every Loire Valley winemaker has at least one dog if not two or three. Typically they growl at you menacingly for about 10 seconds, then flop over in the dirt. This particular winery pup, Lou, didn't even expend that much effort. It was pretty clear he'd rather have been off in the vineyards, chasing rabbits.
Stewards of the shift to low-intervention wine, the Delecheneaus farm biodynamically, upholding all the baseline tenets of the ideology. One reason the Loire arguably became the centre of this evolution in France, as Damien Delecheneau explains, is that it's not a wealthy region: "It's just easier for a young winemaker to buy a vineyard here, compared with regions like Burgundy or Bordeaux." Plus, he added, many of the early ambassadors of the natural-wine movement happened to be Loire-based. "The beautiful acidity we have in our wines helps, too, if you choose to work this way."
La Grange Tiphaine's ramshackle character belies the precision of its winemaking. "I'm from a scientific background," he says, "but now I look to work more with my heart." His 2018 Clef de Sol Chenin Blanc speaks to that: it's all spring flowers and wildflower honey when you smell it, bright and vivid on your tongue. As we walked between the 80-year-old vines behind the winery, Lou trotted after us, ears perked.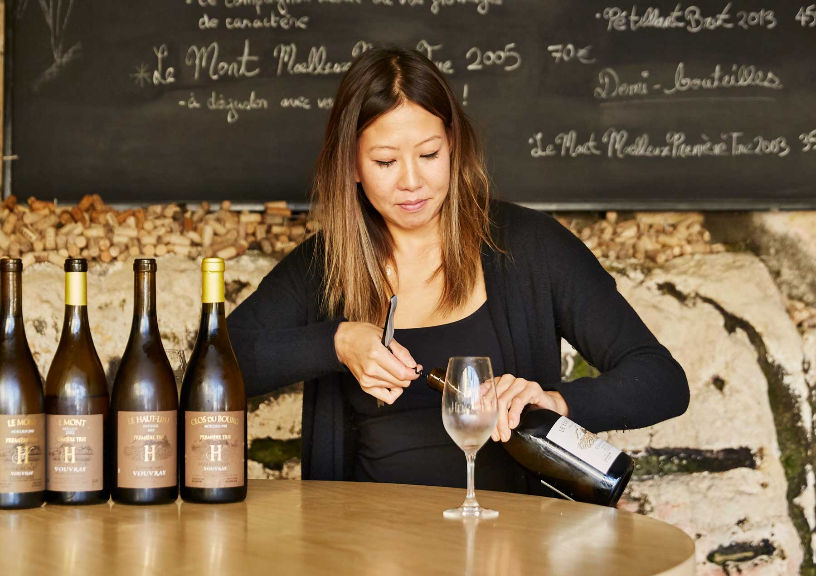 Across the river from La Grange Tiphaine is Domaine Huet, the most acclaimed producer in the Vouvray appellation. Founded in 1928 by Victor Huët, a World War I veteran, it was run for 55 years by his son Gaston Huët, save for five years he spent in a Nazi prisoner-of-war camp northeast of Dresden. He walked back to Vouvray from Germany in 1945 and proceeded to make one of the greatest vintages of the 20th century.
Since 2003, the property has been owned by Hungarian winemaker István Szepsy and New York financier Anthony Hwang; daughter Sarah Hwang runs the winery and lives there. She's well aware of Huet's stellar reputation: "It's something we could choose to embrace or fight against, and we've chosen to embrace it. Ultimately, we're just a few pages in a huge book. Our job is to make sure that the story is still being written, and written properly."
Huet's Chenin Blancs, dry or sweet, are chiselled and intense—gorgeous white wines that linger on the palate as you drive to the 15th-century Château du Rivau, opened as a 12-room hotel in 2019 that has elegant stone and wood interiors and modern art throughout. Rivau was built in 1420; Joan of Arc stopped by to pick up horses during the Hundred Years' War in her quest to drive the English from France. (Brexit did what martyrs could not, apparently.)
More recently, co-owner Patricia Laigneau tricked out the grounds with a stunning rose garden planted with more than 450 different varieties. "A rose with no scent is like a person with no soul," she said and suggested walking through the garden in the early morning or early evening when the flowers are at their most fragrant.
Another equally beautiful 18th-century Neoclassical property is the Hôtel Château du Grand-Lucé, just outside Le Mans. It has grand formal gardens to wander, 17 rooms with original oak parquet floors to park your bags in, and Pratesi sheets on the beds to lounge upon. Should you wish to see the region's châteaux from overhead, the concierge can help arrange a hot-air-balloon ride.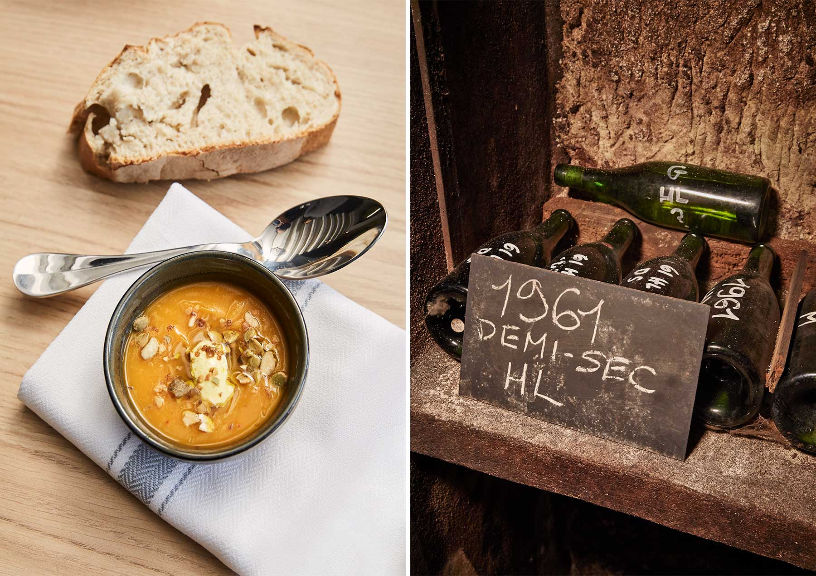 But for me, too much luxury gets cloying. I decided to French Revolution my urge to live like a king and reground myself by heading to Sancerre to meet my friend Pascaline Lepeltier, a Master Sommelier and Loire Valley native. As I drove east, the dramatic châteaux of the central Loire became fewer and farther between. I followed the Loire River as it meandered among rolling hills and forests. I knew I'd reached Sancerre when the flanks of the hills became blanketed with Sauvignon Blanc vines.
That's Sancerre's signature grape. Though there is an actual town of Sancerre (charming; hilltop; medieval), the wine region itself comprises 14 small villages. I met up with Lepeltier for lunch at Momento, which opened last year in the tiny town of Bué.
The owners are a talented young couple, Thomas Jacquet and Mariana Mateos. Jacquet, a sommelier, is originally from nearby Bannay; Mateos, the chef, is from Mexico. They met while working together at Racines, a wine-centric French bistro in New York City where Lepeltier is the head sommelier.
From the small upstairs dining room, we could see the rooftops of the town and the vineyards beyond as we enjoyed ravioli filled with earthy crottin de Chavignol goat-milk cheese. We'd been joined by two young Sancerrois winemakers, Matthieu Delaporte and Luc Prieur, whose families have been in the region for generations. Even though Jacquet's wine list at Momento is extensive, Delaporte and Prieur came loaded with cuvées from their own wineries, and pretty soon we were a pretty lively party of four people and 15 or 16 bottles.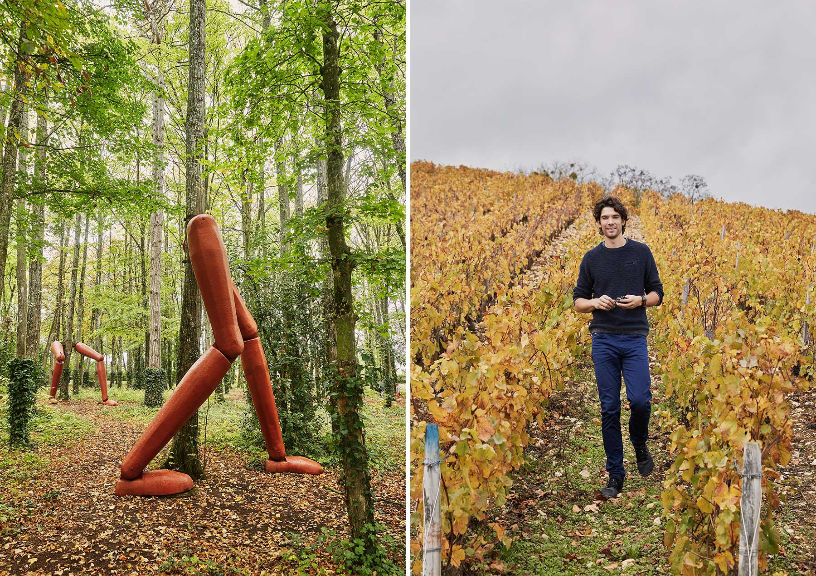 Later I asked Delaporte how long his family had been making wine. Since the 17th century, he replied. "We were one of the first domaines in Sancerre-Chavignol; where we're located is where everything started. At that time, they were making wine, raising animals, making cheese."
My favourite of Domaine Delaporte's wines, which we drank at lunch, is its Sancerre Les Monts Damnés—crystalline and powerful at once, it shows how complex Sauvignon Blanc can be in the right circumstances.
"Monts Damnés is kind of a grand cru of Sancerre, even though technically there are no crus here," Delaporte said. "It means 'the damned mountains,' because a hundred years ago you had to be absolutely damned to work that steep a slope. It's forty to fifty degrees! But it's worth it."
When his ancestors were picking grapes on the chalk inclines of Monts Damnés, did they know that the Sun King was building a stable for 1,200 horses only 70 miles (112 kilometres) away? Probably not. Distances were greater then. Did his grandfather, bottling wines in 1947—a hundred bottles of which Delaporte recently found, in perfect condition, under his grandparents' house—know a Liberator bomber had crashed on the grounds of Chambord just a few years before? Quite possibly. Today, can I taste all those things when I open a bottle of his wine? Imaginatively, maybe.
Good wine tells stories. The right bottle can even let you travel in time. As Delaporte said about those 1947 bottles, "They taste amazing; I thought of my great-grandfather, making wine through both of the world wars." Until I can return to the Loire, I can open a bottle of one of Delaporte's wines and envision myself looking out over the rooftops of Bué into the late afternoon sun, laughing and talking with friends.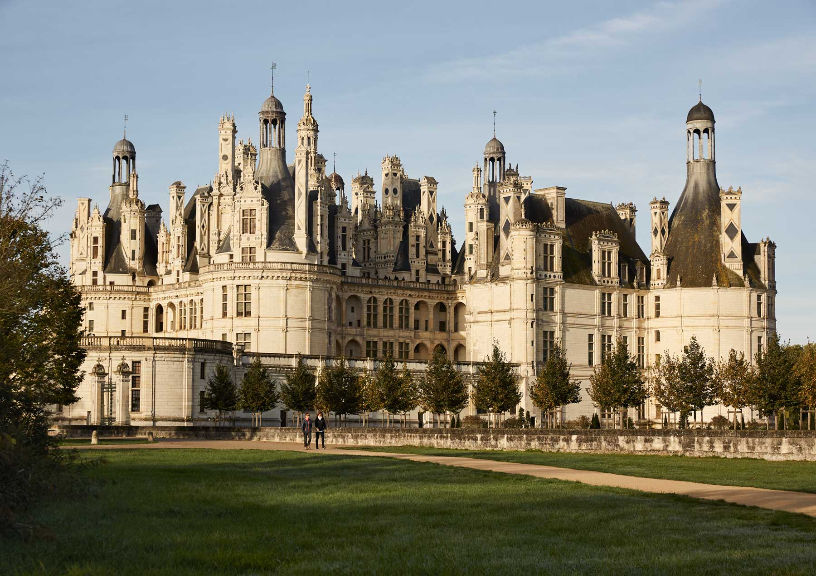 Châteaux and Natural Wine in the Loire Valley
Getting There
From Paris, it's a 2½-hour drive to Tours, in the heart of the Loire Valley, and two more hours to Sancerre.
Where to Stay
Relais de Chambord: The façade of this elegant 55-room hotel echoes the slate-roofed towers of the Château de Chambord, just a short walk away. A guided tour of the château is a highlight, but the Relais also offers a spa with sauna, hammam, and outdoor whirlpool as well as guided tours of the surrounding nature reserve (doubles from $213 (INR 15,469)).
Hôtel Château du Grand-Lucé: Though this gorgeous Neoclassical château, built between 1760 and 1764, occupies more than 45,000 square feet, there are only 17 (extremely luxurious) guest rooms. Each features original oak floors, archival-fabric wall coverings, and bathroom amenities from cult French beauty brand Buly 1803 (doubles from $715 (INR 51,929)).
Château du Rivau: Built during the 15th century, Rivau has undergone years of renovation, starting in the late 1990s. Walkthrough the fragrant rose gardens, and spot the white peacocks that live in the inner courtyard (kids may prefer the property's many fairy-tale themed gardens). Doubles from $275 (INR 19,974).
Where to Eat
Momento: Chef Mariana Mateos's menu makes the best of Sancerre's abundant products—crottin de Chavignol cheese, wild herbs, lamb from local farms—while drawing in a few influences from Italy as well. Thomas Jacquet's wine list is impressively extensive. (Entrées $28–$62 (INR 2,033–INR 4,503).)
Wineries to Visit
La Grange Tiphaine Damien and Coralie Delecheneau, the charming owners of La Grange Tiphaine, keep to a low intervention philosophy for their Montlouis and Touraine wines. Book a visit in advance to taste their Côt Vieilles Vignes, a stunning Malbec made with grapes from century-old vines.
Domaine Delaporte Delaporte, which makes some of Sancerre's best wines, has a small tasting room in the tiny village of Chavignol.
Domaine Huet Book ahead to visit this legendary Vouvray property. Tastings cover the range of Huet wines, sparkling and still, dry to sweet, along with an older vintage. In-depth cellar tours can also be arranged at contact@domainehuet.com
How to Book
T+L A-List advisor Shawna Huffman Owen (shawna@huffmantravel.com; 312-257-2988) can help plan a wine-focused trip throughout the region.
Related: Nagaland Woman Makes Dragon Fruit Wine & Netizens Can't Keep Calm!