We Check Into Haveli Dharampura In Chandni Chowk To Relive Old Delhi Like Never Before
In the secluded bylanes of Old Delhi lies Haveli Dharampura, a UNESCO-award winning property that is like a small oasis within the chaotic Walled City. We check-in for a weekend to experience Old Delhi like never before. By Anushka Goel
Walking into Haveli Dharampura is an experience in itself. Navigating the bylanes of Old Delhi, one wouldn't imagine a serene oasis in the middle of chaos – but that's exactly what the property offers. From the outside, the place looks like any other Chandni Chowk haveli – but the moment I enter, I'm enveloped in an entirely different world. I'm seated in the gallery, where black-and-white pictures of Old Delhi hang – games of chausar, pigeon flying and the Walled City life are captured here.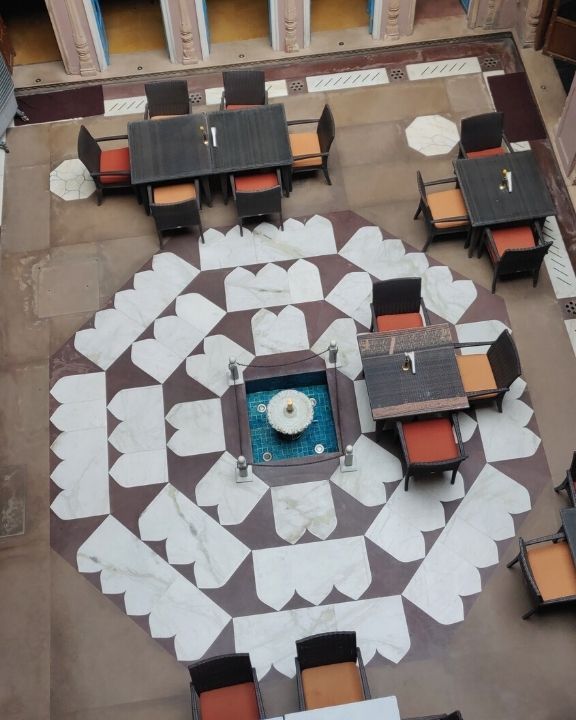 I'm welcomed with a teeka, garland and a fresh lime juice to quench my thirst, as I wait for Anil Mehta, general manager of the property. I observe the blue painted vintage doors and stained-glass décor. "It's a 200-year-old property, which took six years to restore," Mehta informs. Haveli Dharampura, restored by Vijay Goel, a former minister of state and politician, has 14 rooms – seven on each of its two floors – whose interiors are inspired by Old Delhi's heritage.
The haveli, like most old havelis, has two sections – the chhoti haveli or the 'Mardana' section, which, as Mehta explains, was used by men to conduct business. The small, cocooned space has four rooms over two floors. The other rooms are in the 'Janana' part of the haveli, which overlooks the main courtyard.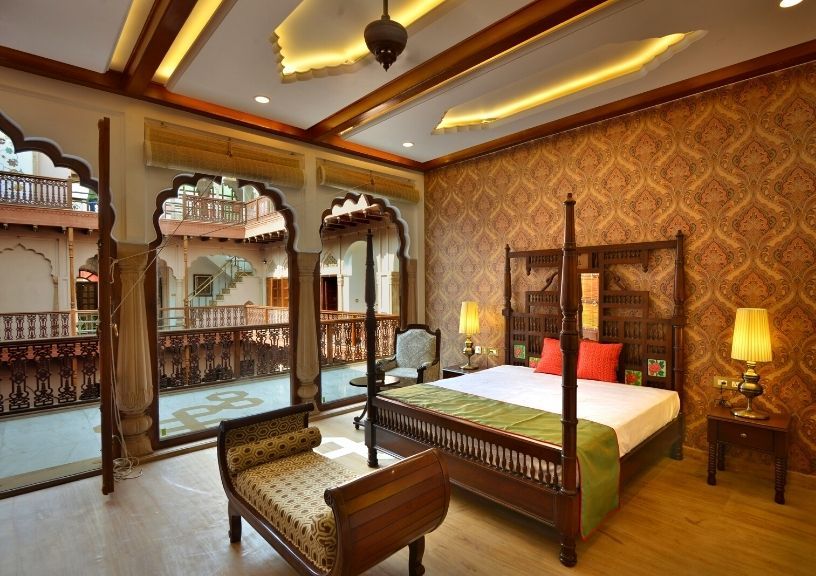 My room, named after the Ajmeri Gate, is located on the second floor, and the view outside is phenomenal. I feel like I'm in a scene from Jodhaa Akbar, with the white marbled walkways and big, arched windows. The eye to detail in each room is phenomenal, and my room features an old matka, a broken lantern and a beautiful lock with Shiv-Parvati and Ganesha engraved on it. After I check in, I head downstairs for a heritage walk. Being from Delhi, I've often roamed the gullies of Chandni Chowk for work or to buy my spices – however, for the first time, I am set to experience it like a tourist.
Gajendra, my guide, explains that the area is called 'Dharampura' because it has a lot of religious institutions – from Jain temples to Hindu temples, the masjid and a church nearby. As we walk down Dariba Kalan, Gajendra tells me that Old Delhi got its name 'Shahjahanabad' because of the late Mughal emperor who built this Walled City in the 17th century. Dariba Kalan was a market for pearls, and to date, several jewellery shops line the street.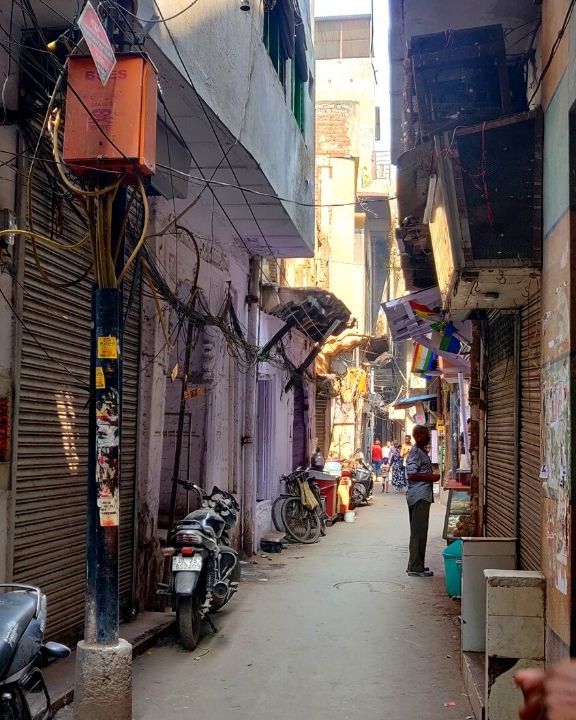 We then walk to Chandni Chowk. "Designed by Jahanara, Shahjahan's daughter, the street used to house a square-shaped pond in the middle, where the moonlight reflected. This is how the place got its name," explains Gajendra. We then head towards Gurudwara Sis Ganj Sahib, built to commemorate the ninth Sikh Guru – Guru Tegh Bahadur – who was beheaded here.
As we walk towards the Town Hall, the rush on the streets makes it apparent that it's a weekend. The sun is high, and yet, the streets are choc-a-block with people. We manoeuvre our way through Maliwara and Nayi Sadak to reach Kinari Bazaar. Gajendra tells me this is the place for laces and borders (hence the name 'Kinari', or 'corner') and all I can see is latkans and borders in every colour under the sun. We take a small detour into a street, which Gajendra explains is the Naugrah (nine houses/havelis). A quiet corner nestled amid the market, the street, built by a Jain merchant whose family still reside here, is peaceful and quiet.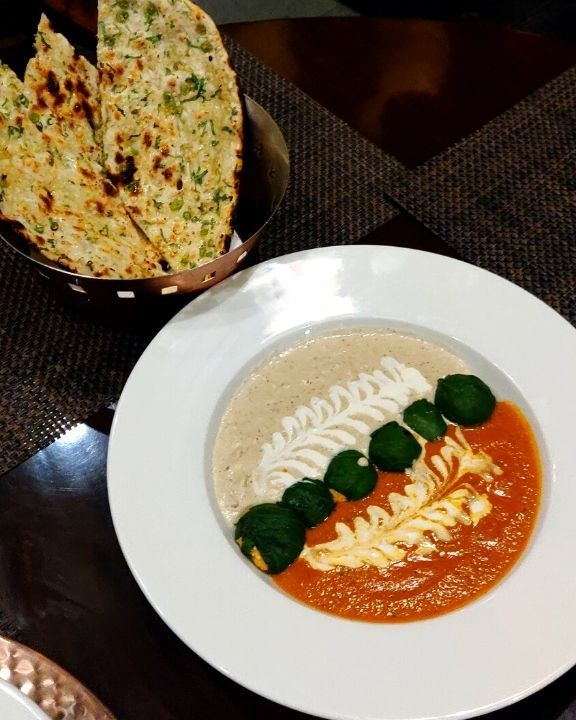 After two hours, Gajendra and I walk back to Haveli Dharampura, and while I'm famished, I wish I had more time to explore Old Delhi. I head to Lakhori, the haveli's restaurant, where I indulge myself in some Palak Patta Chaat, Patangbaaz Sangria (a mocktail), Kinari Bazar Kofta Dogala and chilli garlic naan. The mocktail, with notes of pomegranate and cinnamon, is refreshing, while the chaat is crisp and explodes a bomb of flavours bomb in my palate. The kofta – made of spinach and paneer – comes with two gravies – makhani and a Kashmiri gravy.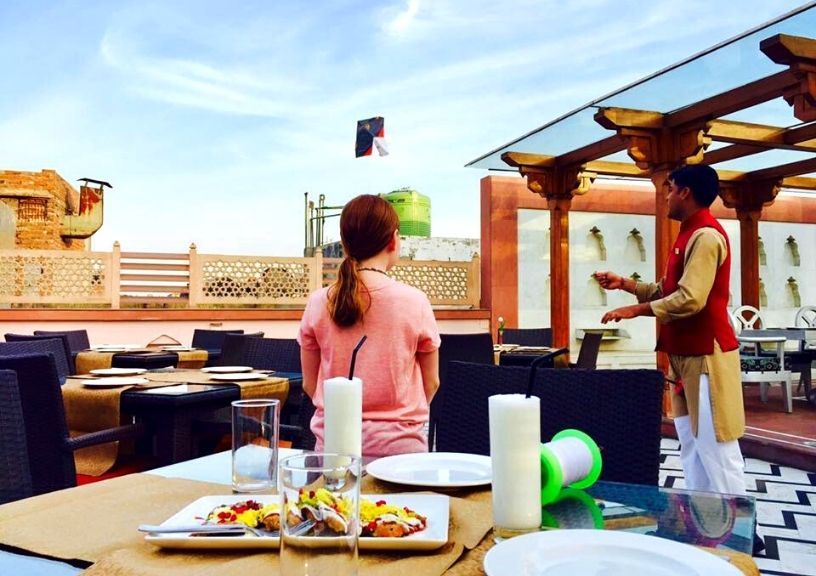 I rest for a couple of hours, after which, I head to the rooftop. The gallery has scenic views of the Walled City, and I can spot Jama Masjid, Red Fort, Sis Ganj Sahib, and a few temples. In Delhi, kites are mostly flown on Makar Sankranti and Independence Day, but in Old Delhi it's a daily affair. After several attempts and with a lot of help, I'm finally able to fly the kite high, and I don't want to stop – but alas! Some kids in a neighbouring house have had their eyes on my kite for long, and they're finally able to cut it from me. I also witness white pigeons flying – another Old Delhi speciality – and I know my visit here is a successful one.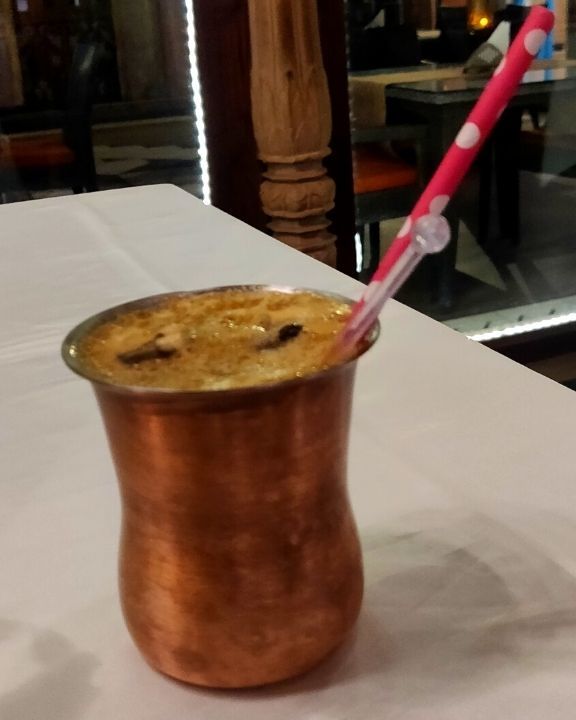 As the sun sets, I head down to the restaurant, where Rajan, my server, brings me a Delhi – 6 – a paan-based cocktail that's made with freshly made paan, white rum, saunf and other ingredients. Sipping on the cocktail, I watch guests arrive for dinner, and soon, I understand why Haveli Dharampura's restaurant is popular. My dinner is a Chef's Tasting Menu, which begins with Kanjee (made with yellow mustard). Dahi Puri comes next, which the chef has specially whipped up for me (since I already ate the Palak Patta Chaat for lunch). The flavour bomb continues with Aloo Mint Kabab which are crispy on the outside and perfectly fluffy on the inside, Matar Kachori served with Aloo Ki Sabzi, and a Chicken Tikka.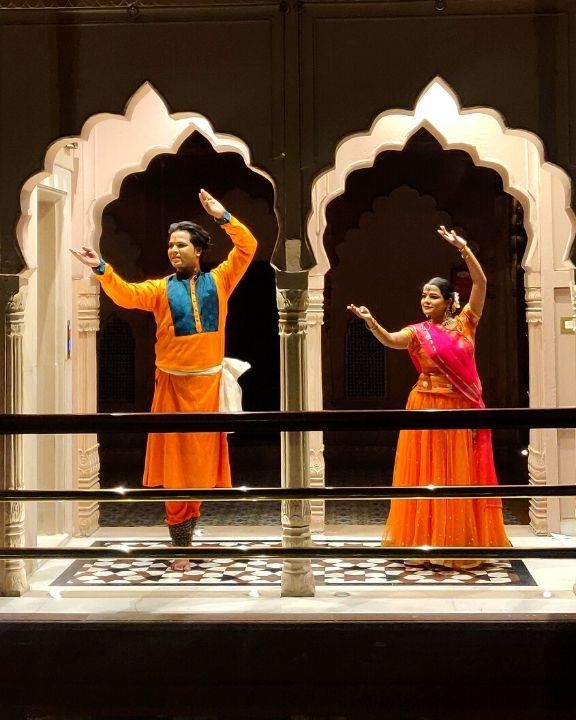 I take a break from all the food and walk around the haveli, soaking in its dimly lit beauty. Soon, dancers arrive for a short Kathak performance, which Mehta informs happens every Saturday and Sunday. The performance, in the jharoka in chhoti haveli, exudes old-world charm, and a delight to watch for diners.
I sip on my next course – a Tomato and Dhaniya Shorba – as I watch the remainder of the performance, and served my main course – Dharampura Special Dal, Aloo Katliyan Achari, Butter Chicken and Mutton Rogan Josh along with naan, Awadhi Subz Biryani, raita and salad. The flavours are robust and refined, and one can experience the nuances of fine dining in this somewhat rustic yet modern setting. After my dessert of Aloo Paan Ka Zarda (puff pastry stuffed with a sweet potato filling wrapped in paan and gulkand), I head to my room and retire for the night.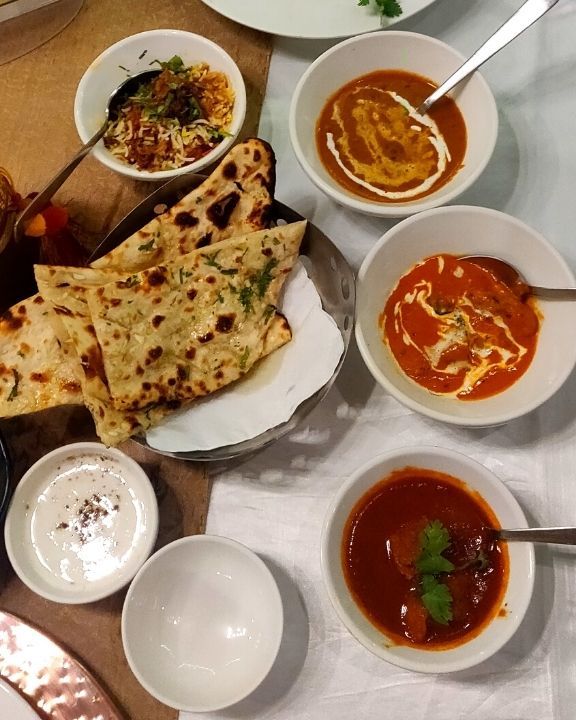 I'm woken up by the soft pitter-patter of the rain, which hits against the pristine white floor outside my room. I sip my coffee and soak in the views, before I meet Vidyun Goel, director of Haveli Dharampura for breakfast, which is yet another delicious feast including Old Delhi classics such as Bedmi Puri and Nagori Halwa. Goel reminisces about the first time she saw this property with nostalgia. "My father told me he's taking me to the Taj Mahal of Delhi, and brought me here. It looked worse for wear, and he told me he was going to take up this place. I discouraged him for six months!" She tells me how each part had to be separately brought in to restore the property, which was never meant to be a hotel in the first place. Maybe this is why I feel at home here – guests are made to feel like family, ensuring they leave with fond memories and full hearts.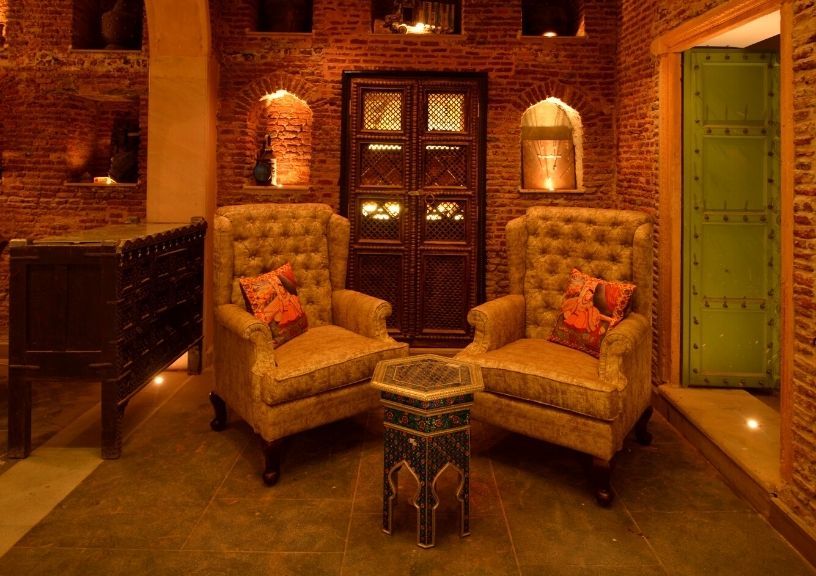 Goel tells me that each element is inspired by the past owners of the haveli – which has moved hands across religions – and the grills, paintings, pillars each imbue history. The UNESCO-award winning property has been restored to its former glory without disturbing the environment around, and every single thing – from the teapots to the coffee mugs in the room – have been carefully selected by the team. Even the menu, Goel informs, has been sampled by the family first.
As I get ready to leave, I look back at the little oasis I am leaving behind. My heart is full, and I can't wait to be back here with my family. I am reminded of the mehmaan nawaazi that Delhi is known for.
Getting There
Most cabs will take passengers to the Jama Masjid Police Station, where the hotel staff will pick you up. Self-driven vehicles are not recommended since there's no parking offered by the hotel. Alternatively, the Haveli is a short rickshaw ride away from the Chawri Bazaar Metro Station.
Stay
Rooms start at INR 14,000+ taxes (pre-pandemic). You can book your stay at the hotel's website.
Eat
Experience the Chef's Tasting Menu at Lakhori, or sample the street food that Old Delhi has to offer.
Activities
Haveli Dharampura organises kite flying every evening, and musical and dance performances are arranged for guests on Wednesday-Thursday (tabla and sarangi) and Saturday-Sunday (kathak) every week. Guests can also book food tours and heritage walks via the hotel, or explore the property and surrounding areas on foot.
Related: 5 Secret Staycations In And Around Delhi-NCR, Perfect For The Dussehra Weekend!