Brij Gaj Kesri: A Quaint Property In Bikaner That Offers The Best Of Luxury And Comfort
Amidst the peak of winters, our Digital Features Writer checks into Brij Gaj Kesri in Bikaner – a stunning property with a heritage feel, which offers comfort and a home-away-from-home vibe.
Located about 12 kilometres from the main city of Bikaner, Brij Gaj Kesri is the latest addition to Brij Hotels' portfolio. It is a boutique property that offers ultimate comfort and luxury. With well-appointed rooms, deluxe beds, large windows letting in ample light and enough open spaces, the hotel offers one all they need for a quiet getaway with their loved ones. What's more, the property is a relatively newer construction. Being less than 20 years old, the building looks as fresh as ever, and the rooms are well-equipped with amenities that any modern-day traveller needs.
The property is owned by the Rampurias and has a lot of local artwork throughout. What you'll also see at Brij Gaj Kesri is rooms specially decked up in Usta Art – a local form of artwork that uses gold hues and heavy detailing to create stunning pieces.
The hotel, with its red-hued walls and architectural influences from the Hindu and Mughal styles of architecture, is a beautiful place for those who want to experience a heritage property in a more modern set-up. The place is equipped with all that you need for a comfortable stay – WiFi, pool, gym, a restaurant and more, to ensure that your stay is as wholesome as it is relaxing. This is not all – the fact that there are just about 40 rooms here makes it great for intimate family gatherings and royal weddings. The place has huge lawns that can accommodate up to 1,000 guests, while their front arcade is designed in a way that makes it great for picturesque wedding ceremonies which will turn into everlasting memories.
This is not all – the variety of flora and fauna at the hotel plays host to ample birds and bees, giving nature enthusiasts the perfect early mornings in this oasis surrounded by sands. As you inhale clean air, your senses will tingle as they're met with sounds of birds chirping, the feeling of fresh air, and the fragrance of the flora and fauna around.
Location
The hotel is located roughly 12 kilometres from the main city of Bikaner.
Brij Gaj Kesri images
Rooms at Brij Gaj Kesri
The hotel comes with three types of rooms – Deluxe Art Rooms, in the main building, which come complete with a work desk, coffee table, sofas, a super comfortable bed, large windows, dressing area, clean and well-lit bathrooms, and more. The rooms here offer the privacy of your own bedroom back home, with the comfort of a boutique, luxury property. What's more, the influence of art throughout the room, from lamps inspired by rooms at the Junagadh Fort to paintings showcasing places across the country add a personal touch to the space.
The other rooms are available in Karni Mahal and Mohini Mahal.
Facilities
WiFi
TV
AC
Twin Bed
Work Desk
Hot water kettle and coffee station
Closet
Coffee table
Daily housekeeping
Room Service
Amenities
Social distancing and masking
The property can arrange for your pick-up and drop
100 per cent vegetarian kitchen
Pay via cash or online
Multi-lingual staff
Gym and spa facilities on request
Poolside and courtyard romantic dinner set-up on request
Wheelchair-friendly
24-hour front desk
Housekeeping and laundry services
Property Rules
Check-in – 2:00 pm; Check out – 12:00 pm
Government ID proofs are accepted (Aadhaar Card, Driver's Licence, Passport)
Suitable for intimate weddings and family get-togethers
Can be booked for photoshoots and movie shoots
Suitable for newly married couples and families
Can request for an early check-in and late check-out at the reception
Review of Brij Gaj Kesri
My stay at Brij Gaj Kesri was welcoming from the get-go. Checking in, I was offered a welcome drink (which I even brought back for home!), followed by a scrumptious lunch. A tour of the property revealed to me its haveli-style structure, with a courtyard, intricate jaali-work, jharokhas and its open facade. The property, with a comfortable outdoor swimming pool and many lawns, is an inviting space, perfect for families. What I also loved is its reading corners – a room close to the reception has been converted into a modern seating space complete with artwork on the walls (and no, I don't mean hanging frames – artwork is painted directly on its walls), and books for the bibliophiles.
The hotel has 41 rooms, divided into three sections – the main area with 24 rooms (12 on each floor), Karni Mahal, which has seven rooms that open into a common dining area and has its own private drawing room and outdoor space for family parties, and the Mohini Mahal, a collection of 10 rooms for those who want some privacy in their get-together.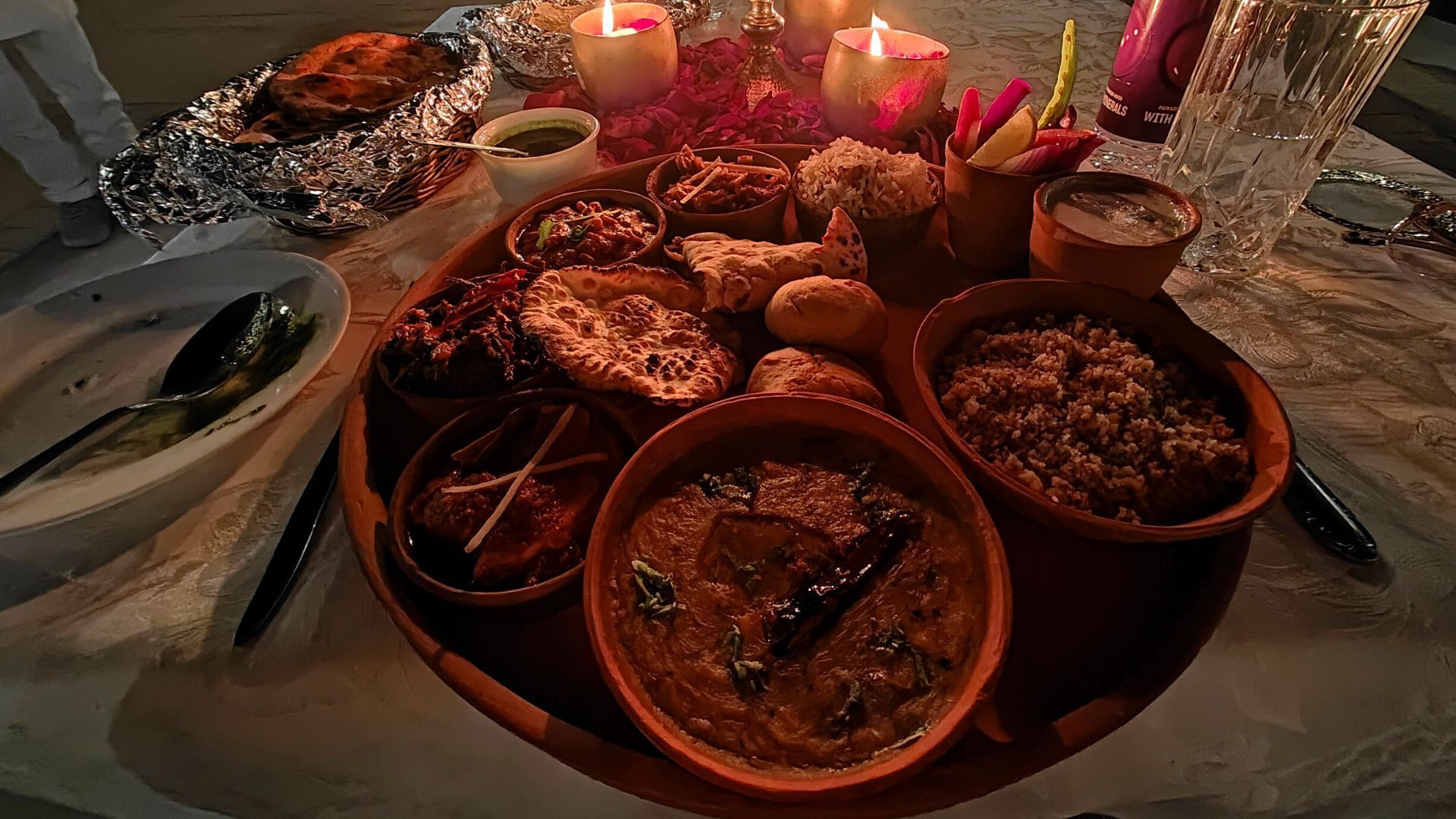 A special feature of the main block is that its first floor has special nooks converted into reading corners – complete with a plush sofa, lamps and books that you can pick up. This was something that appealed to me the most about the space.
What also attracted me is the highly personalised service – from a soothing candlelight dinner with a scrumptious Rajasthani thali, complete with local dishes such as sev tamatar, Mathania mirch paneer, khichiya papad sabzi, ker sangri grown on the property, mirchi ka paratha, smoked chaas, rice, dal baati choorma and other offerings, to hearty breakfasts consisting of a variety of fruit and juices, dosas, parathas and more, the restaurant took care of all my preferences. Dinner next night was another scrumptious affair, with the chef cooking up shaam savera – a kofta-based dish, along with piping hot naans specially for me. What added to the winter charm was the warmth from the angeethi that had been lit, as well as the scrumptious moong dal halwa that I dug into for dessert that night.
Food & Dining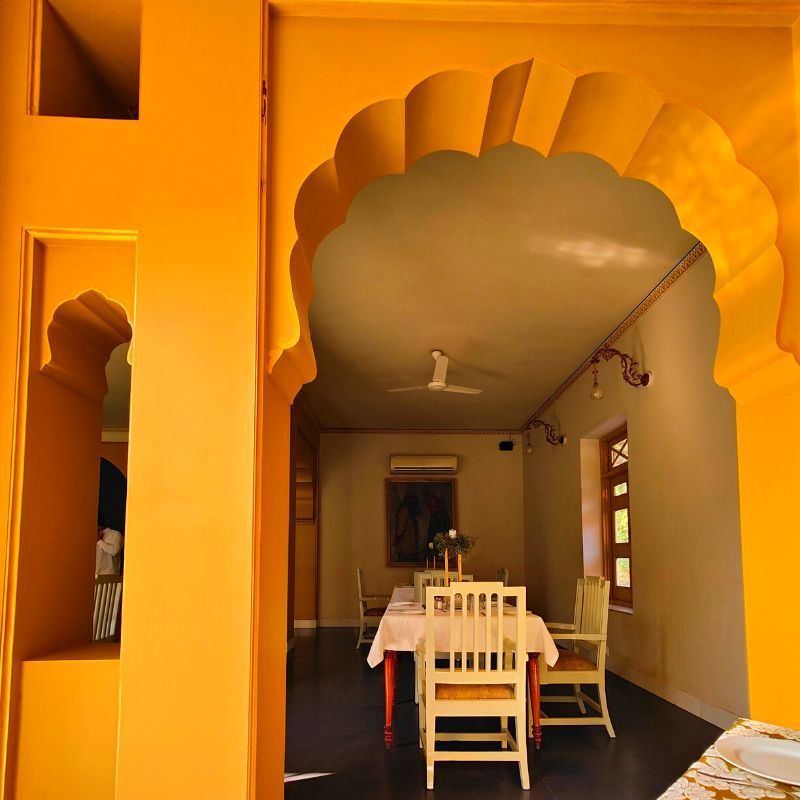 The in-house restaurant, Polki, offers delicious vegetarian fare for all its guests. Breakfast is included with the stay, and one can also request chefs to create special menus such as traditional Rajasthani thalis and other dishes to suit your dietary and culinary needs. The courtyard is home to coffee shop Coffee & Co, while a bar and restaurant are under construction around the poolside.
What to visit nearby
Camel Research Centre
Junagadh Fort
Karni Mata Temple
Rampuria Havelis
Nearby restaurants
All the nearby restaurants and sweet shops are in the main city of Bikaner. Some of these are:
Chotu Motu Joshi Sweet Shop
Garden Cafe and Restaurant
Bhikharam Chandmal Bhujiawala
Gallops Restaurant and Coffee House
How to reach?
Brij Gaj Kesri is located about 22 kilometres from the Nal Airport in Bikaner and 13 kilometres from Bikaner Junction. You can book a cab here or ask the hotel to arrange for a (paid) pick-up and drop. You can also use local transport such as autorickshaws.
Book your flight from Delhi to Bikaner here
Activities to do
The hotel has an outdoor, unheated pool which is great to relax in. This is not all – the gym here will take care of all your fitness needs, while ample open lawns will be perfect for outdoor picnics with your loved ones and bonfires on cold, foggy nights.
If visiting on anniversaries or important dates, request the hotel staff to arrange an intimate, poolside dinner for you and your partner. Not only that – you can organise beautiful romantic dinners with your friends and family to bring in anniversaries and renewal of vows. A personal favourite was a candlelight dinner for one, with wood fire to warm me on the chilly evening, as I relish Rajasthani delicacies in the evening!
Free cancellation
The hotel does not offer free cancellation
Packages
Bed and breakfast, starting at INR 6,500 (varies with season) per room.
Hero and Featured Images: Courtesy of Anushka Goel
Related: Bikaner Camel Festival To Be Back In January 2023. Here Are The Details
Frequently Asked Questions (FAQs)
Question: Is free parking available at Brij Gaj Kesri?
Answer: Yes, the hotel offers free parking for its guests.
Question: Is early check-in or check-out available at Brij Gaj Kesri?
Answer: Yes, you can contact the reception for the same.
Question: Can I pay while check-in at Brij Gaj Kesri?
Answer: Yes, but do check with the hotel beforehand in case of bulk bookings or busy seasons.
Question: Is using the pool free at Brij Gaj Kesri?
Answer: Yes, the pool is free of cost at the hotel.
Question: Is breakfast served in the room at Brij Gaj Kesri?
Answer: Room service is available at the hotel, but do check during check-in for in-room breakfast.
Question: Is late-night food available at Brij Gaj Kesri?
Answer: The restaurant is open till 11:00 pm.
Question: Does Brij Gaj Kesri provide any discount on business bookings?
Answer: The hotel offers bookings for weddings, conferences and other events, and you can check with the management for discounts.