If there's one road trip that most Indian travellers dream to embark on, it's the one from Manali to Leh. After all, riding some of the world's highest motorable roads is an experience of a lifetime. Here's a quick guide on planning your Manali to Leh bike trip. By Karan Kaushik
Plan your Manali to Leh road trip with this handy guide
Rugged mountains, azure lakes, iconic Buddhist monasteries, traditional Ladakhi mud-brick houses, prayer-flag-festooned lanes, cute little markets, and cosy cafes. Nothing rewards the seasoned traveller quite as Leh does. From thrilling rafting expeditions to offbeat trails in nomadic and remote villages, the stunning land of high passes offers a profusion of exciting activities for the devil-hearted.
Road tripping from Manali to Leh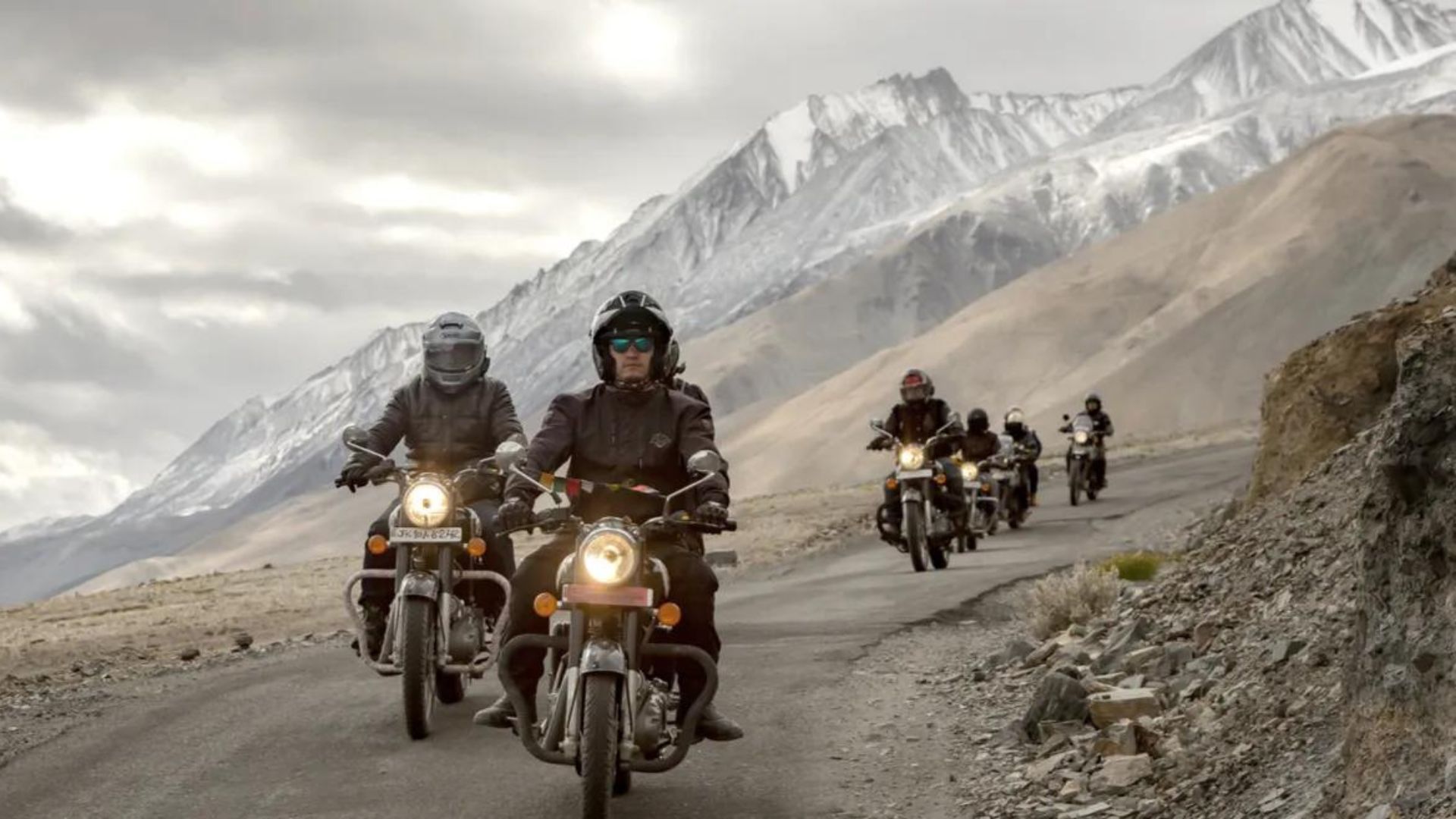 This route takes you through some incredible points like the famous Rohtang Pass, one of the most popular tourist destinations in India. The route after Rohtang Pass takes you through some of the highest motorable roads in the world. Once you reach the Lachulungla Pass, you get spectacular views of the Ladakh Plateau – India's highest plateau. Important stopovers on this route include Keylong, Jispa, Darcha, Baralacha La, Sarchu, and Upshi. You can take a break in either Keylong or Jispa and spend a night there before heading forward to Leh.
Here's the full route, followed by a breakdown of individual routes.
Manali – Rohtang – Gramphu – Kokhsar – Keylong – Jispa – Darcha – Zingzingbar – Baralacha La – Bharatpur – Sarchu – Gata Loops – Nakee La – Lachulung La – Pang – Tanglang La – Gya – Upshi – Karu – Leh
Manali to Jispa
View this post on Instagram
Begin the journey of a lifetime from Manali. Grab a wholesome breakfast at one of the many cafes in Manali. The first point on this route is Madi, following which you will reach the popular Rohtang Pass. It usually takes riders two hours to make it to Rohtang Pass. Spend some time soaking in the unparalleled picturesque beauty of Rohtang. Take a dozen selfies with your mains.
If you are travelling during peak seasons, chances of meeting fellow bike riders are also high. Befriend them and hit the road again. Your next pitstop could be Keylong, which lies just a little before Jispa. Now, you may choose to spend the rest of the day and night at Keylong or reach Jispa for your overnight stay. Keylong is also where you should check your bike and get it repaired if need be. You won't find any other repair shops before Leh. Jispa Rollingstone Home Stay & Cafe and Dorje Lhakpa HomeStay are nice options for food and lodging.
Jispa to Leh
View this post on Instagram
After resting for the night at Jispa, start early for Leh. This is where the Manali to Leh route gets amazing as well as challenging. This route will take you through the otherworldy landscapes of Baralacha La Pass, Tanglangla, Moore Planes, and Upshi.
View this post on Instagram
When you reach Baralacha La, you would see the quaint hilly hamlet of Bharatpur. You can stop for lunch at Khoksar in Darcha, which has plenty of eateries and dhabas on both sides of the check post.
View this post on Instagram
Follow the quirky signboards and head towards the Himachal Pradesh-Jammu and Kashmir border, which is located at Sarchu. Here, you can stay in tented camps as there's no dearth of good camping facilities. You'll also find a police check post and a liquor shop in Sarchu.
The other prominent places you'll ride through on your way to Leh are Gata Loops, Nakee La, Lachung La, Pang, Taglang La, Upshi, and Karu. Just FYI, the last petrol station on the Jispa-Leh route is at Tandi, after which you'll only come across a fuel station near Upshi and Karu.
View this post on Instagram
If you are feeling uneasy because of the high altitude, make sure to stop at Pang, where there's an army camp that serves free oxygen. Note that you'll only get access to your mobile network in Keylong, Jispa, and then Upshi.
If you wish to stop over for a stay before reaching Leh, Pang, Rumtse village, Upshi and Karu have decent guesthouses, homestays, and tented accommodations. There's no dearth of comfortable accommodation in Darcha, Sissu, Gondhla, Keylong, and Gemur either.
Feature and hero image courtesy: Shutterstock
Related: Bookmark These Gorgeous Homestays in Leh For Your Next Mountain Holiday