Kodaikanal, like many Indian destinations, has seen a post-lockdown boom in tourism. Our contributor makes a week-long family trip to discover its many undiscovered historic and spiritual sites. By Devanshi Mody
The hilly kingdom of Kodaikanal in Tamil Nadu has reopened, and all of humanity has descended upon it, clogging its serpentine roads. There are crowds, noise, chaos. We hope things will be more civilised at the heritage property The Tamara Kodai. Here, entire families bolt out of BMWs, if not coaches.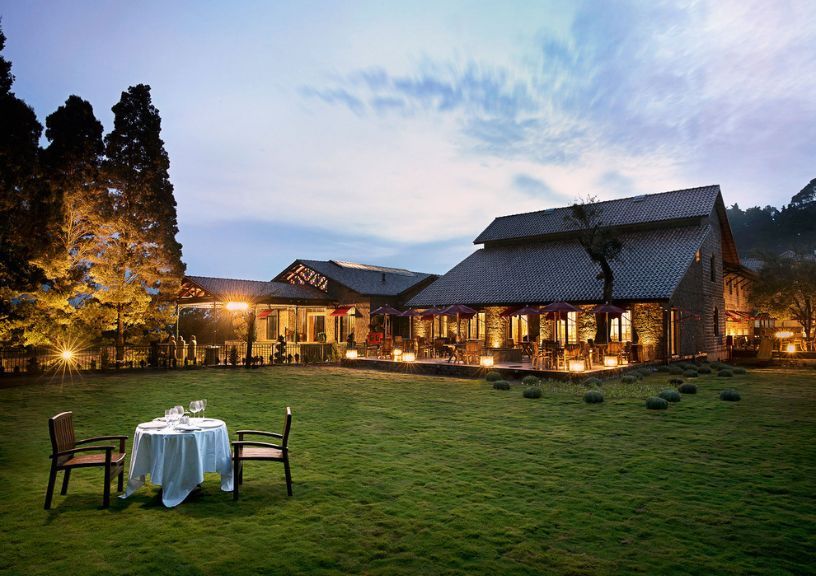 Check Out Our Week-Long Itinerary To Kodaikanal:
Day 1
The general manager of the property, Dhrubo Ghosh, ushers us into his "best cottage." He beams, "It's the one Tamil Nadu CM Stalin occupied recently!" Guest relations executive Reena warns us never to leave the terrace unlocked—hooligan monkeys invade, leaving you a thumping mini-bar bill!
Unique guest experience manager Sayed Mehaboob and the inimitable Ravi, whose father was a tracker during the Raj, explain that tourists are flouting COVID protocol, so the top sites and wildlife reserves have been shut (at the time of our visit). Yet, Sayed has crafted a seven-day itinerary for our family.
Day 2
We drive to Thandikudi past swards of eucalyptus, pine, cypress, and wattle forests that Sayed strenuously disapproves of. The British, trying to conjure Europe in India, extirpated indigenous shola forests and planted imported trees with devastating ecological repercussions. The British sedulity at beautification eventually cedes to shola forests that tribals inhabit. We stop to inspect a mound. Upon it lie three dolmens. Sixty such dolmens bestrew Kodai. Forlorn, mystifying, and Neolithic, they comprise large stone slabs resting atop megaliths that are each one metre high. Sayed says that in 5000 BCE, they served as dwellings, hideouts, or tombs, the latter attested by excavated urns revealing utilities to accompany the deceased in the afterlife. Sayed marvels at how short men, three-footers, carted such hefty stone. What tools did they deploy to craft the urns (that are exhibited at Kodaikanal Museum)? What astonishes me more is that such sites of staggering historic interest languish in India, whereas, elsewhere, a century-old church is classified as "ancient," UNESCO-tagged, and ticketed, fetching a heave of click-clicking tourists.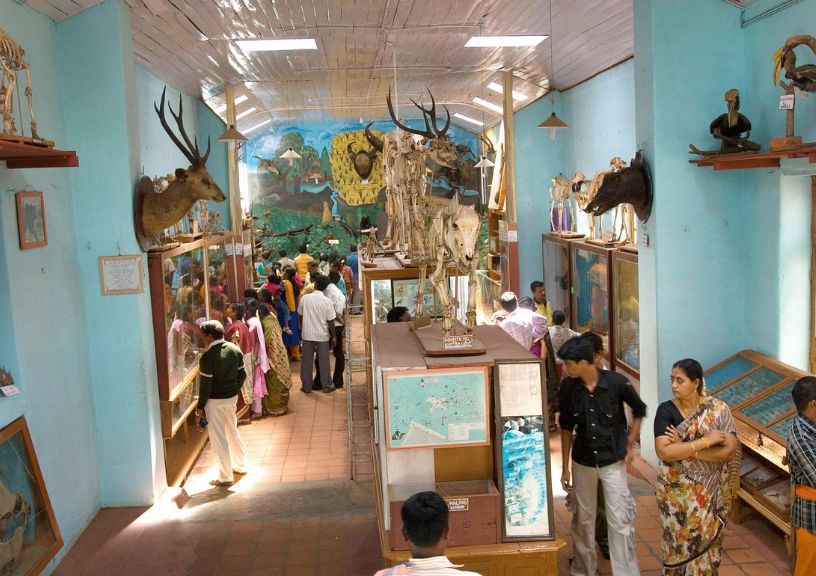 We reach a small Murugan shrine, which Ravi says is "2,000 years old, maybe 3,000." As per legend, Lord Murugan— already married to Devayani—heard the sweet song of a tribal girl while strolling the Palani Hills abloom with neelakurinji. He was enticed and eventually betrothed to Valli. After the honeymoon (even gods deemed Kodai a worthy honeymoon destination), Murugan leaped with Valli from this shrine to the famous Palani Temple.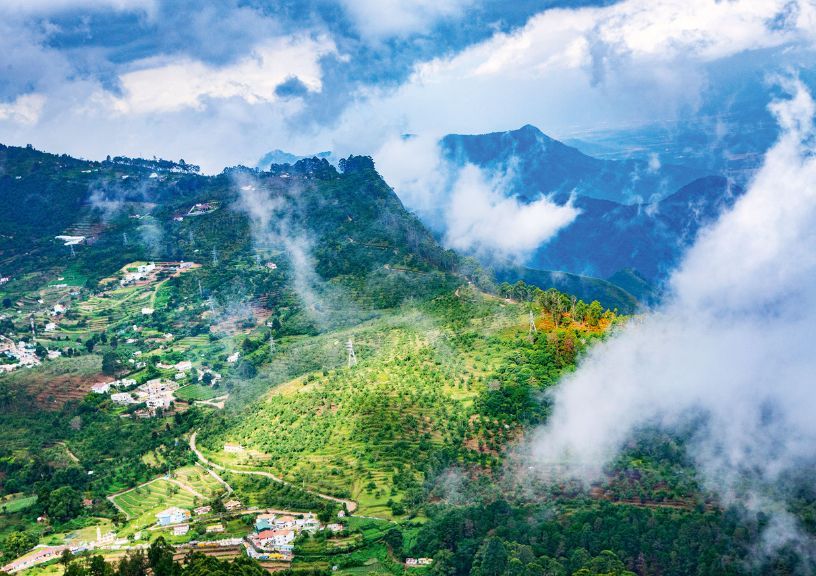 As we enter the temple, the heavens unleash themselves. Ravi deciphers this as "showers of blessings." He is further intrigued that the priest offers lunch: a divine invitation! "Banana leaf lunch, very very tasty," he effervesces. I hopscotch over puddles to a tree-shaded snake shrine, which, Ravi avers, is guarded by a cobra. This, I must see! Ravi reminds me that cobras are elusive, "A jaadugar will have to be summoned." Excellent! Can the jaadugar invoke a tiger too? I missed spotting a tiger on my visit in 2018, and I take every chance I get to remind Ravi of it.
Day 3
This day is reserved for the Prakasapuram trek. Sayed would have boycotted it, but this is among the few accessible treks in the area. Views of emerald forests seemingly pouring down from silver skies exhilarate. Asked if en-vogue Himachal Pradesh betters this, Sayed says the majesty of the Himalayas for a backdrop is an advantage but Kodai is as pretty. Ravi interjects that he has guided tours to Uttarakhand, "Kodai is best!" Over coffee, chocolate, and cookies at sundowners, Sayed regales us with tales of pythons. Meanwhile Ravi claims Kodai's jungles have a cure for every disease, and appears with pears and a porcupine quill. "I want to see a porcupine!" I state. Ravi sighs at my fast expanding wildlife list.
Day 4
It's time for a coffee-estate trip. My brother, Samir, stays back to 'work-from-hotel'. He always misses the most fun bits. A five-kilometre trek down exquisite verdure plunges us into thick-canopied forest. Banu Hameed cultivates coffee in the unpruned bowers of this pristine forest awash with cascades including dive spots. I want to go there, but Banu discourages me. It is raining; the incline is treacherous. Moreover, the path is bearded with lantanas—foreign weed that has ravaged indigenous landscapes and excited Sayed's ire again. They've spread like wildfire; the yellow lantanas even resemble flames. Sayed bludgeons them down with a branch, indenting a path. Ravi asserts that leopards lurk here. Ever galant, he helps me navigate a forest floor tentacled with roots, but his attention, and my foot, slips when he stops to quack, moo, or bleat (very authentically). "Would a leopard rush over if it thinks a buffet is available?" I ask. Ravi nods seriously. Banu isn't thrilled. The lockdown has emboldened leopards, who have been slinking onto roads. One almost lurched onto her car from a tree, she says. Lately, they've infiltrated farms and attacked poultry and even small dogs. The dive-point is an idyl. Over it soar wispy cloud-skeined skies beaded in resplendent birds—you could spot as many as 60 species. But Ravi doesn't stop trying to lure leopards with his talented calls.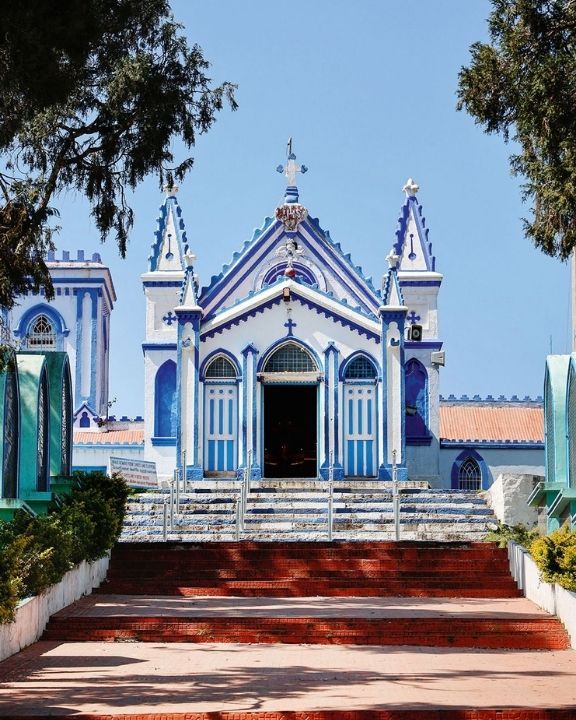 Another talent we discover at the hotel when jolly executive chef Prince unbelts a 12-course Pan Asian extravaganza, including Japanese dishes near-impossible to find outside Japan. The Thai creations could earn him a post in the Thai royal kitchens. The barman, Prince (Jr.), presents fresh passion-fruit mocktails and regrets it when asked to concoct them at every meal.
Day 5
It's time for a trip to Poondi village, which allows us access to recesses of bewitching beauty. First stop: Poombarai Kurinji Temple, which is claimed to be 2,500 years old. Ravi endows it with more glamorous antiquity: this is another Murugan Temple. "But here, you only get darshan, no saapadu (meal)," he rues. Poombarai has mesmerising whorls of vibrant farmed terraces layered down slopes, resembling the rice terraces seen in Bali. Those, mum recalls, are UNESCO-recognised.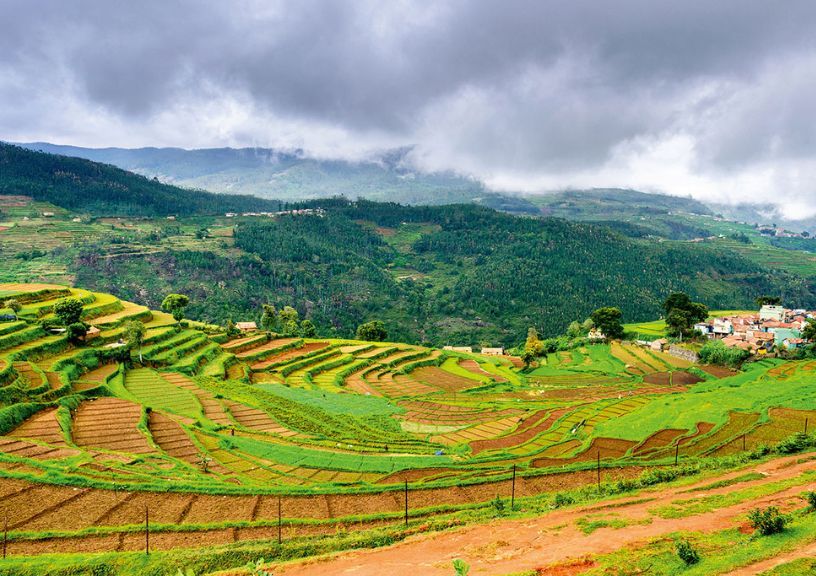 Through increasingly ethereal landscapes, we arrive for our trek to Poondi Lake. Sayed can't let mum trek, so he stays back with her. Ravi sways his head tragically, "My heart breaks to leave Amma behind." I scoot off across a lavish drape of green, until I'm up against buxom cows. We then race down to the lake. When Samir and I slither into beguiling wilderness, Ravi calls out, "You will soon reach Kerala!" For once he isn't exaggerating—Munnar is over the hills yonder.
Sayed is shocked when we finish the trek in 30 minutes. Through the enthralling Mannavanur Valley, we effuse, "This could be Switzerland, Romania, Italy…" And almost immediately, I wonder at the inanity of these utterances. Why are foreign references required to endorse everything?
The trip apotheosises with coffee and chocolate in sylvan enchantment at Kookal Lake. Samir says it seems paradisal, but in those looming hills tigers must prowl. "Certainly," Sayed asserts. Ravi pours me more coffee and hopes I won't drag him off on another tiger hunt.
Day 6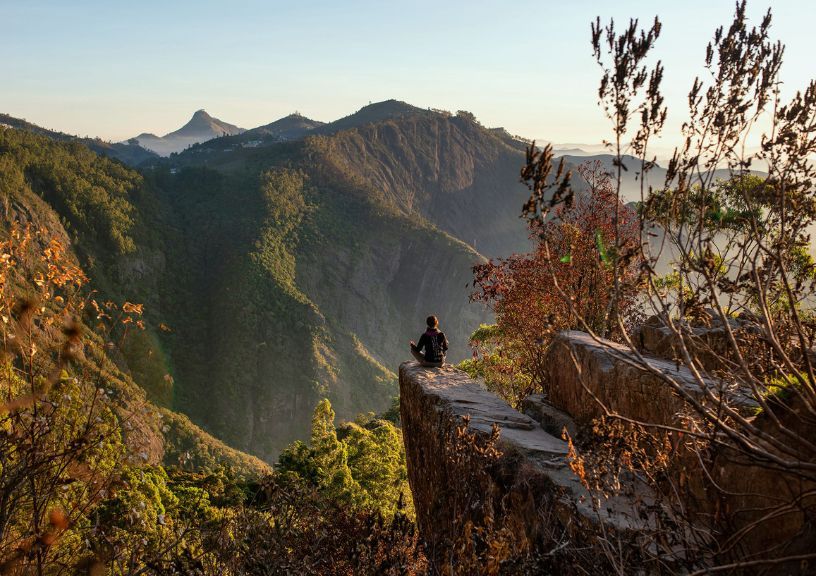 Ravi takes me to Dolphin's Nose. Apparently, the Pandavas and Kauravas played at dice on the cliff-edge rock. The route is as crowded as a temple in Tamil Nadu, the view quite ordinary. But we see a black viper before I scamper off. Ravi catches up to gloat that I missed a green viper. I insist we go to Perumal Malai. Ravi narrates how he once took Raghuram Rajan there. Turns out he has also guided Sharad Pawar and Uddhav Thackeray. "They weren't so demanding," he quips.
Day 7
Our Elephant Valley trek is cancelled, since the route is shut. But Kodai Lake has reopened. Here, mum ransacks Taste Chocolate, which Sayed recommends, and then hits the Tibetan and Kashmiri shops. She declares that we should have dedicated a whole day for shopping, maybe two!
On our last supper, Samir expects catastrophe. The same kitchen that dispensed tremendous 12-course degustations—Pan-Asian, contemporary South Indian, and innovative Lucknowi—can't excel at Continental too. But another epicurean fiesta strikes. The chef unveils passion fruit curd rice served in scooped-out passion-fruit shells and lissom linguine, which we request again before check-out.
Departing, Samir asks Sayed for his number. It's extraordinary since Samir usually maintains stiff reserve with hotel staff. Mum effuses, "Sayed is like a son." But where's Ravi? "He's gone to fetch your tiger!"
Getting There
The airport closest to Kodaikanal is in Madurai, about 120 kilometres away.
Stay
Set high in the hills of Kodaikanal, The Tamara Kodai is a luxury hotel dating back to the 1840s. Doubles from INR 17,000
Do
Visit La Saleth Church, situated on a cliff edge outside of town. Rock climbers, trekkers, and hikers can head to Pillar Rocks, three giant rock formations that stand tall at a height of 122 metres from the ground.
Related: Discover The Undiscovered Village Of Thandikudi In Tamil Nadu