Looking Forward To A Wildlife Holiday? Here's Your Complete Guide to Namdapha National Park In Arunachal Pradesh
From Sidharth Malhotra and Kiara Advani to Ananya Panday and Ishan Khatter to Malavika Mohanan, looks like wildlife holidays are Bollywood's latest fad. If a wildlife holiday sits at the top of your 2022 travel list, then this guide is for you. By Karan Kaushik
Nothing beats the thrill of spotting wildlife during a sun-soaked early morning jungle safari. Wildlife destinations across India continue to draw wildlife enthusiasts, nature lovers, and photographers. While destinations like Ranthambore, Panna, Tadoba, and Kabini remain some of the top choices for most wildlife enthusiasts, there are people out there looking for lesser-explored wildlife havens too. One such incredible place is Arunachal Pradesh's Namdapha National Park. Located in the Eastern Himalayas, this biodiversity hotspot prides itself on being India's third-largest national park.
A complete guide to Namdapha National Park in Arunachal Pradesh's Changlang district
Nestled between the Patkai range and Dapha Bum range of the Mishmi Hills, Namdapha is home to as many as 425 species of flora and fauna. But it's the search for the elusive red panda and the endangered primate hoolock gibbon that draw avid wildlifers to Namdapha every year.
View this post on Instagram

Sprawled over an area of 1,958 square kilometres, the park has a core area of over 1,808 square kilometres and a buffer zone of 177 square kilometres. This also makes Namdapha the largest protected area in the Eastern Himalayas. And the best part? Namdapha is one of the handful of national parks in India, that allow camping within its boundaries.
Namdapha National Park was established as part of the Project Tiger and stretches along the India-Myanmar border. Home to some of the rarest species of orchids like blue vandal and lady's slipper, Namdapha is truly blessed with rich biodiversity. While the lower reaches of the park feature tropical moist forests dotted with bamboo trees, you'll be welcomed by a montane ecosystem adorned with alpine meadows as you go up.
View this post on Instagram
Also, Namdapha is one of the few national parks in India, where you won't get your quintessential jeep safari. You'll have to walk, hike and trek your way through the jungle, which makes it all the more interesting.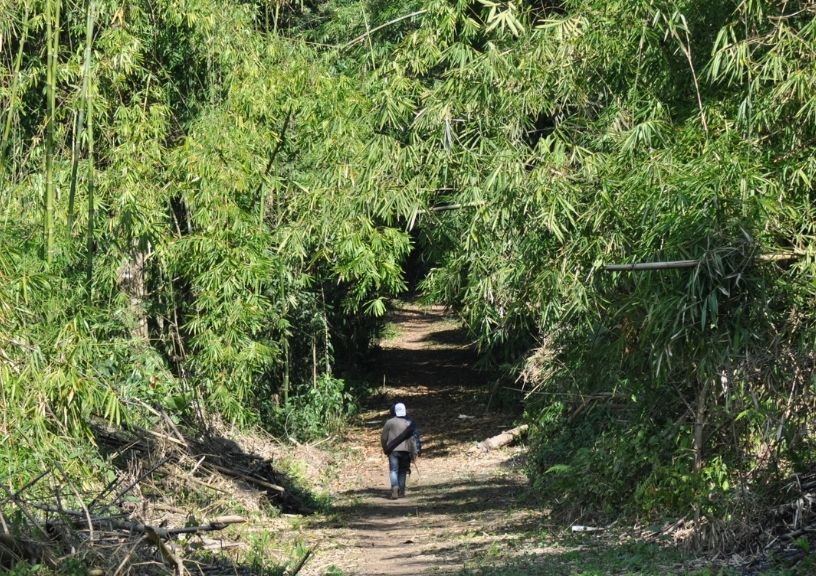 A prime attraction at Namdapha is the beautiful species of hornbills that call it their home. The park inhabits five species of hornbills along with other avian species. These include slender-billed scimitar babbler, white-bellied heron, pied falconet, Himalayan wood owl, fire-tailed sunbird, snowy throated babbler, and Himalayan cutia, to name a few. With over 400 bird species, it would not be an exaggeration to call Namdapha a sheer paradise for avid birdwatchers.
View this post on Instagram
If butterflies have always attracted you, Namdapha won't disappoint you. Over 355 species of butterflies have been recorded at Namdapha. Some of these include Koh-i-Noor, zigzag flat, yellow veined lancer, cruiser wizard, and red caliph.
View this post on Instagram
And that's not all. Namdapha also houses 4 big cats: tiger, common leopard, clouded leopard, and snow leopard. Then there are hog deers, Asiatic golden cats, Indian wolves, Asiatic black bears, and Malayan sun bears, among other animals.
Neighbourhoods to Know
Miao
View this post on Instagram
This beautiful hilly hamlet serves as a gateway to the national park. Before heading towards Namdapha, make sure to visit the Namdapha Zoo and Wildlife Museum in Miao. The museum displays a large array of animal specimens from Namdapha. At the zoo, you can see animals like the hoolock gibbon, hog deer, leopard cat and stumped tailed macaque.
Deban
Nestled along the banks of the Noa-Dihing river, Deban acts as a base for your adventures in Namdapha. Nothing short of heaven for nature lovers and birdwatchers, Deban has some incredible trekking routes and great camping sites. You may also fancy a rafting expedition when here.
Things to do
Namdapha Trek
View this post on Instagram
Trekking is perhaps the best way to explore the wilderness of Namdapha National Park. It's a multiple-day trek that begins from Deban. The trek's first stretch requires you to cross the Noa-Dihing river through makeshift bamboo bridges or a boat ride.
View this post on Instagram
Your first stop during this trek is the Hornbill campsite, followed by the Firmbase campsite. The trek ends at the Baloo Khat camping site. During the trek, you can also visit a forest village and interact with the warm and hospitable people of the Lisu tribe. It's best to go on the trek through a registered trekking agency.
Where to stay
Deban Forest Rest House
The forest rest house in Deban is a gorgeous riverside bungalow and perhaps your best bet in Namdapha. It's advisable to make bookings in advance to avoid last-minute disappointments.
Booking can be done at:
The Field Director,
Project Tiger,
Namdapha National Park,
Miao – 792 122, Changlang District,
Arunachal Pradesh, India,
Phone/Fax: +91 38072 22249
Namdapha Jungle Camp
View this post on Instagram
This eco-resort is one of the most sought-after places to stay in Miao. They have nice traditional cottages with modern facilities. You can also request them to arrange an interaction with the local tribal communities of Miao. The camp also serves as a great place for birdwatching, with Hornbills, being here in abundance.
Contact: +91 94362 28763
Best time to go
Weatherwise, the months between November to March are perfect for planning a trip to Namdapha.
Things to know
Entry Fee in Project Tiger Area
Entry Fee: INR 10 for Indians, INR 50 for foreigners
Camera fee: INR 75 for ordinary camera, INR 400 for still camera with tele-lens/zoom
For more information on Namdapha National Park, click here.