Lisbon is arguably Western Europe's most underrated capital city. It's also one of the continent's oldest. First founded as a trading port city in 1200 BC, Lisbon pre-dates Rome. Most of the old city was destroyed in an earthquake in 1755. But today, the "City of Light" is thriving. In the last 50 years, its population and annual visitors have more than doubled as the rest of the world discovers what this second city on seven hills has to offer. Indeed, Lisbon checks all the boxes. It's home to colonial architecture, destination museums, and even its own genre of music. Hop on an iconic yellow tram and explore a fortified castle, a bustling waterfront, or a colourful maze of cobblestone streets. There's fun food – think themed trucks and even cereal bars – and fine food – five Michelin-star restaurants. At night, retire to a funky hostel, beautiful boutique property, or a 16th-century five-star hotel. By Katie Jackson
Time Zone
GMT during the winter (last Sunday in October – last Sunday in March)
GMT+1 during the summer (last Sunday in March – last Sunday in October)
Best Time to Go
Lisbon is a shoulder season destination. The best time to visit is in the spring, March to May, or fall, September to November, when the weather is pleasant. During the winter months, it's often cloudy or raining, and the city can feel like a ghost town. During the summer, peak tourist season, temperatures can be uncomfortably hot, crowds are common, and it can be hard to find accommodations (plus rates are higher).
However, you'll definitely want to visit mid-June if festivals are your thing. Sunday, June 13 is St. Anthony's Day – Lisbon's most beloved holiday and an entire night filled with parades, dancing, and plenty of grilled sardines.
Things to Know
Currency: Euro
(Check the current exchange rate)
Language: Portuguese
I don't speak Portuguese: Nao falo portugues
Where is the…: Onde está
Thank you: Obrigada
Calling Code: +351 21
Outlets: Portugal uses type F and type C plugs. So, pack an adapter or be prepared to buy one at the airport. Since the voltage in Portugal is 230V you may also need to bring a converter if you're using an appliance that isn't compatible with 230V.
How to Get Around
Trains: Lisbon's trains (CP) which connect to major cities and surrounding towns, are frequent, reliable, and affordable. Tickets can be purchased at stations, online, or on the Comboios de Portugal app. The metro (Metro Lisboa) is just as user-friendly. There are four coloured lines. The red line goes all the way to the airport, and single rides cost less than €2 (INR 176). Don't forget to validate your tickets before boarding and hold on to them until your ride is over.
Buses: Lisbon's bus system (Carris) runs 24/7 and includes two electric trams (including the historic yellow trolleys) and a funicular. Single rides are €2.
Taxis: Lisbon's taxis are abundant and certainly affordable, unless you use them during rush hour. Fares depend on where you're going, what time of day you're going, and how much luggage you have with you. Coop Taxis tend to be the most trusted. Always have cash available as credit cards aren't always accepted. Rideshare: Uber and Cabify, a Spanish rideshare company often cheaper than Uber, are both available here. Upon arriving at the airport, follow signs for the Uber pickup location.
Best Hotels
Best Restaurants
Things to Do
Best Shopping
Neighbourhoods to Know
Alfama: Boasting some of the best views of the Tagus River, this medieval village (it survived the 1755 earthquake) is perched on Lisbon's highest hill. It's home to Saint George's castle and is arguably one of the city's most photogenic neighbourhoods. Streets are narrow, but not too narrow for the historic 28 Tram which ferries tourists who don't want to deal with cobblestones or stairs.
Bairro Alto: Dating back to the 15th century when artists and authors flocked here in high numbers, this bohemian borough is now a happening scene. But for the most part, the magic only takes place at night. Come during the day to see the Insta-worthy street art. Return after dark for the city's best nightlife, bar-hopping, and dancing.
Chiado: It's hard not to compare this sophisticated neighbourhood in the centre of Lisbon with one you'd find in Paris or on the Upper East Side. It's far more contemporary than its surrounding districts and home to luxury retailers, elegant theatres, and the city's finest reservation-only restaurants. It also boasts Livraria Bertrand, founded in 1732 and thought to be the oldest operating bookstore in the world.
Belem: Lisbon's most impressive buildings and stateliest parks aren't downtown; they're in Belem. This historic waterfront with an extensive riverside trail was where 15th-century explorers, including Ferdinand Magellan, departed Lisbon to discover the world. The city's most photographed structure, the Tower of Belem, rises out of the river and is only accessible by a pedestrian bridge. The neighbourhood is also home to beautifully landscaped green spaces, the ornate Jerónimos Monastery and several museums.
Weather
Lisbon has four seasons and with the exception of summer, a pretty mild climate. It can be compared to central California's. Temperatures rarely dip below 7°C and typically only climb up to the mid-30s°C in July or August. These months are also the driest. With an average of 13 days of precipitation, November is usually the wettest month. And don't count on seeing snow. It's not uncommon for Lisbon to go half a century or longer without receiving any.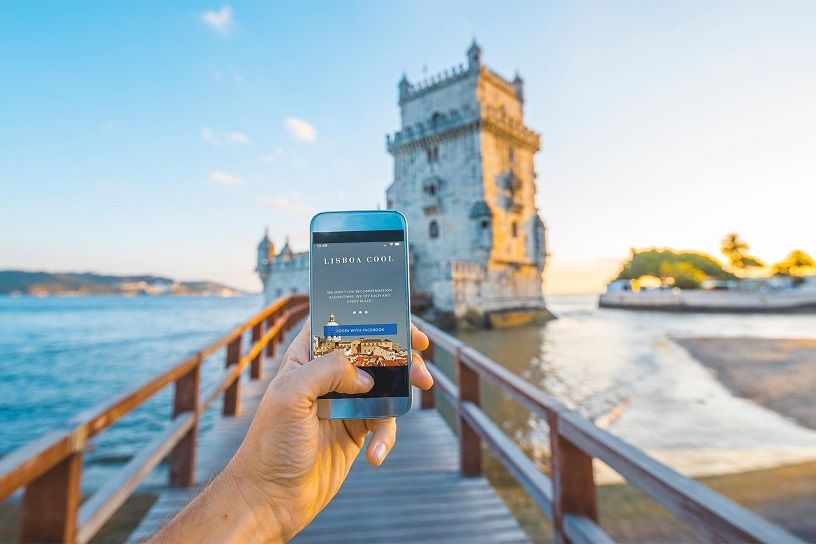 Apps to Download
Lisboa Cool: City guides, maps, planning, scheduling tours
iOs | Android
Uber: Ridesharing, food delivery
iOs | Android
Google Translate: Translation, phrasebook, transcription
iOs | Android
Related: The Ultimate Rome Travel Guide: Things To Do, See, Eat & Explore