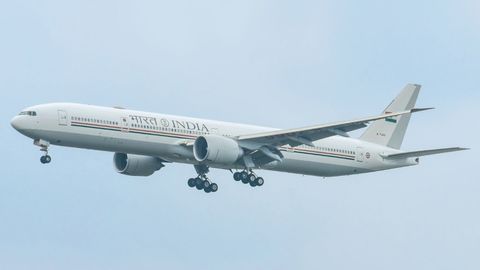 When it comes to air travel, presidents and other leaders of nations enjoy a level of luxury and convenience that's unparalleled. Forget about security lines and immigration checks at the airport — these official dignitaries have their own dedicated planes, ready to take off at a moment's notice. But these are no ordinary aircraft; the planes used by presidents, prime ministers, monarchs and other leaders are high-tech flying fortresses equipped with advanced defence systems and designed for ultimate luxury, comfort, and security.
Join us on a journey to uncover the secrets of these exclusive airborne palaces and discover how the most influential world leaders traverse the globe in style. We'll also explore some noteworthy trains that play a crucial part in helping dignitaries carry out their official duties while on the move.
Most influential world leaders and their planes:
President of the United States of America — Air Force One In the United States, any Air Force aircraft carrying the President is called Air Force One. President Joe Biden, however, usually flies in one of the two extensively modified Boeing 747-200B series aircraft, bearing tail codes 28000 and 29000. The two aircraft are identical in design and are officially designated as VC-25A by the Air Force.
Each plane has been fitted with advanced technology that can withstand electromagnetic pulse (EMP) blasts and can function as mobile command centres in the event of an attack. The planes also house a medical suite with a permanently stationed doctor, ready to serve as an operating room in case of emergencies. Clearly, the President is prepared to face any adversity, especially on board the Air Force One.
The plane spans 4,000 sq ft across three levels, offering ample space for the President and his staff. The onboard food preparation galleys can cater to 100 people at a time.
Prime Minister of India — Air India One India's top leaders, including President Droupadi Murmu, Vice President Jagdeep Dhankhar, and Prime Minister Narendra Modi, use a special fleet of two Boeing 777-300ERs to travel around the world. These state-of-the-art aircraft, collectively known as 'Air India One', represent a significant leap in VIP air travel in India.
These planes have top-notch security as they are fitted with Large Aircraft Infrared Countermeasures (LAIRCM), Self-Protection Suites (SPS) and Advanced Electronic Warfare Suites. These systems can ensure the safety of high-profile passengers even in the face of mid-air threats.
Inside, these planes are anything but ordinary. They feature conference rooms with network jammers, a medical area, and a private residence exclusively for the President, Vice-President, or Prime Minister.
Prime Minister of Canada — CC-150 Polaris Similar to India and the United States, Canada boasts a fleet of two aircraft dedicated to VIP travel. The CC-150 Polaris is used to fly the Prime Minister of Canada, the Governor General, and even members of the British Royal Family — it's because Canada operates under a constitutional monarchy and British monarch King Charles III serves as the Sovereign of Canada.
The Royal Canadian Air Force's CC-150s are militarised long-range aircraft that are basically modified Airbus A310s. The fuel tank in each aircraft is capable of carrying enough fuel to ferry four CF-18 Hornet fighter aircraft across the Atlantic Ocean. One of these aircraft, registered as 15001, is frequently employed by Prime Minister Justin Trudeau for his official visits.
Chancellor of Germany — Kurt Schumacher, Konrad Adenauer & Theodor Heuss Three Airbus A350s have been transformed into special government aircraft for Germany's Chancellor and President. Known as Kurt Schumacher, Konrad Adenauer and Theodor Heuss, these aircraft names pay homage to significant figures in Germany's history: the first chairman of the revived Social Democratic Party of Germany, the inaugural chancellor of Germany, and the country's first president, respectively. Olaf Scholz, the current Chancellor of Germany, frequently travels aboard one of these aircraft.
Managed by the German Air Force, the fleet bears the following tactical registration: Konrad Heuser is 10+01, Theodor Heuss is 10+02, and Kurt Schumacher is 10+03. While the first two planes are equipped with a full government cabin, the latter will also feature one by 2024. The exact details of the fleet's advanced technology and security features remain undisclosed by the government, leaving much to the imagination.
President of Russia — Il-96-300PU Vladimir Putin, who has been the president of Russia for over a decade, boasts an exquisite collection of cars, planes and trains. Among his preferred modes of transport is the Ilyushin Il-96, a Russian quadjet aircraft that has been extensively modified to serve as the official aircraft for the Russian President. This customised version is known as the Il-96-300PU, where "PU" stands for "punkt upravleniya", Russian for "Command Centre".
Nicknamed the "Flying Kremlin", the plane is truly a command centre, equipped with top-notch technology to ensure the President's safety. While the full extent of the security systems remains confidential, the plane is fortified with an anti-aircraft air defence system and radar-evading coating. Yet, Putin doesn't fly with just one; multiple identical Il-96-300PUs are prepared and flown along with him on official visits.
The President of Russia is also about travelling in style! The interior of the aircraft exudes opulence, designed in a neoclassical style featuring walnut veneers, leather furnishing and gold accents.
While his plane is a flying fortress, Putin's train is all about luxury and extravagance. With 20 train cars, it includes amenities like a cosmetology centre, gym, spa and much more that remains shrouded in secrecy.
President of China — Boeing 747 Image credit: Asuspine (GFDL 1.2 or GFDL 1.2 ), via Wikimedia Commons
China, as one of the world's largest economies, shares the stage with the US, India, and Germany. Unlike the presidents of these nations, Chinese President Xi Jinping does not have a dedicated official plane. Instead, when undertaking official duties, President Xi travels aboard one of two Boeing 747-400 aircraft from Air China's fleet, the country's flag carrier.
These aircraft primarily serve commercial purposes when not required for government duty. Yet, before their deployment for presidential travel, they undergo meticulous inspection by the leader's security service. The aircraft are also modified by removing some seats to create space for a living room, a bedroom, and an office, ensuring Xi's comfort during travel with his team.
Prime Minister & Imperial House of Japan— Japanese Air Force One & Japanese Air Force Two Image credit: 航空自衛隊ホームページ, CC BY 4.0, via Wikimedia Commons
Japan's official aircraft fleet has two 777-300ERs operated by the Air Self-Defence Force's Special Airlift Group. These aircraft serve a vital role, transporting not only the Japanese Prime Minister, Fumio Kishida, but also Emperor Naruhito, the 126th ruler of the Imperial House of Japan, Empress Masako (who enjoys the privilege of travelling abroad without a passport), and other Japanese dignitaries.
These highly customised planes feature VIP rooms, dedicated work areas and over 106 business-class-style seats for the team of officials accompanying Japan's royal family or the Prime Minister. While the exact security measures onboard have not been disclosed by the Japanese government, the aircraft have been meticulously modified to meet the military standards, ensuring the safety of the nation's high-ranking officials.
Prime Minister of the United Kingdom & British Royal Family — Vespina The British Royal Family's array of planes, helicopters, yachts, a train and cars is nothing short of remarkable. Their collection features classics like the Rolls-Royce Phantom IV State Landaulet, the former royal yacht Britannia and the Royal Train. A dedicated military unit — No. 32 Squadron of the Royal Air Force (RAF) — is responsible for flying them and senior government officials like British Prime Minister Rishi Sunak.
For international travel, the preferred aircraft for British officials is the RAF Voyager, also known as "Vespina". This military tanker aircraft has been modified for the transportation of British VIPs, but it retains its military capabilities for operations and rescue missions. Its military registration number, ZZ336, hints at the advanced security measures in place!
The Royal Train holds a special place in the royal fleet. Trains have served as an official mode of transport since the era of Queen Victoria. Today, it is primarily used by senior members of the Royal Family for tours across the UK. The train, which typically has nine carriages, has retained its classic charm and has not undergone any significant refurbishment since its inaugural journey during Queen Elizabeth II's Silver Jubilee in 1977.
Emir of Qatar — Qatar Amiri Flight The Emir (ruler) of Qatar, Sheikh Tamim bin Hamad Al Thani, stands as one of the world's wealthiest monarchs. His remarkable collection of aircraft, known as the Qatar Amiri Flight, comprises at least 14 official planes reserved for the Emir's international travels. Exclusive access to the Qatar Amiri Flight is granted to the Emir and other senior members of the Qatari Royal Family who hold significant government positions.
These aircraft are heavily modified with luxurious cabins, conference rooms, lounges, showers, and bedrooms decked with the most opulent furnishings. Detailed information about these planes remains elusive, and available knowledge is derived from the Royal Family's previous aircraft, some of which have been sold over time.
Supreme Leader of North Korea's Train (Special Mention)
North Korea has always been a land of mystery, with very little known about the nation and its enigmatic ruler. Kim Jong Un, the Supreme Leader, wields significant power as the head of the government and military forces. He possesses an impressive array of vehicles, including a private plane, swanky cars, and even a yacht. But what stands out in his collection is the luxury train he frequently uses to visit the neighbouring country, Russia. The fascination with trains appears to be a family tradition, as both his father, Kim Jong Il, and grandfather, Kim Il-Sung, former North Korean leaders, also relied on trains for travel.
Kim Jong Un's train is not about speed but glamour, luxury and security. When he travels, multiple trains are deployed for security reasons, and each train has at least 10 to 15 bulletproof carriages. The media has occasionally glimpsed the Supreme Leader's office carriage, which has a desk, chair and a map of China and the Korean peninsula. The train is reportedly equipped with satellite communications and features amenities like imported French wine, flat-screen TVs and plush leather seats.
Although Kim Jong Un maintains an official plane, sightings of him using it are rare, as he seldom travels abroad. His air fleet has two Russian-made Ilyushin-62M. One of these planes, known as Chammae-1, remains shrouded in secrecy, with limited information available beyond its considerable age.
Shop the best travel experiences here
Hero and feature image credit: Ketan Lanke, CC BY 4.0, via Wikimedia Commons
Related: Long Haul Luxury Travel: The World's Best First Class Airlines
Frequently Asked Questions (FAQs)
– Do world leaders get to choose their own flights?
The discretion to choose flights varies among world leaders and governments. In active monarchies, leaders often have the privilege of selecting their flights. Presidents and prime ministers may also have some say, but these decisions are typically dependent on specific circumstances.
– Are the flights of world leaders heavily armoured?
Yes, aircraft designated for world leaders are equipped with a range of security features to ensure the safety of the presidents, prime ministers, or royalty during emergencies.
– Can you give examples of famous presidential or world leader's planes?
Noteworthy examples include Air Force One (USA), Air India One (India), and Vespina (UK).
– Are world leader flights used exclusively for official business, or can they be used for personal purposes too?
While these flights are primarily dedicated to official duties, there are instances when world leaders use them for personal reasons to ensure their safety and security.
Written By