Travel+Leisure India & South Asia meets with the royal mother-son duo of Gwalior — Maharani Priyadarshini Raje Scindia and Yuvraj Mahanaaryaman Scindia—who introduce the team to the many wonders of the historic city in the new Volvo XC90.
Produced by Aindrila Mitra
Photographed by Antony Joseph
Assisted by Kuldeep Pundir
Styled by Divyak D'souza
Assisted by Jhanvi Pallicha
Hair and Make-Up by Kritika Gill
Location: Jai Vilas Palace and Gwalior Fort
Wheels Partner: Volvo XC90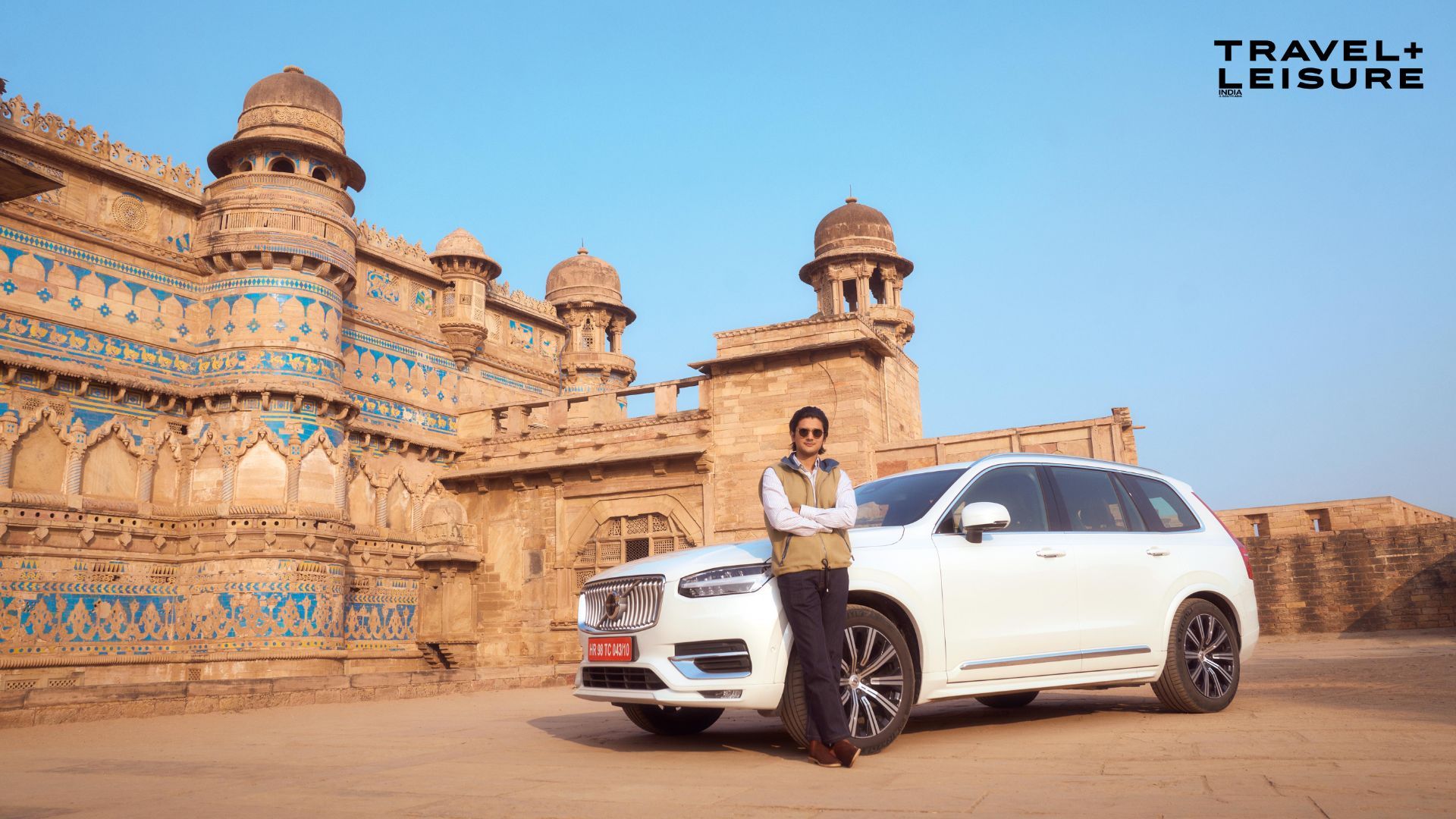 As I sit to write this story, I can't find the right words for Gwalior. Do I talk about the city's history, dating back to the eighth century when the fortress first got its name? Or do I speak about its political prowess that flourished under the aegis of multiple dynasties like the Kachchhapaghatas (in the 10th century), Tomars (13th century), Mughals and Marathas (18th century), and finally, the Scindias, the last dynasty to hold the royal seat before the nation gained independence in 1947? To rid myself of this conundrum, I turn to Maharani Priyadarshini Raje Scindia and Yuvraj Mahanaaryaman Scindia, the royals of the city and cover stars of Travel+Leisure India & South Asia's first issue of 2023, in whose company I am to discover this remarkable land.
"Madhya Pradesh has some of the most beautiful landscapes you will ever see," says the prince. The queen mother agrees. "For me, it's home! An ideal vacation for me would be in Madhya Pradesh itself—one where Mahanaaryaman and I would just drive [around the state]," she says with a glimmer in her eyes. On this trip, the new Volvo XC90, a mild hybrid seven-seater SUV that makes city and highway drives conscious and comfortable, is our road companion. The tech-savvy millennial prince connects his phone to the car's built-in Google interface to play music on the Bowers & Wilkins high-fidelity audio system. The rest of us—his mum and the shoot crew—eye the display screen as it maps the directions towards our first stop: Harsi Dam.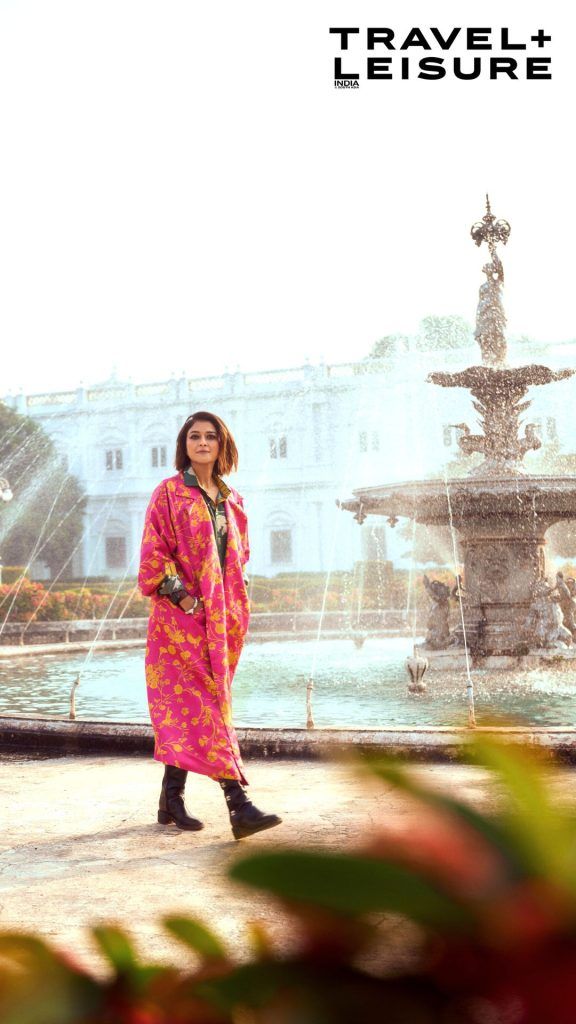 Located roughly 80 kilometres from Jai Vilas Palace, the royals' home-turned-museum, Harsi Dam is fed by the Atal Sagar River and is made entirely of clay. The water, I learn, serves as an important source of irrigation and is used by locals to catch fresh fish. In the distance, a green hilly island dons the hues of the setting sun.
We are all enraptured by a rickety boat gliding along the placid water when the Maharani turns to me, "While Gwalior is home to me, it also comes with a sense of responsibility—responsibility of legacy, of being the person who takes the culture forward, of uniting the past, present, and the future." Mahanaaryaman nods in agreement and adds, "To deal with this, we take breaks by immersing in nature. I enjoy exploring Gwalior and its surrounding areas in the hopes of finding hidden treasures. That, for me, is a great way to reboot my system." And at the gorgeous Harsi Dam, we do just that.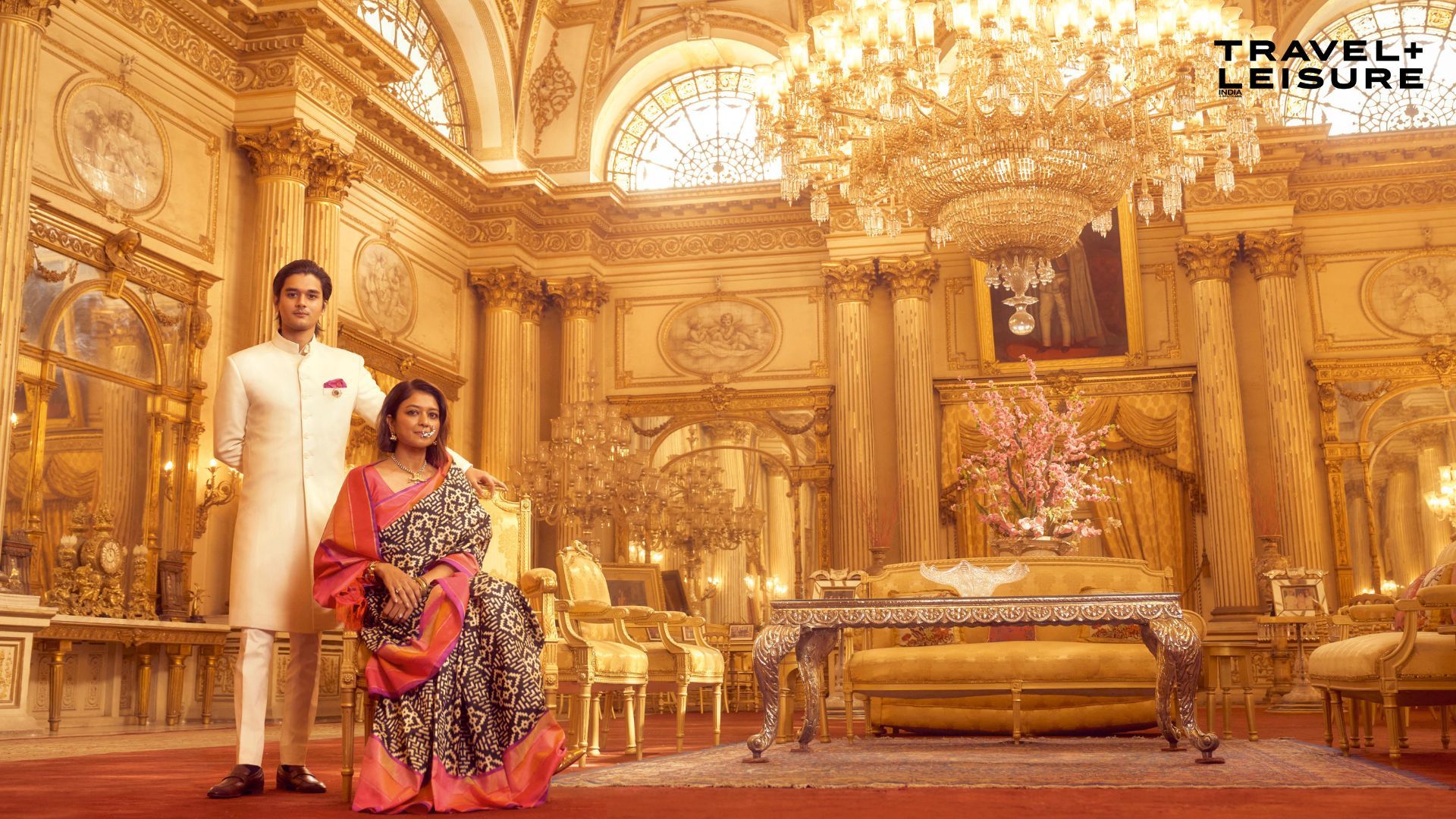 Similar serenity can also be found at Sultangarh Waterfalls. "It's a monastery for us," the prince tells me. The thundering echo of the waterfalls—which locals believe can be heard from as far away as 50 kilometres—make it seem otherwise. The natural cascade, fed by river Parvati, slips through rocky terrains and falls down a gorge and eventually disappears into the horizon. A white median egret swoops down the waterfall in search of grub, and the rapid currents add to the meditative quality of the forest. Priyadarshini Raje has her eyes closed, perhaps to catch a few moments of solitude and calm amid the chaos of the shoot. I begin to get the prince's standpoint.
The palace is buzzing with activity when we get back. The Jai Vilas Palace was built in 1874 by Maharaja Jayajirao Scindia of Maratha empire's Scindia dynasty, the then king of the princely state of Gwalior. In 1905, the palace welcomed King Edward VII (then Prince of Wales and Emperor of British India) and Queen Mary (then Princess of Wales). Today, a sea of tourists visit the sprawling 300-room, three-storeyed museum for a glimpse of regal history (the staff tells me that on one given day, this count reached thousands!). The West and South wings of the palace—which were converted to a museum in 1964 by Rajmata Vijaya Raje Scindia in memory of her husband, HH Maharaja Sir Jiwaji Rao Scindia, the last Maharaja of princely state of Gwalior—is dotted with rose-wood furniture, crystal mirrors, Southeast Asian art collection, Kirman Masha'ir carpet, rare paintings by Indian and European masters, lithographs, and more. Despite the global character of the artefacts, the royals wish to re-centre the spotlight on local, traditional crafts.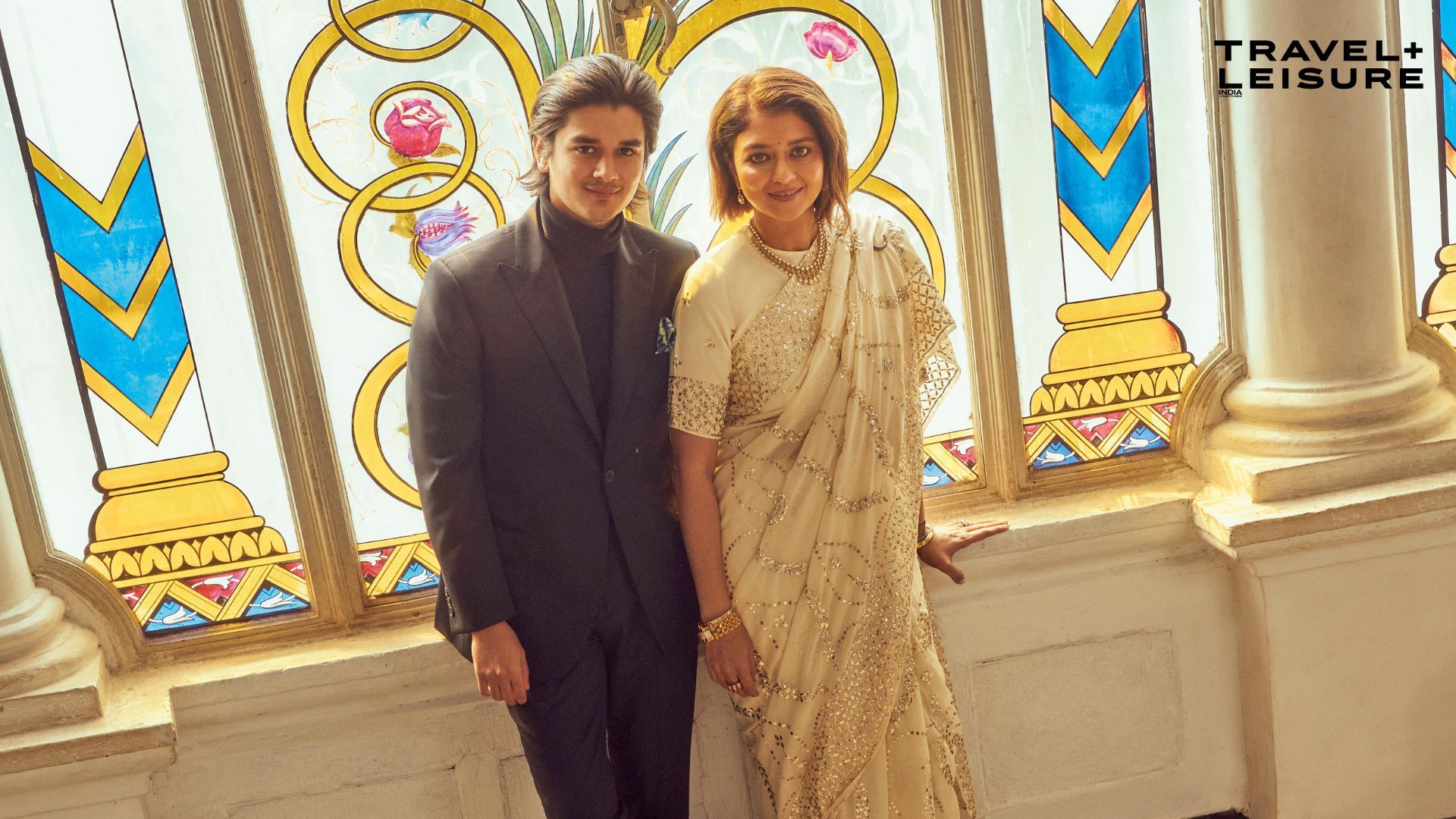 "It's important we bring lost arts and crafts back to Madhya Pradesh and re-own a part of what was once our tradition," says the Maharani, adding, "People of Ujjain who have been working as hand-block printing artists for 300 years." To showcase the state's textiles beyond the signature Chanderi fabric (a century-old weaving technique known for its glossy transparency and sheer texture), the royal family has started Aaranya. It is the museum's initiative to promote local weaves and designs. One can cop fashion picks that interweave Deccan culture, Scindia dynasty's motifs, and influences of the Maratha rulers, all while staying contemporary and chic. Imaginative designs that draw inspiration from local crafts underline each look, while staying conscious is given utmost attention. The pure silver rings, carpet clutches, and bamboo lampshades spoil me for choice. I flutter around from one end of the store to another for an hour, indecisive and intrigued in equal amounts. Maharani continues, "With Aaranya, we connect designers directly to the weavers. We are also planning to do a whole collection using tribal textiles."
Interestingly, according to India's 2011 census report, 21.1 per cent of Madhya Pradesh's total population comprises Scheduled Tribes. Of these, few are given the opportunity to showcase their crafts and skills to the public. Ekam, an annual fair held at the museum thrice a year, aims to bridge this gap. Start-ups and home-based ventures are given a platform to not only showcase their initiatives to the people of Gwalior, but also connect with fellow entrepreneurs. "We are trying to get more products made [in Gwalior] and help create internal networks [for the entrepreneurs]," the consort explains. She continues, "Right now, the focus is on bringing more state-level crafts and brands to the platform because it is important for these products to have their own markets locally as well."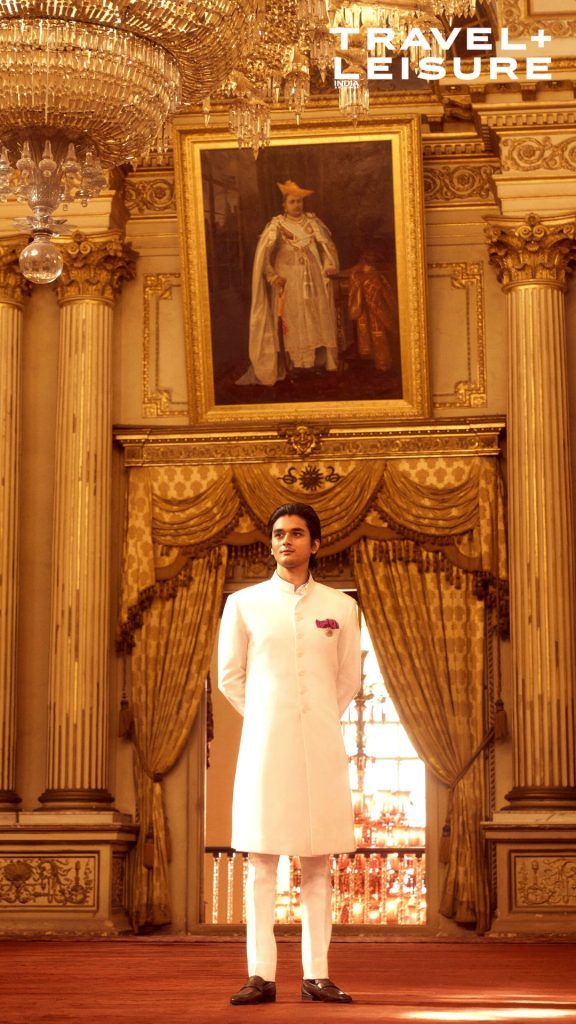 This push, Priyadarshini Raje believes, can best be made via the tourism sector. She notes, "Tourism results in jobs. It is very important to bring children back [to the homeland]. To have Aaryaman by my side today and seeing Gwalior or Madhya Pradesh through his eyes shows me that we shouldn't wait for an event to take place for people to return. We already have enough in Madhya Pradesh to showcase!"
For the 27-year-old prince, this homecoming after completing his education at Yale University, brought with it a chance to rediscover his roots. "Earlier, I would see Gwalior as a responsibility. Returning and exploring with my friends allowed me to see and understand Gwalior from a different lens. That pushed me to spend more time to rediscover the Gwalior-Chambal region. And it made me more passionate to work here and promote the area."
The first edition of Pravaas (a journey of mindfully-created cultural immersions across music, food, and art co-created by Yuvraj Mahanaaryaman, entrepreneur Nakul Mehan, and chef Prateek Sadhu; pravaas.co.in) was a step in this direction. The music-loving prince weighs in, "The objective was to get people to Gwalior and make them witness what the city has to offer—whether it's art, history, culture, or food."
Even as the shoot and my days in the city near its end, Gwalior continues to baffle me. Yuvraj Mahanaaryaman rightly sums up this microcosm of culture: "Gwalior has a lot to offer to tourists looking to understand India. It is confluence of religion, histories, landscapes, arts, and architecture." As we capture the final frame, I'm already chalking out my next itinerary for Gwalior.
Royal Picks
Must-visits in Madhya Pradesh:
Harsi Dam, Sultangarh Waterfalls, Panna National Park, Mitaoli, and Padavali.
Must-experience in Madhya Pradesh:
Orchha festival, Tansen festival, Khajuraho festival.
Visit Gwalior
GETTING THERE
Being an Indian Air Force Station, Rajmata Vijaya Raje Scindhia Gwalior Airport has restricted connectivity. IndiGo offers limited direct flights from New Delhi and Mumbai, while SpiceJet has limited direct flights plying from Bengaluru. Various day and overnight trains operate from New Delhi Railway Station and Delhi Hazrat Nizamuddin Station to Gwalior Junction. A road journey from New Delhi to Gwalior takes nearly seven hours via Yamuna Expressway.
STAY
Located in the heart of Gwalior's corporate district, Radisson Hotel Gwalior serves as the apt base to explore the city's wonders. While the two on-site restaurants promise delectable meals and comfortable dining, the 89 rooms and suites assure homely vacationing every step of the way. Doubles from INR 12,099
Related: By Air, By Road, By Train: A Complete Travel Guide To Gwalior