Singapore-Based Non-Binary Visual Artist Sam Lo's Take On Street Art
Singapore-based non-binary visual artist Sam Lo has been busy during the pandemic, painting a mural on the facade of the Broadway Hotel in Little India, Singapore. The artwork titled Dancing in Unison is the fruition of a collaboration with Indian Gond artist Bhajju Shyam. The artist speaks to us about her journey. By Adila Matra
Tell us about the concept and collaboration behind your latest mural.
The collaboration explores the traditional elements and belief systems that inform Bhajju's world, in conjunction to my contemporary one. The mural embodies the idea that respect for nature is what will guarantee our co-existence. The tree—an iconic element from Gond art designed by Bhajju—engulfs the urban environment of human dwelling. Its branches host vibrantly coloured sparrows, an element which reoccurs in my work as a symbol of freedom. The deer that I introduced is a revered animal in India and serves as a tribute to Gond art.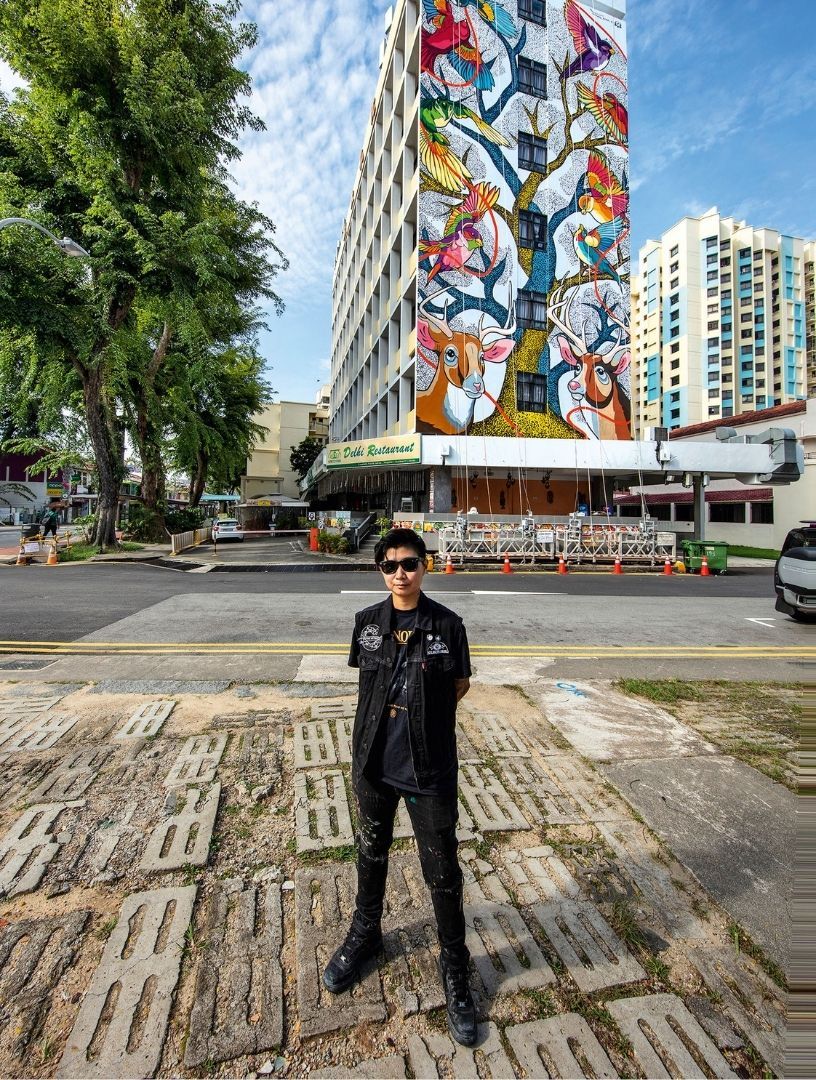 You created a mural in Lodhi Art Colony in 2019. What are the major differences between creating street art in Singapore and India?
On top of the weather, the amount of wall space available is a noticeable difference, with larger walls more readily available in India. What I loved about creating that mural in Lodhi Art Colony was that the neighbourhood was filled with beautiful murals by artists from different countries, which made for an educational cross-cultural exchange.
There is much debate around the world about sociopolitical street art. What's your take?
I believe that everyone has the right to express themselves; art is for everyone. This can bring us closer or divide us, but the works being put out may share an alternative point of view that we are yet to consider.
What were the challenges of collaborating virtually for the mural? And what was it like to work with Bhajju Shyam?
There were a number of challenges from the start of the collaboration: from the language barrier to the time difference to the deadlines. Because we had not been exposed to each other's work and we hadn't had a chance to chat casually, we went straight to work mode. The visual language we use is also very dissimilar, which was a big challenge when it came to the overall composition. Bhajju sent over his drawings for me to work around, and I sent back many iterations. It was quite a journey.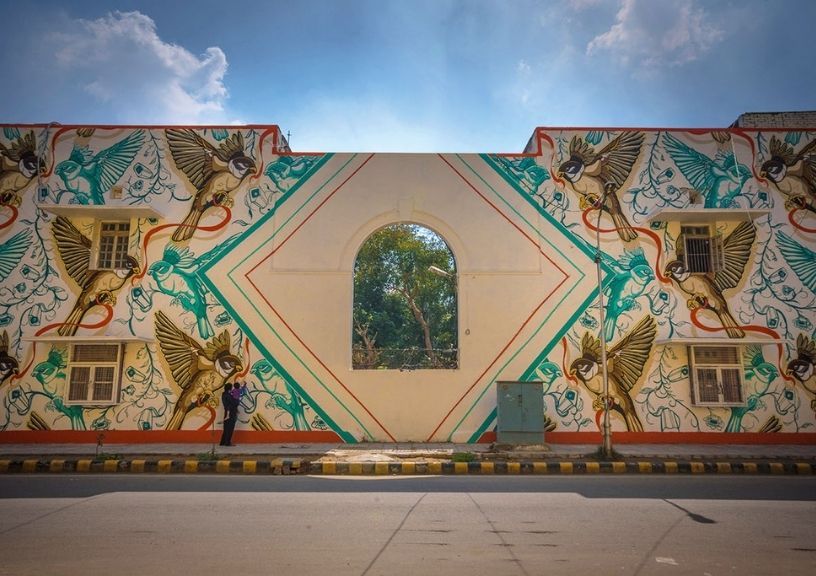 What is your dream project? Any country or building that is on your bucket list?
I would love to paint an HDB (public housing) block in Singapore. And once this COVID crisis is over, I would love to paint in as many countries of the world as possible.
Related: This Mexican Artist Recycles Empty Bottles Into Glass-Blown Hearts