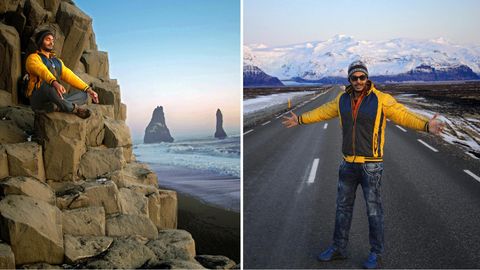 Meet Ravi Prabhu, the awe-inspiring globetrotter who hails from Andhra Pradesh and Odisha, lives in the States, but has set foot in almost all the countries of the world. Although he is homebound right now, his dreams continue to soar high as ever. From a chunk of 195 countries, this part-time traveller has only nine countries left to strike off to complete his ambitious mission of visiting every nation. We get in touch with him to know more about this herculean task and his many travel tales. By Bayar Jain
1. What inspired you to take up this mammoth world-tour mission? Ravi Prabhu: I have always had a penchant for travel ever since I was a kid. My parents were travellers as well. Even though we belonged to a very ordinary middle-class family, they left no stone unturned to take us [Prabhu and his sister] around and show us places across India. Seeing myriad places as a kid enhanced my interest to explore more places far and wide.
While growing up, I aspired to see many places but I hadn't thought of covering each and every country in the world even in my wildest dreams. But when I started exploring the world, I moved my goal post further ahead after every 10 or so countries, thereby eventually hoping to travel the whole world. However, since I'm not a full-time traveller, and I balance travel with work and family, the pace at which I travel is relatively slow. I have been travelling for more than 10 years now. In fact, I was hoping to finish the remaining countries this year itself – by taking a sabbatical from work – but nature had different plans!
2. Your Instagram username – @soaringeagletrots – is very intriguing. What's the story behind it? Ravi Prabhu: After I graduated with an MBA in the USA, I worked as an information systems/management consultant on a long term project with a client from a different city. Since the client covered my travel expenses, I wasn't required to relocate. However, I would fly every Monday to work, and once work ended on Thursdays, I would travel to Europe every other weekend for pleasure. With the number of flights I took, and always armed with a window seat and stunning views, I felt as if I were an eagle soaring high up in the sky with wide wings trotting around the world. Hence, 'Soaring Eagle Trots.'
3. You mentioned that you've got only nine countries left to set foot in. Which ones are they, and what do you hope to see in each one of them? Ravi Prabhu: Venezuela, Iran, Syria, Yemen, Turkmenistan, Nauru, Tuvalu, Somalia and Libya. Each of these countries has varied landscapes and offer many unique elements. To me, travel is all about finding things that are unique and specific to the country, while also finding some common interwoven elements across the board.
4. As a globetrotter, has language ever been a hurdle for you in any country and how did you overcome this? Ravi Prabhu: With the advent of handheld gadgets and mobile apps, language is not a hurdle. English being the lingua franca has also helped. Besides, I have a working knowledge of a few other languages, so it was not really a hurdle for me.
5. How do you narrow down on your next destination, and what are the various logistics you need to factor in? Ravi Prabhu: As the list of remaining countries gets shorter, narrowing down on destinations gets easier as well. After the initial 100 countries, I got smarter in picking destinations and chose adjoining countries so I could cover more nations in one go. But I don't travel full time and had to factor in my work and family; time is the biggest hurdle. Everything needs to be planned in a time-sensitive manner. Every other element was secondary.
6. Which has been your most memorable destination and why? Ravi Prabhu: There are many places that fall in this category! Bhutan was the first foreign country I travelled to, and I was only 10 years old at the time. Revisiting the country at a later stage in my life and retracing all my steps was quite a memorable experience. This time when I went, I had already crossed the 100 countries mark. That moment was very memorable and gave me a sense of accomplishment.
Being an Indian and raised in India, all one hears about is Pakistan, LoC (Line of Control) and POK (Pakistan-occupied Kashmir). So, visiting Gilgit-Baltistan – or what is referred to as POK in India – brought another sense of accomplishment.
7. Have you ever lost your way in another country? Ravi Prabhu: Luckily, I've never lost my way in any country as I research on each destination. Having said that, I have taken a few trips without a plan and discovered sights serendipitously, but have never lost my tracks.
8. What is your take on conscious travelling, and how do you incorporate it in your adventures? Ravi Prabhu: I think it is important. When travelling, I try to factor in environmental friendliness. I try my best to stay in boutique hotels, use public transport and try to keep my carbon footprint low.
9. How has being in lockdown been for you, considering you're always on the go? Ravi Prabhu: My last trip was in February when I spent five incredible days in Afghanistan. Since my trips are usually a few months apart, I haven't felt any effects of the lockdown.
10. Where are you quarantined right now and how are you coping with it? Ravi Prabhu: I currently live in Richmond, Virginia where I'm quarantined and working from home right now. Since I'm in my own house with my family, nestled among wide green spaces, lakes and running tracks, the lockdown has not been a challenge to cope up with. I try to watch as many movies as I can and cycle at least 15 miles each day to keep my sanity in check.
11. Where were you when the lockdown was set in motion? Ravi Prabhu: Luckily, I was at home when the lockdown was established. I wasn't stuck in some remote part of the world.
12. What do you miss most about travelling?
Ravi Prabhu: Travelling is quite addictive, and has probably become a compulsive disorder for me! I tend to go crazy in my head if I do not travel for long. So, I have started taking road trips now, trying to discover places that I wouldn't usually venture to or even consider. By doing this, I realised that each and every place offers something unique, and every place has something magnificent to showcase. But, I do miss taking flights, meeting people, and the thrill of planning and exploring remote places.
13. If given a chance to revisit one country and spend the rest of your life there, where would you go?
Ravi Prabhu: Even though I have travelled far and wide, no place matches the charm, variety, colour and thrill of India – and I'm not saying this because I'm an Indian! There's never a dull day in India, and there is always something different every few kilometres. I wouldn't flinch for a bit if I had to return to India and spend the rest of my life there. A lifetime isn't enough for me to explore India.
14. Any tips you would like to give to travellers, especially those who wish to tour solo?
Ravi Prabhu: We live in an amazing world filled with beauty and variety. Small constraints should not limit one from travelling. People can always find something unique, and it doesn't necessarily have to be 'foreign' travel. I urge people to take that leap of faith and make the move.
Related: Around India On A Cycle: Cyclist Ankit Arora Redefines The Meaning Of Slow Travel
Editor's note: The global COVID-19 crisis has left each one of us deeply affected and we want to help. Burda Media India has organised a fundraising campaign to #FightBackWithTesting and donating RT-PCR test kits to the worst-affected areas in India, which will be secured from our testing partner Mylab Discovery Solutions. You can help these kits reach many more by donating for the cause or by adopting a kit. Click here to join the fight.
Written By