Actor Poorna Jagannathan, who became a household name worldwide thanks to her portrayal of Nalini in Never Have I Ever, is a part of several Hollywood projects where she isn't playing the stereotypical Indian woman. In an exclusive interview, our digital cover star opens up about shifting conversations around the portrayal of South Asian women on screen, following her dreams and travelling the world.
Poorna Jagannathan, the endearing Nalini, Devi's mom from Never Have I Ever, the eclectic mafia maven from The Out-Laws and Priya, the author looking for answers to complexities miring the society, in I'll Show You Mine, is hard to stereotype or define in a single moniker. Actor, producer (she produced Nirbhaya, a play about the shocking 2012 Delhi rape case), former advertising professional and nomadic traveller–are a few of the roles that Jagannathan has embraced in 50 years of her life. But what she has done best is defy conventions. Jagannathan who started acting in her 30s, has fiercely subverted the cliches associated with the portrayals of South Asian women on film and television. She represents a strong and independent immigrant woman, who isn't awkward and out of place but knows what she wants and believes in her decisions and choices.
Her nuanced character in the hit Netflix series Never Have I Ever coupled with her refined sartorial sensibilities show how Indian women have found a sure footing in the modern world. And her portrayal of a crime boss in a mainstream Hollywood movie (The Out-Laws) is proof of the power that South Asian women are gaining on screen.
Poorna Jagannathan may have bid adieu to Nalini, but she has a busy year ahead. She plays a drug kingpin in Deli Boys, an upcoming dramedy for the Onyx Collective on Hulu. She also has an upcoming project titled "Wolves", where she stars alongside Hollywood biggies George Clooney and Brad Pitt.
We speak to Poorna Jagannathan, our digital cover star, on driving this change, pursuing her passions, travelling the world without a plan and believing in the miracle of serendipity.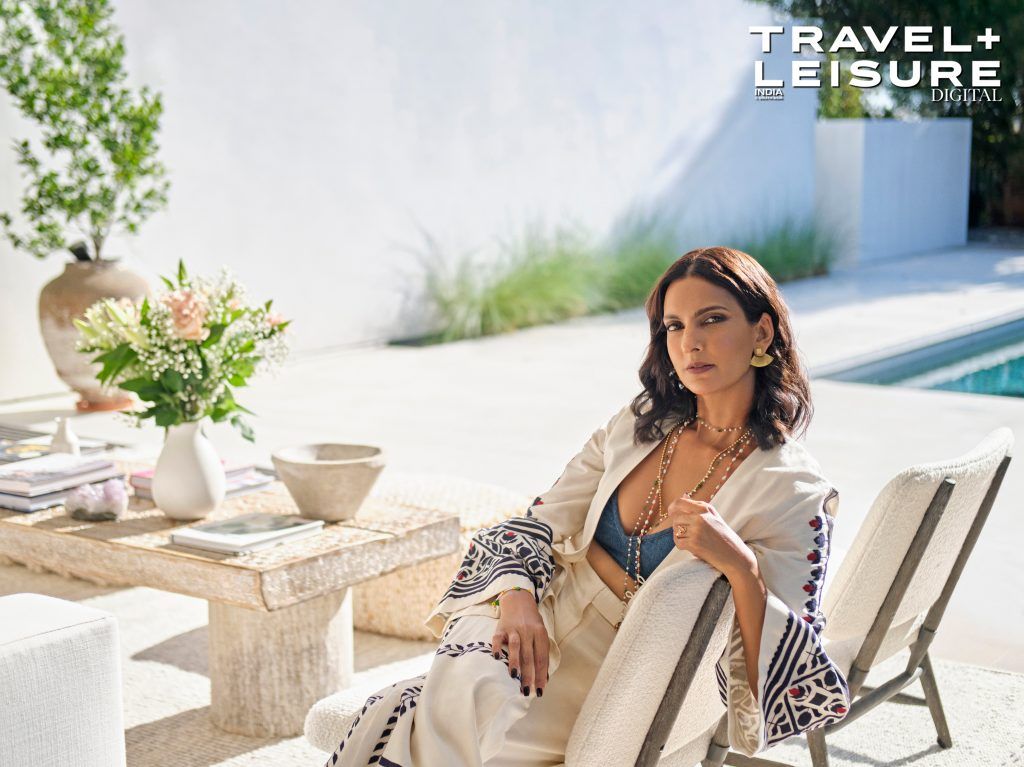 1.
You are a global nomad, tell us about your growing up years, the places you went to and how all this travel shaped you into the person you are? 
Travel is the one thing that's shaped me the most. My father was an Indian diplomat and every three years, we'd pick up and move to a new country. I was born in Tunisia and grew up in India, Ireland, Brazil, Pakistan and Argentina. I travelled with them till I was 24. I get my strength from travel, I adapt to a new place in no time, I can read a room faster than most people, I am pretty good at learning languages and behaviour. But it was a real struggle for me to put down my roots and build long term relationships. I turned 50 last year and I can finally say things like "I've been married for 20 years," "I've had a best friend for 18 years," "I've lived in the same city for 8 years." These were things that felt very out of grasp growing up. 
Clothes: Ikai
Hair: Bia Iftikhar
Makeup: Lilly Keys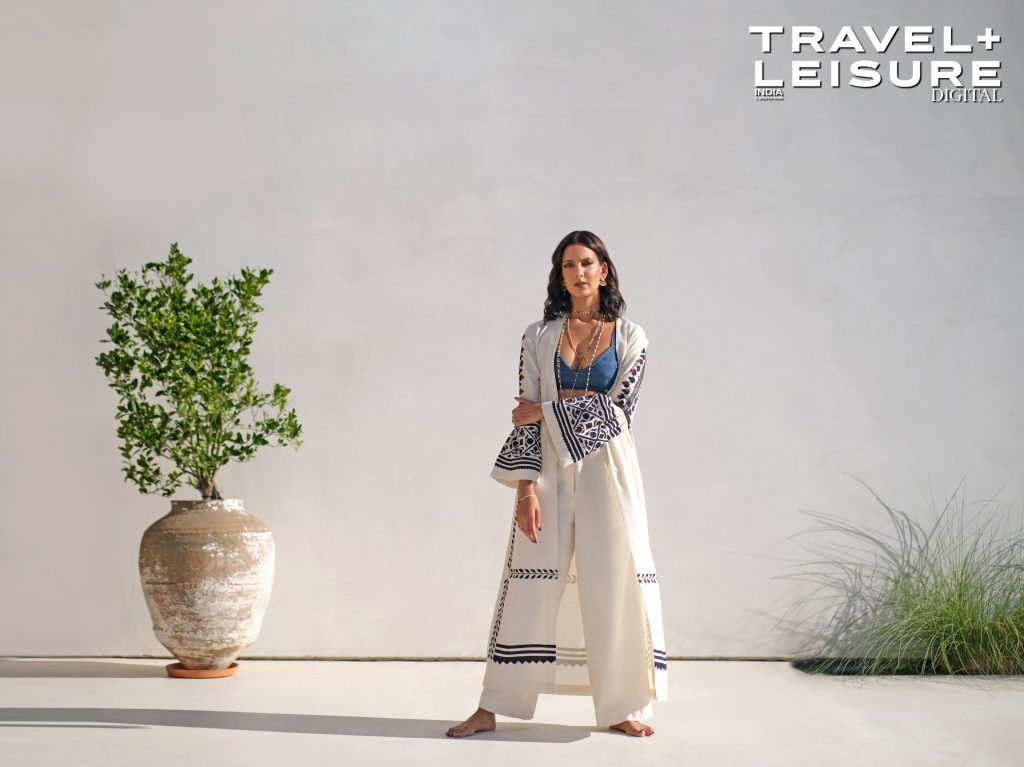 2.
You worked in advertising for 15 years before taking up acting, what made you do this? What kept you going and what would you tell others who want to pursue their dreams?
Like so many people, I had zero connections to the business. I also didn't really know what acting was. I just knew that when I saw a really good movie, my heart would leap out of my body and I just wanted to be a part of whatever that movie magic was. So, my plan was to work and pay the bills while I went to acting classes on the weekends. My plan was to have a job that could sustain me and my family financially while figuring out this acting journey. Also, I interned with Alyque Padamsee in Mumbai, while I was in college. He was in advertising and did this theatre thing, so that's why I did advertising. When I turned 30, I quit my job in advertising, started my own brand consulting firm, and went to acting school full time. My last gig in advertising was in 2016 and while I was moderating a focus group, I got a call that I had bagged a big TV job, and I put my coat on and left.  
I always say you're never too old to pursue your passion. Keep juggling things so you can keep your passion alive. There were so many times when I had to completely quit being an actor and had to put my head down and work in corporate America. But I was happy to just be an acting student. If you attach an end result to your passion–like I want to be on a TV show, or I want to get rich doing it–you're going to be unhappy. If you're passionate about something, keep doing it, keep getting better and keep believing in yourself–that's success for me. I also am a big advocate for finding your "life force"–that thing you do where time melts and hours seem like seconds.
Clothes: Ikai
Hair: Bia Iftikhar
Makeup: Lilly Keys
3.
How's it working in the Western show business? What challenges and stereotypes did you have to deal with? 
I had to deal with a lot of stereotyping everywhere I went. When I was in India, I was too American. Here in the States, I used to get cast in typically Indian women roles—the doctor, nurse, IT specialist. It was suffocating. I always felt like a diversity hire. And like I had so much in me to give and no one wanted it. Things really changed when I got "The Night Of" – my roles got more complex but "Never Have I Ever" is the first time I could bring my full self to set—all my experiences, my past, my heritage, everything. That coupled with such nuanced writing made it one of the most fulfilling experiences. I don't know if I'll ever get a role like this again but I feel lucky that Nalini happened. She's out there in the world and kids who look like us will always have a TV family they can find themselves in.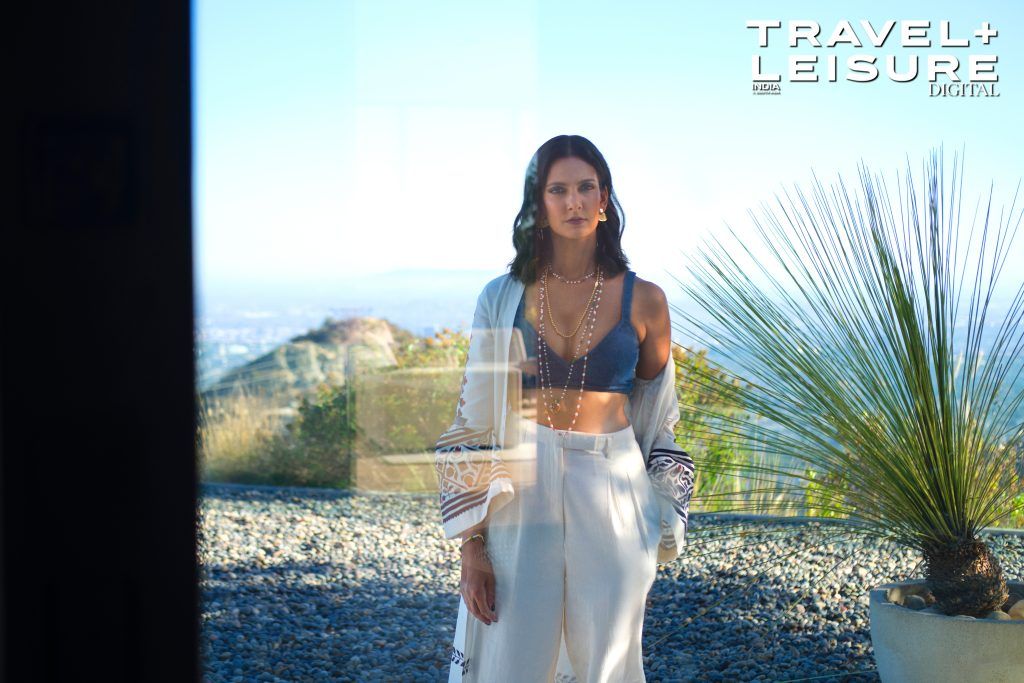 4.
Your representation of Indian designers through your wardrobe choices in the show was much appreciated, you made many designers feel seen. Was that your intention, to represent Indian designers to a global audience? 
It was very intentional. But really there was a collective vision – Mindy (Kaling), Lang and the costume team wanted to present a professional immigrant woman who had great fashion taste. Which is a radical move away from how she's always been presented: dowdy, cheap, unaware, and out of place. The team was so open to me introducing them to Indian designers. So, I'd source the clothes from India and present it to the costume team and as the seasons went on, Nalini's aesthetic evolved to wearing Indian silhouettes inside the house and more western silhouettes (still from South Asian designers) outside the house/at work. So, she wears a lot of Anita Dongre and Ikai kurtas inside but wears brands like Cuyana and Bodice outside. Tory Burch who has an Indian aesthetic in some of her pieces showed up a lot too. And even that Etro suit I wore in season 2 to the party with Common, that was made out of sari material. The narrative slowly spun itself as the seasons went on—Nalini is proud of where she comes from and clothes are a way to connect her to home.  
Clothes: Ikai
Hair: Bia Iftikhar
Makeup: Lilly Keys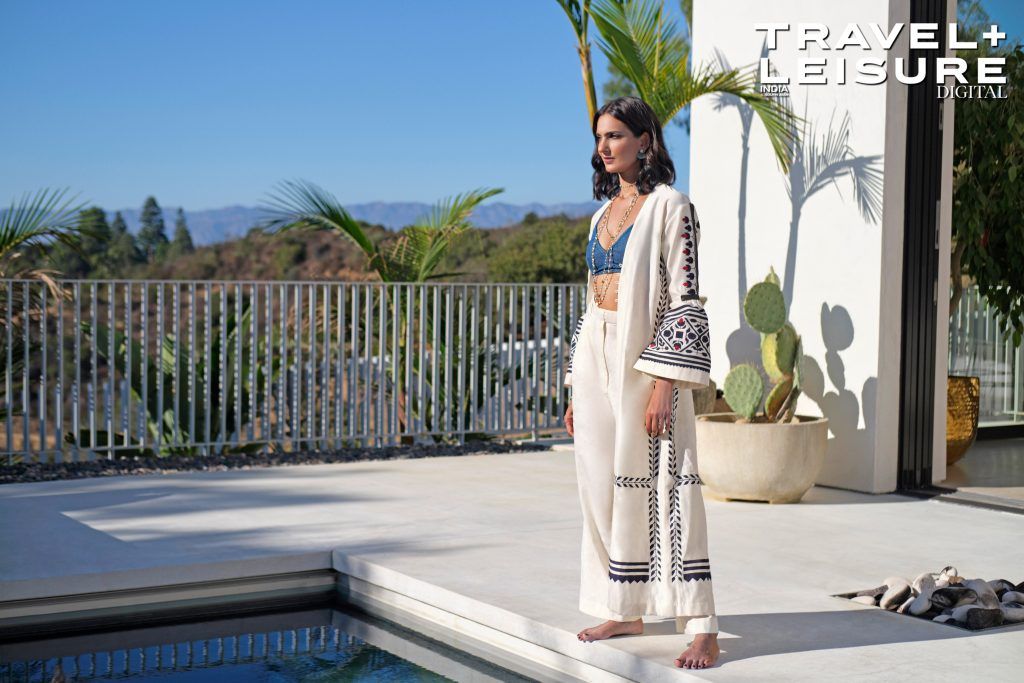 5.
Being a mom, how much do you relate to Nalini in real life? 
I've learnt a lot about parenting from this show. When the show came out, I was blown away by the audience's reaction: all the kids wanted from their parents was a sense of belonging. I've really tried to give that to my son. I've let go many conversations that focus only on college, or his grades. My job is just to let him know he belongs to us and that he's loved unconditionally by us. The world will take care of the rest.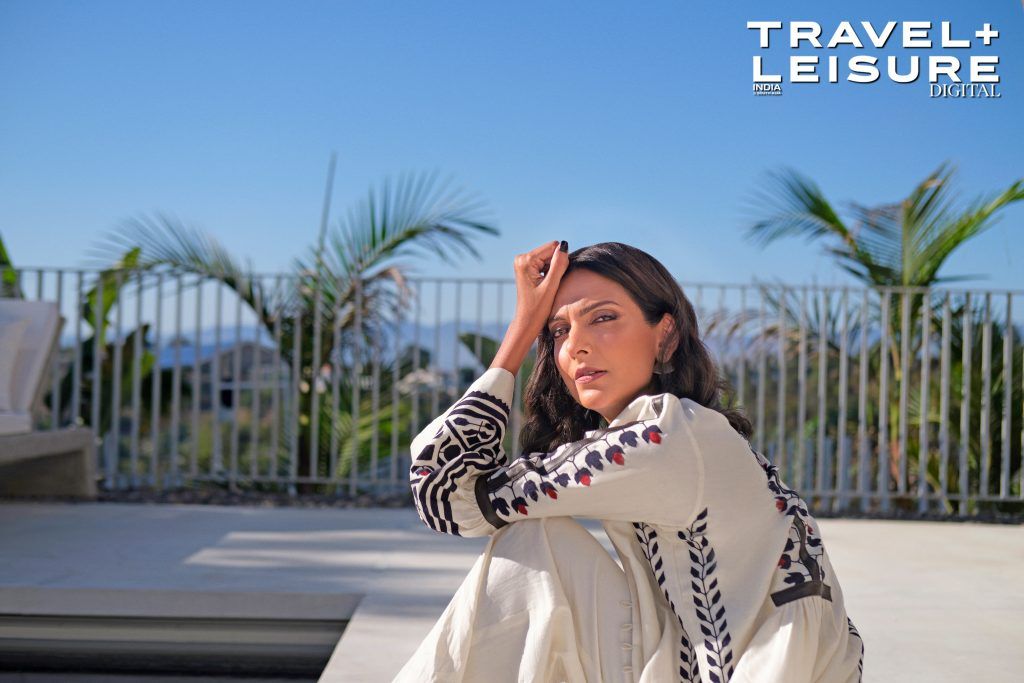 6.
Tell us about your role in The Outlaws? How did that come to you? 
The role is a wild one. The story is that Adam Devine is a straight-laced bank manager who is about to get married. His in-laws arrive from out of town and after spending a raucous evening with them, his bank gets robbed the very next day. Turns out his in-laws are the most dreaded outlaws. My role is that "the outlaws"–Pierce and Ellen–used to work for me and they owe me money and I want that back.  
I went through a rigorous audition process and I was the craziest villain they auditioned. I found the script and the part absolutely hilarious and the fact that they let me have a Russian/Indian/Armenian/Middle-Eastern accent is just ridiculous.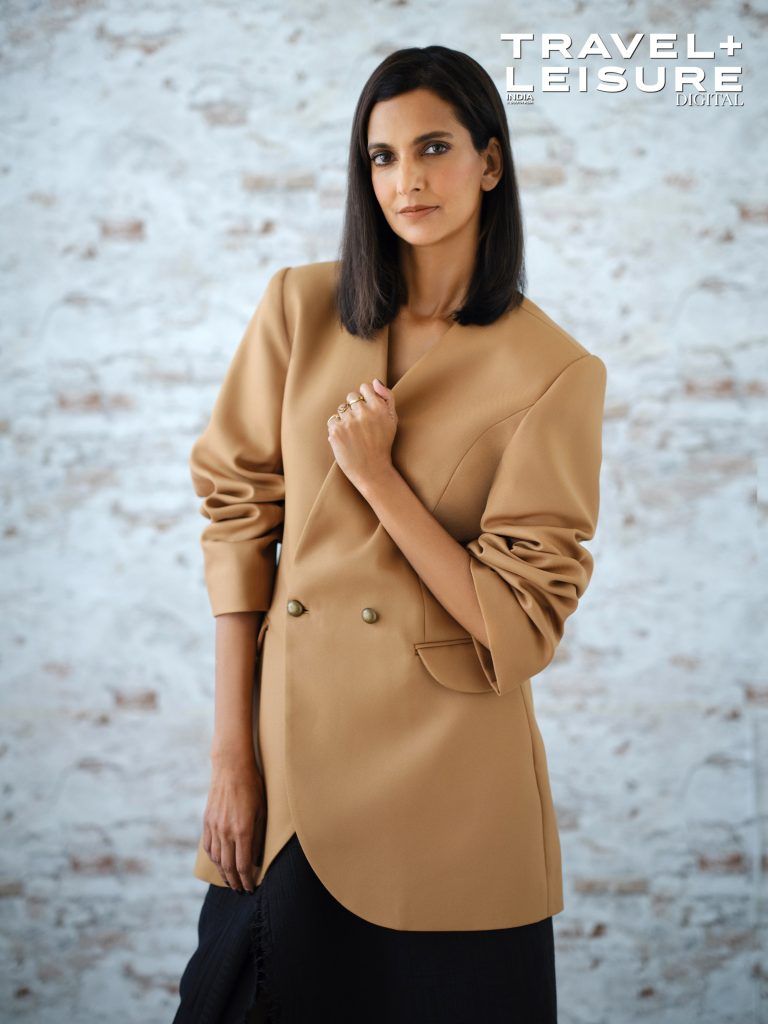 7.
You have worked in Bollywood movies; would you want to take up more work here? 
Absolutely- if the script is great, I'm there in a heartbeat. 
Clothes: Bhaane
Styling: Tania Fadte
Hair and Makeup: Sandhya Shekar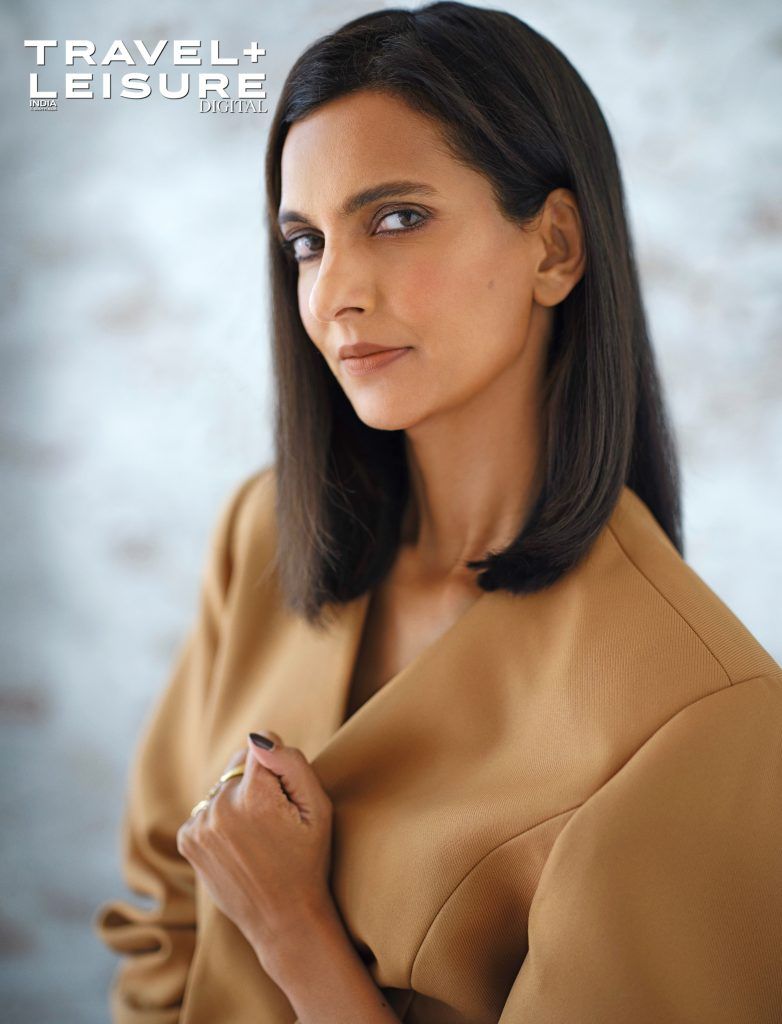 8.
Your favourite part about being in Los Angeles. What do you like the most about the city? 
I live by the beach. I absolutely love that. I love that I can live in an absolute bubble if I choose to and then, just like that, the world can rush in. And I'm cold all the time so I love the weather more than anything else.  
9.
What do you miss the most about India, when in US? 
There's an intimacy you have in friendships that is hard to build here.There's such a "gather' culture in India, you gather at people's homes all the time and are always taken care of. And sharing your home with friends, I think that leads to a breaking down of boundaries that simply doesn't happen here. I also miss having pani puri every day.  
10.
What kind of a traveller are you?
I'm an over-packer. I also take a lot of cosmetics. Like you'd think I was a Kardashian. I barely use anything I take but I still carry them. I like staying put in one place, I like getting to know a neighbourhood and the people there. I like eating at the same place thrice at least. I hate doing the touristy things. I hate having a plan, I like meandering through the city. I love keeping lots of space in my day and my mind for serendipity to happen.  
11.
Your most memorable holiday till date?
I celebrated my 20th birthday in Bahia, Brazil. (I was in college in Brazil at that time.) I had one of those experiences, where serendipity and stupidity lead you to have the most magical vacation in the world. I'd never forgotten that trip. So, for my 50th birthday, my family and I went back to Bahia and once again, I had the most ridiculously magical time of my life. We ended up meeting some people in a larger town, who invited us to their home on a small island called Caraiva. We took a rickety boat to get there, and there were no roads, no cars just donkeys strolling up and down, and it had one of the best food and music scenes ever. The father of our host sells homemade ice creams for a living, and that night, he brought out his guitar and sung to us while we ate passion fruit ice cream like it was our last night on earth. And all I could think was about how lucky I am, the same thought I had 30 years ago while sitting under those same stars. 
12.
You have travelled all over the world, but one city that you keep going back to and why?
There's a place close to LA, a 4–hour car ride, it's called Valle De Guadalupe and it's a wine growing country in Mexico. The food and wine scene is exquisite and my friend Lokesh Dhar (one of the producers on Delhi Belly) owns Santulan—a swanky bed and breakfast there. The food, the unpaved roads and the sheer majesty of that valley makes me happy like nothing else. We've been going there for about 15 years now. 
13.
What's on your travel bucket list?