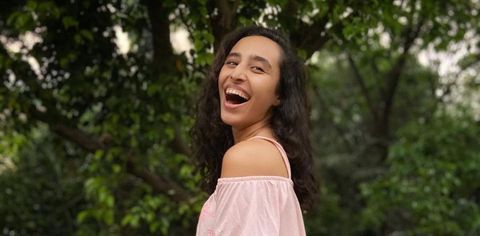 Diving enthusiast and celebrity fitness trainer, Namrata Purohit, has always had a penchant for living sustainably. With her new website, The Earth Circle, she swirls deeper into this choice of living and plunges into the world of 'eco-friendly'. In an exclusive chat, she tells us all about this new webspace. By Amitha Ameen
1. Tell us about your new website.
View this post on Instagram
The website is a space where making mindful choices will be easy, and nurturing the environment will become second nature. The Earth Circle stems from a desire to live in a more balanced world; a world where one just doesn't take from the environment, but also gives back. The community we'll be building on this platform is based on the thought that even a single person can make a difference.
The website has been designed to guide you towards eco-friendly products from trusted brands, share information about the environment, and exchange tips on making changes. It aims to slowly build a community of like-minded people who positively work towards bettering the environment, one step at a time.
2. What was the inspiration behind launching this website, and how did you zero in on the name?
View this post on Instagram
I have always been very mindful about the environment. In fact, I've wanted to live amid nature ever since I can remember! As for the website, I think travelling and scuba diving has been a big inspiration. Sadly, a lot of times when I dive, I end up collecting plastic throughout. It's disheartening to see plastic even in some of the remotest places. It really breaks my heart. So, I decided to go on a quest of my own, do my part, and give it the best I can.
Over time I realised that many of us have the intention, but lack direction. This is where the website comes in the picture—to motivate and guide people on their sustainable journey, and also learn from them in return. It really is the 'circle of life'–The Earth Circle. The name just came to me. Once it did, there was no looking back. As it is a community, a circle that can only be completed by those who are a part of it. It is a circle where we not only take from the environment but also give back.
3. How has pillars of sustainable living shape your outlook towards health and life?
View this post on Instagram
I always wanted to work with or be around animals and nature. Over the years I learned more about the environment, and on learning what is happening to it, I wanted to be more conscious and be as kind to the environment as possible. I started making small lifestyle changes such as switching to natural products, right from my skincare to using a bamboo toothbrush. My friends started making small changes too and that inspired more people to join in.
4. Three things to keep in mind before switching to a sustainable lifestyle?
View this post on Instagram
The first thing is to accept that it can be tempting to buy something that is not sustainable because of peer pressure. However, if you get through that once, you will get through it every time. Having said that, it is okay to give in to temptation every now and then. It is about doing the best you can. There is a quote I like: "We don't need a handful of people doing zero waste perfectly, we need millions of people doing it imperfectly."
Making the switch may take a little time. But remember, a change no matter how big or small, makes a difference.
5. How do you manage to stay eco-conscious during your trips?
View this post on Instagram
One of the simplest things to do is saying no to plastic. When we travel, we can carry our bamboo toothbrush, travel cutlery, shopping bags, and even travel-sized shampoos, soaps, etc. Another good thing to do is saying no to illegal trade. Never buy products from nature, including shells or wildlife products. Try to support local businesses. Go green at your hotel. It doesn't necessarily mean you have to stay at an eco-resort, but whatever hotel you stay at, you can reduce your carbon footprint. Simply let the staff know that you do not need your sheets or towels changed every single day. Another obvious one is walking or taking public transport. These are just a few easy things that one can do, but they go a long way.
6. How was the lockdown for you?
View this post on Instagram
Lockdown was a very interesting time. I learned a lot about myself, got to spend a lot of time with my family, started training people online, connected with people from all over the world, and worked on this website. The latter is something I have wanted to do for a long time, but I finally got down to it only now.
7. What is your favourite eco-friendly destination?
View this post on Instagram
I love going to untouched, remote places. In India, I love going to the Andaman Islands and often stay at the DIVE India tents there. Another place I absolutely love is San Cristobal Island in Ecuador.
8. Which was the last place you travelled to?
View this post on Instagram
The Maldives, where I stayed with Liveaboard. I travelled across the ocean and explored different uninhabited islands, local islands and the underwater world.
9. Where are you heading next to?
View this post on Instagram
I have Komodo Island on my list. I wish to go back there at some point this year and spend a month helping out at a local island and dive.
10. Lastly, what are the top three things one can expect to find on your new website?
View this post on Instagram
The website is live now!
Lots of fun articles and information
Product listings from amazing brands
A zero-judgement space to share your ideas, and feature your ideologies and articles on the website.
Related: Namrata Purohit Let Off Some Steam At Kaya Kalp – The Royal Spa At ITC Grand Central, Mumbai
Written By