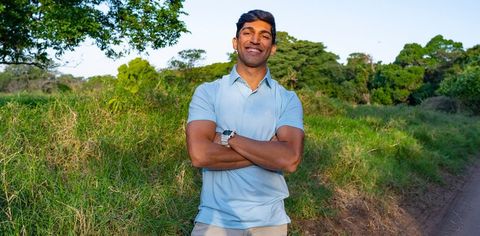 Wildlife presenter, filmmaker and
conservationist
Suyash Keshari
has achieved a lot at just 25 – from winning the Nature's Best Photography Asia Award at 19 to launching an OTT platform connecting wildlife lovers. He talks to us about his journey so far, his love for the tigress Solo and why Bandhavgarh will remain his favourite sanctuary. By Anushka Goel
T+L India: How did your passion for wildlife photography begin? Suyash Keshari: By the age of three or four, I'd started watching shows on Cartoon Network. But within a few weeks of being with my nanaji in Kolkata, cartoons got replaced with shows on wildlife, and instead of watching Tom & Jerry, I was watching hyenas devouring a kill, a lioness eating her cubs or a tiger hunting. I remember I was standing in front of a tiger cage, and the tigress snarled at me. I started jumping and clapping my hands! My nanaji asked, "beta, tumhein jaanwaron ko dekhkar achcha lagta hai (son, do you like watching animals)?" I said, "yes nana, I absolutely love it." He told me these animals aren't like the ones in the wild, as they're stuck in a cage for life. That broke my heart and set me on a path to learning more about wildlife and nature and seeing that wildlife can be for our entertainment, and can be away from circuses, zoos while being educational. So, watching these shows and presenters like Steve Irwin, Steve Backshall, even Bear Grylls – I was like "I wanna be a presenter, I wanna have a show someday."
T+L India: How did your documentary on Solo, the tigress, materialise? Suyash Keshari: Madhya Pradesh has some of the best national parks with the highest density of tigers in the world. I ended up at Bandhavgarh over a decade ago, as a kid, and the first tiger I saw there was Raj Bhera. She was Solo's mother. It was the first tiger I got walking towards me, and that got me hooked. Since then, I started following Raj Bhera and kept coming back to Bandhavgarh. I met more tigers here, and slowly, I started getting deeper into their lives. In 2013, Raj Bhera gave birth to her first litter, which was Solo and three of her siblings. I started getting to know them since they were cubs. Solo was just amazing! She'd always be alone and independent, and just seeing her grow from a cub to adulthood was amazing. Following her, seeing her give birth to her cubs, losing her first litter, crying over it for days and then having her second litter, and of course, the unfortunate incident last October (her death) – I think that really shaped my life. We grew up together, Solo and I, and it has taught me a lot about life.
T+L India: Tell me a bit more about Safari With Suyash TV. Suyash Keshari: It's our own platform. It's going to be an experience. It's going to be something that's completely raw, vivid. Nothing like this has ever happened in India before. We're a small, young, lean team, executing the standards of National Geographic, Discovery. It's going to be even better quality than my previous series, Safari With Suyash on WWF International.
T+L India: So it's going to be more experiential?
Suyash Keshari: We are going to bring nature and wildlife and the thrill of going for safaris into peoples' houses. It'll be an OTT-style platform, so people will have to subscribe and be a part of it, but it'll become a community.
T+L: What has been your most challenging assignment so far? Suyash Keshari: I think Safari With Suyash TV has to be the most challenging, to be honest (laughs). Nobody has ever executed this before, so we're starting from ground zero. Every single thing has to be worked according to what the outcome might be. And if the outcome isn't what we wanted, we have to go back and change it. It is a 100% self-funded effort, which means we have to be strict with the budget, and still, the quality will be phenomenal.
Also, I think people always forget that there are difficulties in the field as well as in front of the computer. In the field, we were working 15-16 hours a day. Rain, heat cold didn't matter; we lost some equipment as well. Some days it's an internal struggle, you wonder if you're doing the right thing and whether it's worth the time, money and effort. The self-doubt, the constant crippling fear, I think that is what makes it challenging.
T+L India: What are your top three tiger safaris in India? Suyash Keshari: One has to be Bandhavgarh. I've been travelling there for over a decade, I've spent nearly 250 days of a year there. The second has to be Kanha, near Bandhavgarh. It's a really stunning landscape, and the fact that Kanha authorities were able to bring the Barasingha back from extinction is amazing!
The third one has to be a tie between Nagarhole and Pench. I love Nagarhole and Kabini because of the density of leopards and the biodiversity there. It's an old-growth forest, unlike Bandhavgarh. And I like Pench because it's in Madhya Pradesh. It's part of my home and has a very different landscape from Bandhavgarh and Kanha. Also, the buffer areas there are absolutely beautiful!
T+L India: And your top international destinations?
Suyash Keshari: Nothing compares to South Africa! I did my first internship and I made my first documentary there. I learnt how to be comfortable in front of the camera, behind the camera, and in front of animals. The reason South Africa is so amazing is that most of the conservation efforts are private. People may have ancestral land which is 500-1000 acres, which has antelopes or lions in it. So, they preserve it and use it for tourism.
T+L India: What about your favourite travel destination when you want to unwind and not work? Suyash Keshari: I've been there only once, precisely because I wanted to unwind. That was Costa Rica. The country is relaxed, they say Pura Vida (simple life). It's a highly sustainable country. They gave up their military to take up sustainable practices! When I was there, I was not stressed at all. The people around me, the country just told me to relax, step away from my phone, throw it in the ocean if need be (laughs), and have fun!
T+L India: You've achieved a lot at just 25, in terms of awards, accolades, and more. What's next in store for you? Suyash Keshari: I want to be someone who's able to connect people with nature like never before. I want to reach millions of people, and I think this platform will help. I love taking people on safaris. In the last year, I've taken over 100 people on safaris, including celebrities like Raveena Tandon. I want to take more people on safaris. And I want to be someone who encourages the young generation because I think people my age get stuck into what career they want, especially if they want a career like mine. They feel opportunities will only come to them through big organisations, but I want to show them that no matter what you want to do in life, you need to have an entrepreneurial and independent approach.
T+L India: You were telling me about facing all these beasts within a 10 feet distance. What goes on in your mind when you're this close to an animal? Suyash Keshari: Honestly, my mind is empty. At that moment you have zero worries in life – it's just you and whatever is in front of you. You have to be very mindful of even your hair moving. It's kind of like yoga and mindfulness (laughs).
There have been many times I've been charged by animals. 90% of the time I've been in control of the situation. This means I'm facing the animal and am aware that it's there, so I can protect myself. Usually, when a tiger or leopard has come charging at me, I've gone deep into my training and the first instinct is to show my dominance. When they charge, I scream really hard, and BOOM! They stop. But this works only when they are charging at you. I don't recommend that people go and seek these experiences.
Giving you another example, once an elephant approached me when I was presenting in front of the camera. He didn't charge (at me) but was just curious. But if I moved back and faced him at that time, that would have meant me charging him. The elephant just walked and came behind me. He sniffed us and tried coming towards me, but the ranger and a cameraman clapped and said 'Hey!' which startled him. After a while, he left. I think these experiences really humble you.
T+L India: If there's just one place you could recommend to your followers to witness the best of wildlife in India – what would it be? Suyash Keshari: You have to come to Bandhavgarh with me. It's a completely different experience. You'll see it from the eyes of a 25-year-old who has grown up in the region and has done in-depth research of every single area and most of the tigers in Bandhavgarh. The experience is about people, locals, about conservation issues. We meet ex-poachers who have given it up to become guides, we know people who've been harrowed by wildlife and have lost their families to tigers and leopards and sloth bears. Go to them, talk to them, understand why conservation is essential. See Bandhavgarh, understand that it is a place of significance in the Hindu scriptures – Lord Ram came to Bandhavgarh during his vanvas and built a fort for his brother. Even Lord Hanuman was supposed to be meditating on top of the Bandhavgarh Fort. You have to experience tigers with me because I know what they are going to do, where they will go, and why they'll go there!
Related: SUTA Founders, Sujata And Taniya Biswas, On How Travel Influenced Their Sustainable Fashion Brand
Written By