Did You Know MasterChef Australia 2018 Winner Sashi Cheliah Used To Be A Prison Guard?
From being a prison guard in Adelaide to winning MasterChef Australia in 2018 to setting up his first restaurant, Sashi Cheliah's story was a fairytale for the ages. Until the pandemic introduced a final twist. The Indian-origin Singapore-born chef talks to us about facing one of his greatest challenges yet: uncertainty. By Sumeet Keswani
It was a whirlwind when I won two years ago—from being a normal person with a day job to winning the competition. The win gave me a lot of opportunities, and I travelled a fair bit to understand what the culinary world was like outside of MasterChef. Within the first year, I started my first pop-up in Melbourne, and it got very good reviews and responses. But I wasn't happy with the pop-up, which served simple street food. I like to take my inspiration from street food and create my own version of it. That's when my restaurant came into the picture. It took me nearly one and a half years to set up the business. Meanwhile, I also started my own food line, which is present in some of the departmental stores in Australia.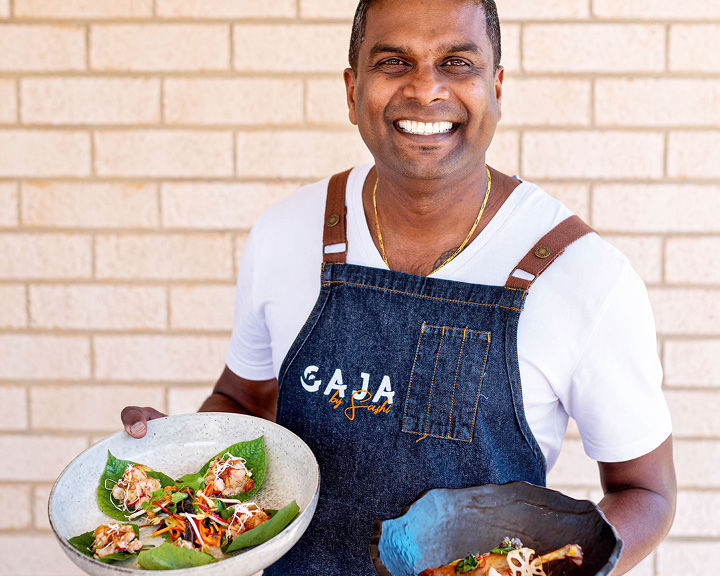 You opened your restaurant in November 2019. What were the challenges to such a young business when the pandemic hit?
When we opened the restaurant, Gaja by Sashi (gajabysashi.com), in Adelaide, we were fully booked for about two to three months. We were doing fairly well until March this year. Being a new business, I had put everything on the line. I had no investors, and it was a family-owned business run by my wife and me. So we took a big hit. It was devastating to close the doors on March 23. The biggest problem was uncertainty—we had no idea how long the restaurants would stay closed.
Did you try to adapt by starting deliveries or takeaways?
Not immediately. The restaurant was not designed for deliveries or takeaways. And I'm not a big fan either. The integrity of my food and the experience I wanted to give to my customers would have been compromised. For the first six weeks, I closed my doors. Thankfully, the government came up with the JobKeeper programme, which helped me retain my staff. At one point, we started doing takeaways on a small scale. Within two weeks of that, the government allowed dine-ins with limited numbers.
What are the safety measures you've had to put in place?
Social distancing is one. We need to be at least 1.5 metres away from one another. There's also a density requirement—there can be only one customer per four square metres of area. That's why I'm limited to 20 diners at a time. (The capacity is 78.) Other than that, we have a hygiene checklist.
Tell us about the food philosophy of Gaja by Sashi.
My slogan is, 'Flavour is my hometown'. We make sure the food is packed with flavour. Our philosophy of sharing a meal comes from our Indian origin. Every dish is meant for sharing. I take inspiration from the cuisines of Asia and create my own versions. We have two menus: for the summer menu, we lean towards Thailand, Vietnam, Indonesia, Malaysia, and Singapore because of their use of fresh herbs, fruits, and veggies; the winter menu has rich, hearty food, like Indian, Sri Lankan, and Malaysian curries that use more spices and root vegetables.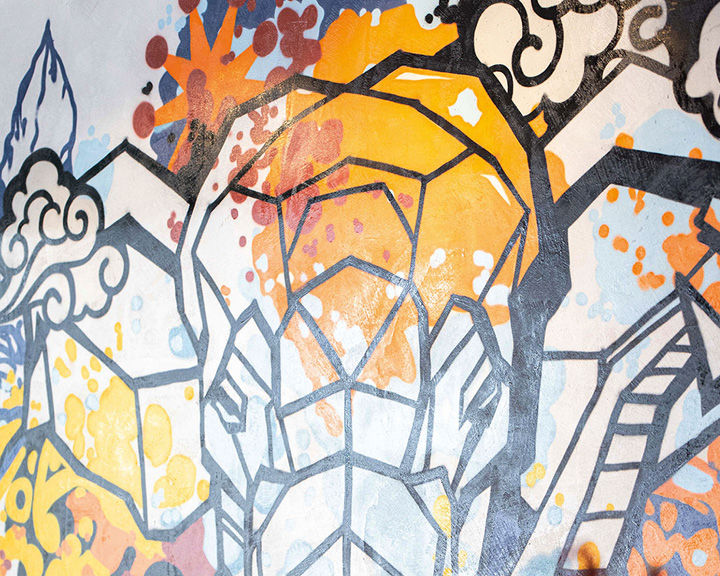 Are these fusion dishes?
It depends. We try to create a balance in each dish. For instance, I have a dish called kalan koli (mushroom chicken) that has Chinese influence. We braise chicken in a master stock and serve it with coconut sambol, which is Sri Lankan.
You often post videos of your kids cooking. Are they keen on donning the chef's hat as well?
I don't like to tell them what to do. But my influence is still pretty heavy since they've seen me on TV a fair bit. They enjoy cooking with me—it's our pastime. If they want to pursue it as a career, I would support them. But they have their own interests as well. My younger boy wants to be a civil engineer. At the same time, he enjoys baking. My elder boy is more into theatre—he likes acting and dancing.
You visited India late last year. What were your takeaways?
I get a culinary idea every time I visit India. On my last trip, [I found] vada pav! I introduced it in my winter menu with a twist—the milk bun has been changed to brioche, and I added pickled carrots—for some texture and acidity.
What is the future of the F&B industry after COVID-19?
Once the restrictions are lifted, people will be excited to dine out again. But down the road, people will be conservative in spending money. Menus have also changed. Many restaurants are moving away from à la carte to 'Feed Me' menus or Chef's Tasting menus. It's a cost-saving measure—the restaurant doesn't have to buy too much produce. It also minimises wastage. Some diners are happy with it because they don't have to think too much about what to order. But the problem is: if they come back, they'll end up having the same thing again unless you change the menu regularly.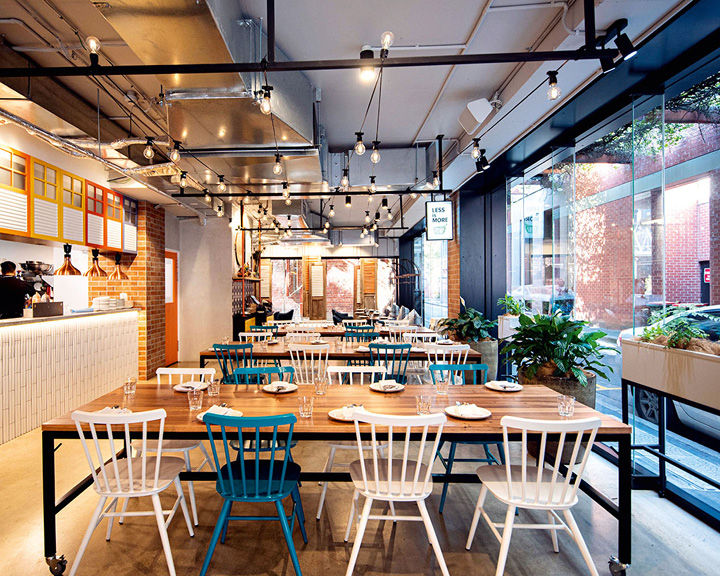 Bite-Sized Trivia
Favourite dish to cook: Chicken curry Dish redolent of home Sambar.
Favourite restaurants in India: Jamavar at The Leela Mumbai and Southern Spice in Taj Coromandel, Chennai.
Favourite cuisine: Thai street food Dream culinary trip Turkey.
The wackiest dish you've eaten: Stir-fried snake in Vietnam, various frog dishes in Singapore.
Three people, you'd like to cook a meal for: My dad, my school teacher Mr Hubert, and Tamil actor Kamal Haasan.
Related: Australian Chef Sarah Todd Tells Us What Makes Her Come Back To India!