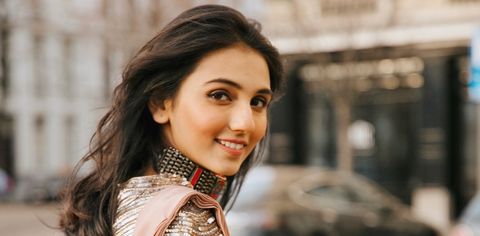 Social media sensation Masoom Minawala Mehta's foray into the blogging industry dates back to 2010. Miss Style Fiesta, her blog name then, soon catapulted to acquire 1.37 million followers across social media platforms. Despite being based out of London currently, the digital entrepreneur's support for Indian designers and her love for the country remains intact. By Bayar Jain

T+L India: Why do you love India?
Masoom Minawala Mehta: India is home. It has given me so much love, warmth, learning, culture, and belonging to make me the person I am today. Reading and revisiting the memories reignites those feelings.
T+L India: Your most cherished memories about India?
Masoom Minawala Mehta: I've lived in India almost my whole life and I've had the pleasure of cherishing so much. Living in a country like it's your own, and feeling like it's a place where anything is possible–where the opportunities are endless–is humbling. Most of my memories are from the early days of my content creation journey with my friends and family.
T+L India: One Indian attire or style you wish the world knew more of?
Masoom Minawala Mehta: Undoubtedly, the sari! This one attire brings a magnitude of grace with it. It needs to be embraced more because the world needs to be aware of its beauty.
T+L India: A myth about Indian fashion you'd like to bust? Masoom Minawala Mehta: The one myth I'd like to bust is that it's over-the-top when it's really not. Indian fashion can be worn on an everyday basis and it's not reserved just for occasional wear. Indian fashion consists of the most precious and beautiful handlooms with magnificent cuts and silhouettes that need to be celebrated every day.
T+L India: Must-visit places in India, in terms of fashion and style?
Masoom Minawala Mehta: I absolutely love Gujarat and Rajasthan for their traditional handlooms. Also, being a Bombay girl, I feel the city's street style is the best.
T+L India: How do you foresee the fashion industry evolving in India, particularly in times of COVID-19?
Masoom Minawala Mehta: I foresee the fashion industry becoming a lot more accepting, open, inclusive, and experimental. I'm genuinely excited for the next phase. I think all of us have questioned what is fashion and what it means to us. As someone who runs a fashion business, I often ask myself–'what is the kind of impact I want to create?' or 'what's the point of what I'm making?' I feel a lot of people in the industry will be asking these questions going forward; and doing so, I feel, will bring good results.
T+L India: What's your take on fast fashion? Masoom Minawala Mehta: One thing that the global pandemic has taught us is that we need to preserve what we have. We have to take it slow and live in the moment. I think a lot of people, especially on my platform, are having a hard time moving away from fast fashion. But I feel this will only get easier with time. Bidding goodbye to fast fashion would require looking into more than one solution. Consider stretching along with your outfits, buying items that you would wear more than 30 times, or engaging with labels that are more conscious in their process.
T+L India: A place in India that you haven't gotten a chance to visit yet, but would like to?
Masoom Minawala Mehta: Mussoorie.
T+L India: Places that define your Indian experience, and places that you'd like to visit the next time you're here?
Masoom Minawala Mehta: A few months ago, I visited Jaisalmer, Rajasthan, and returned with so much inspiration; it left me awe-struck! The people, culture, food, dance, and architecture…all of it just took my breath away. These things have had a wonderful impact on me.
Of course, there's Mumbai—where I was born and raised—whose diverse culture, openness, and vividness shaped me into the person I am today.
Another place I would say is Nagpur, where my grandmother stays. It's a quaint little town that has given me the warmth of family and a sense of belonging. Also, it has the yummiest food ever!
Related: Where Would Fashion Designer Sandeep Khosla Go For Retail Therapy? Find Out Here!
Written By