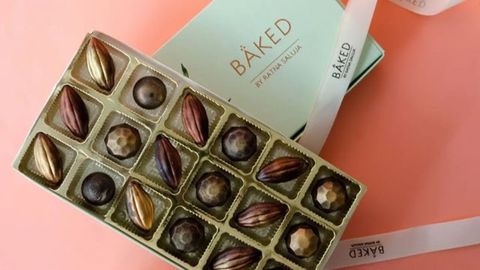 From indulging in exquisite desserts to embracing and empowering bakers, Chef Ratna Saluja is an inspiration for all who appreciate the artistry of sweet delights.
Meet Ratna Saluja, the visionary entrepreneur who has not only established Baked by Ratna Saluja, a renowned patisserie cake studio in South Delhi but has also been sharing the secrets of her success through engaging baking workshops for the past three years. After pursuing formal culinary education and gaining valuable experience in some of the finest patisseries around the world–including Le Cordon Blue in London, Savour School of Chocolate & Patisserie in Melbourne, and Institut Villa Pierrefeu in Montreux–Saluja decided to take the plunge and open her patisserie cake studio. Since its opening, Baked by Ratna Saluja quickly gained acclaim for its unique and delectable creations. But her creations are far from regular. Known for her speciality wedding cakes and gift hampers, Chef Ratna loves experimenting. Often, she goes the extra mile to showcase a breathtaking array of designs and flavours that appeal to the senses on multiple levels. Think flavours and ingredients like matcha, balsamic vinegar, and passion fruit among others that create a visually dazzling, delicious dessert. Put simply, her cakes are more than just dessert; they are works of art!
Empowering Aspiring Bakers While Ratna was rapidly gaining recognition for her decadent desserts, she felt a strong desire to give back to the community by sharing knowledge and skills. This led to the inception of Baked's baking workshops. Three years in, her workshops have now expanded to include eggless baking and vegan-friendly cooking under its umbrella. These lessons aim to empower women to enhance their baking skills and form a livelihood. She has taught over 8,000 students around the globe!
Related: These New Restaurants In Delhi Are Addresses You Need To Hit Up For A Scrumptious Meal
Written By