As Maldives Reopens For Indians, Janhvi Kapoor Reveals Why She Feels At Home Here
Bollywood's hottest poster girl, Janhvi Kapoor, escapes to The Westin Maldives Miriandhoo Resort for a stunning cover shoot with us. The actor opens up about her memories of summer holidays, upcoming films, and more. By Aindrila Mitra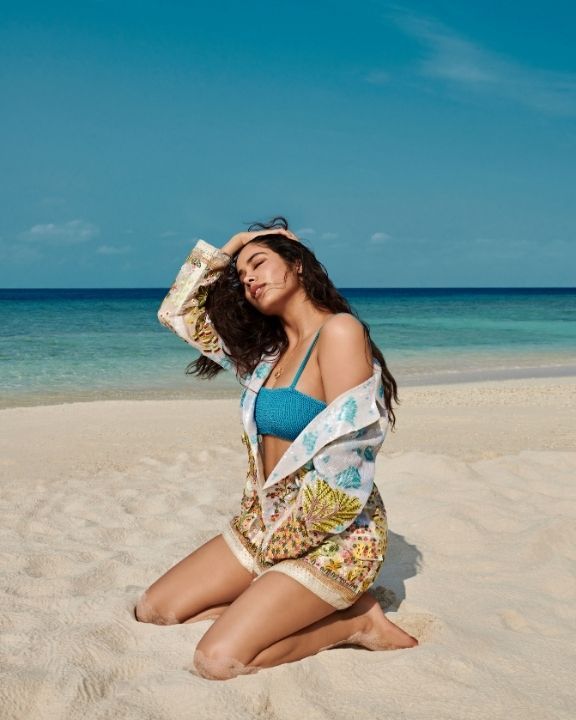 T+L India-What does travel mean to you?
Janhvi Kapoor-Rediscovering myself, [and] discovering new places, food, and cultures. I have always associated travel with a fresh start. I wasn't even a year old when mom (late Sridevi) and dad (Boney Kapoor) took me to the shoot of Pukar in Alaska, and then Mexico. They were keen that I see the world with them. So, a lot of my education in life has come from the places I've been fortunate enough to visit.
T+L India-What are the things you put on your checklist before going on a holiday?
Janhvi Kapoor-I need to know all the best places to eat! I like to visit museums and local spots. On my notepad, I always have a list of 10 things that I'd like to see and eat.
T+L India-What are your fondest memories of summer holidays?
Janhvi Kapoor-When we went to Italy as a family. I was 15 or 16, and it was a road trip. We had [hired] this huge SUV, and my parents would blast South Indian music so loud that everyone in the street would be able to hear it! We drove around the Amalfi Coast and went to small towns. My dad wanted me to see every place in the world, so [that] I could tell my husband that my father had taken me all around the world. (laughs)
T+L India-The Maldives is becoming popular among Indian travellers. How has your experience been at The Westin Maldives Miriandhoo Resort?
Janhvi Kapoor-the Maldives is beautiful. It's a gem of a place, and I was blown away when I came here for the first time. I'm a water baby, so I feel at home here. At The Westin Maldives, everyone is so hospitable. The food is amazing and to die for! I've had a great time.
T+L India-What are your favourite Indian destinations?
Janhvi Kapoor-Varanasi, Tirupati, and Udaipur. I feel an inexplicable connection to Varanasi every time I go there. I love taking a boat ride on the River Ganga and visiting the different ghats. It's the most ancient city in our country, and I am in awe of its historical significance and interesting architecture. At Tirupati, I feel at peace and at home. [I like] Udaipur because I shot my first film (Dhadak) there; it's familiar.
T+L India-Any particular places or experiences that you recommend at these destinations?
Janhvi Kapoor-There's Terracota Café in Varanasi, and their mango milkshake is amazing. You should visit Café Boho and Gangaur Ghat in Udaipur. In Tirupati, I recommend climbing the 3,700 steps to the [Tirumala] temple. It's a wonderful experience.
T+L India-Any hidden gems you have discovered while travelling for work?
Janhvi Kapoor-I have been to places like Roorkee [in Uttarakhand] and Bateshwar [in Uttar Pradesh]. And flying a helicopter in Georgia!
T+L India-Destinations on your bucket list?
Janhvi Kapoor-Morocco, Auschwitz-Birkenau [Memorial and Museum in Poland], Germany, and Ladakh.
T+L India-On the work front, what are you looking forward to this year?
Janhvi Kapoor-I just finished shooting Good Luck Jerry. This film is a test for me and my choices as an actor. It was the first solo decision I made.
Related: Our Cover Star Diana Penty Reveals Her Favourite Restaurants In Mumbai