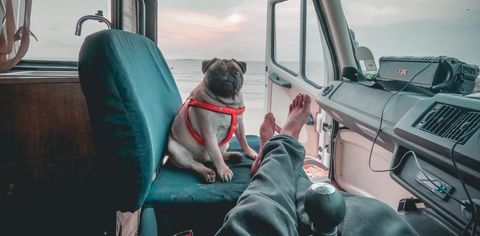 YouTuber Amit Singh (Desi Tourist) travelled through 10 Indian states in a caravan with his pug, Popu. Scroll down to get inspired! Interview by Kumar Shree; photographs by Amit Singh
Travel + Leisure India: How did you plan on taking this amazing caravan trip with your furry friend?
Amit Singh: I started travelling since my school days. I always loved exploring new places. Sometimes I even used to bunk tuitions to discover hidden gems in my town. But since 2014, I have been continuously travelling in and out of India.
A caravan trip was always on my bucket list. It's a great way to travel to the countryside, and the thought of doing this trip with my favourite travel companion—my little pug, Popu—just sealed the deal for me. I always wanted to take my pug to a beach town, but I live in Delhi, and it's far from the beaches. Travelling long distances with your pet in India can be a bit tedious. There are no specific flying guidelines, and not many pet-friendly hotels, either. So caravan came across as a great option as it's like a hotel on wheels and with amenities like kitchen and washroom, one can travel long distances.
So, thanks to this pandemic, all my international projects came to a standstill, and here I am with my pug travelling 8,000 km through 10 Indian states in a caravan.
Travel + Leisure India: Where did you book your caravan from? How expensive was this trip?
Amit Singh: I rented my caravan from Carvaa travellers. It cost me INR 6,000 per day exclusive of toll/parking/fuel/driver. Booking procedure is as simple as renting any self-drive car. My total expense was around INR 1.3 lakhs apart from the rent. The cost includes approximate fuel charges of INR 80,000, toll charges of INR 20,000, parking— almost zero (as I was mostly in the countryside), and rest was food and other miscellaneous expenses.
Travel + Leisure India: Tell us a little bit about the destinations you covered.
Amit Singh: I wanted to visit Karnataka, but as I was starting from Delhi, I crossed a large part of India before reaching there. I started from Gurgaon and reached Uttar Pradesh. The onward journey took me to Madhya Pradesh.
In Madhya Pradesh, I visited Orchha. It's a quaint historical city. History is not my forte, but I loved the vibe, and now it's on my list of best weekend trips from Delhi as it's only seven hours away from NCR.
After that, I drove to Nagpur in Maharashtra. I stopped there for two days to meet my friends and family as I had spent my childhood in this city. After that, I drove to Nandi Hills near Bengaluru, Karnataka via Telangana and Andhra Pradesh. From Karnataka, I took a detour to Tamil Nadu to see the famous Pamban Bridge and Dhanushkodi. However, I couldn't see Dhanushkodi. Then, I returned to Karnataka.
I visited many places in Karnataka and loved each one of them. Few famous ones are Coorg, Udupi, Hoonavar, Murdeshwar, Gokarna, Dudhsagar, etc. Then I entered Goa and enjoyed the Goan vibe for two days, and then drove back to Mumbai via Pune.
I continued my onward journey to Rajasthan via Gujarat. Since I've already been to almost every popular place in Rajasthan, this time I visited the Chittorgarh Fort. As expected, I was mesmerised by its beauty. After that, I drove back to Gurgaon. Travel + Leisure India: Can you elaborate on why this trip with your pet was so special for you?
Amit Singh: I wanted to take him to a beach and I wanted him to experience the beauty of beach life. He is like my child, and I want to give him everything I can.
It wasn't my first trip with him, but it was the longest one. Before this, I only went on overnight trips with him which required three to five hours of driving.
I was unsure about how Popu would react to the sea as he doesn't like water too much. But when he saw the ocean for the first time (it was on Mattu Beach in Udupi), he ran into the waves and then back to the sand and then back into the water. He enjoyed to the fullest! That moment will stay with me for the rest of my life. Travel + Leisure India: So, how is Popu as a travel companion?
Amit Singh: He is fond of travelling. Popu is a pug and pugs are a delicate breed; but he never fell sick, tired or irritated in the entire trip—not even once. Travel + Leisure India: What's your most significant learning from this trip with your dog?
Amit Singh: I learned that Popu knew how to swim by default. I tried bathing him in Betwa river in Orchha, and when I put him in the water, to my shock, he started swimming and got out of the water. I will always cherish that moment.
Related: These Travellers (And Their Pup!) Explored Himachal Pradesh In A Caravan
Written By