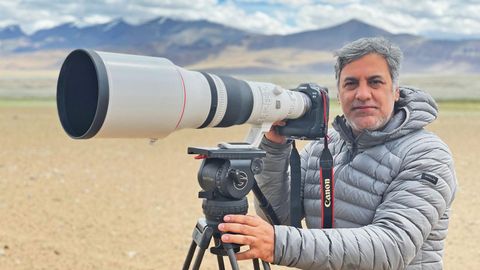 Vijay Bedi, along with his brother, is the third generation in his family to take up wildlife photography and filmmaking. The youngest Asian to win the Green Oscar, Bedi's documentary, The Secret Life of Frogs, was nominated for an Emmy in 2019. In a candid chat with Travel+Leisure India & South Asia , Bedi shares the impact of visual storytelling and how it drives conservation efforts and policy changes.
Excerpts from the interview with Vijay Bedi:
T+L India: What according to you is the best thing about being in the wild?
Vijay Bedi: Being in the wild is a profound learning experience—it humbles you, reminding you of your vulnerability and the need to follow nature's rules. It's both exhilarating and scary, as anything can happen. I remember a time when we were photographing snow leopards in the freezing cold, waiting for that perfect shot. The moment the sun vanished behind the mountain, the temperature plummeted. We narrowly escaped frostbite and sunburn. Nature's unpredictability always keeps you on your toes, pushing your limits to capture those fleeting moments.
T+L India: How do you ensure safety in the wild?
Vijay Bedi: Respecting wildlife is paramount; you're in their home, and they're in control. Maintaining a respectful distance and giving them space is crucial. Rushing increases risks. While there are no fixed rules, pushing boundaries for the perfect shot requires caution. We often took calculated risks but knew our limits.
T+L India: How do you think visual storytelling can help raise environmental awareness? Vijay Bedi: Camera is a powerful tool for conservation and storytelling. Awards and recognition have given me a platform to make a difference. For instance, a film about red pandas led to convincing the government to protect their habitat. Another film highlighted lesser-known species like amphibians, winning multiple awards. The most significant impact, however, was when a scientist saw my work, and it led to collaboration on scientific papers. This journey elevates filmmaking to a higher level of conservation by engaging with policymakers and contributing to scientific knowledge, making it accessible for future research.
T+L India: Which is your favourite wildlife destination in India and why?
Vijay Bedi: I find North India, with its lush green landscapes, very captivating. Corbett National Park holds a special place in my heart and I've been visiting it since my childhood—its beauty with the swaying white grasses and the presence of Gharials is simply enchanting. The park's incredible biodiversity never ceases to amaze me.
T+L India: What's in the pipeline for you?
Vijay Bedi: We might be doing some tours in Africa soon to show them some wildlife and filmmaking. I'm finishing a 6.5-hour series on conservation, it should be coming out soon. I'm also thinking of writing a book—not one, but quite a few of them.
Related : Witness Wildlife Up Close On A Cycle Now In Pench Tiger Reserve
Written By