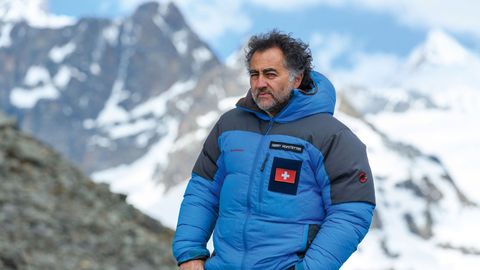 Swiss light artist Gerry Hofstetter transforms buildings and natural structures around the world into works of art. He is best known for the projection of an iceberg in Greenland that highlighted climate change. The artist talks to Travel+Leisure India & South Asia about his process, maiden project in India, and more. By Simrran Gill
Excerpts from the interview with Gerry Hofstetter:
T+L India: From investment banker to helicopter pilot to artist, how has your journey been? Gerry Hofstetter: Since I was a young boy, I wanted to discover many things and do different things. I always followed my visions and dreams, and my intuition told me what training would be good to help me go the right way.
T+L India: At what age did your love for visual arts begin?
Gerry Hofstetter: When I was 15, I painted pictures in oil and sold it for very good money. That's when I discovered the art of creation. When I was 32, I told myself, "Now you have enough experience to start your own company and communicate through art, design, events, and films." With the development of my light art, I simply connected my two passions—travel and events— and added light and colours to transform them.
T+L India: Which has been your most memorable project to date? Gerry Hofstetter: During the global lockdown, as a solidarity campaign, I lived alone for five weeks below the Swiss mountain of Matterhorn in Zermatt. Every night, I projected this iconic mountain with flags of different nations that were heavily affected by COVID-19. I also projected the Indian flag on the mountain.
T+L India: You have created installations related to climate change and global warming. Tell us about them.
Gerry Hofstetter: I've been to the Antarctica twice and seven times to the Arctic to do projections on icebergs. The first time I was in the Arctic, an iceberg was approximately 110 metres above waterline. Now it is approximately 70 metres. We have to act.
T+L India: What sort of a traveller are you?
Gerry Hofstetter: I go with the flow, I watch everything while travelling— the weather, people, nature, animals, and cultures. This gets me in the groove to handle unexpected situations and ensures that my team and I successfully complete the desired light projection.
T+L India: How was your experience showcasing your art at the Embassy of Switzerland in Delhi?
Gerry Hofstetter: India is the land of light and colours. And mixing these lights and colours with elements of Switzerland was a lively process, which I absolutely loved.
T+L India: Could you tell us about your installations at the Embassy of Switzerland in Delhi?
Gerry Hofstetter: The event at the Swiss Embassy in New Delhi was my first in India. The theme was "Bringing India and Switzerland together by light, colours, music, food, and dance." It integrated elements from both the countries into one night of culture and mutual friendship. My plan is to come to India more often to discover this land of spirit, colours, and light. This fascinating country offers so many variations of life and nature. I would like to do light art projections on some incredible monuments and landscapes here.
Related: Architect Abha Narain Sheds The Spotlight On Restoring And Conserving Monuments
Written By