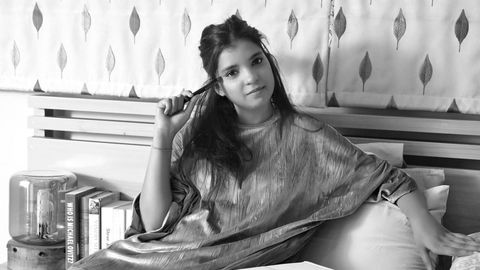 Rimzim Dadu's eponymous fashion label recently celebrated 15 years with a textile exhibit and runway show. Travel+Leisure India & South Asia's contributor chats with the designer about her favourite homegrown brands, travel wardrobe, and popular picks when shopping in India. By Arzoo Dina
Excerpts from the interview with Rimzim Dadu:
T+L India: Your label has completed 15 years. How would you describe the journey? And what lies ahead for you? Rimzim Dadu: My journey in fashion began at my father's garment exports factory. I was around five years old when I started visiting the factory every day after school where I would watch the embroiderers and tailors work their magic. My fascination with materials and surface texturing started at a very young age. So yes, I knew early on that I wanted to make clothes. The last 15 years have taught me that it's extremely important to stay true to your core ideology to stand out in the market. So, our brand ethos will continue to be at the heart of our operations. I don't want to be restricted to just clothes and fashion and we're already looking to explore new categories.
T+L India: Are there any homegrown brands in the fashion space that have been on your radar lately?
Rimzim Dadu: The e-commerce brand Space offers easy and relaxed separates and co-ord sets. Another favourite is No Borders Shop run by Kanika Karvinkop that focusses on unique vintage finds and sustainable fashion.
T+L India: If you had to put together a capsule wardrobe for your travels, what would it comprise? Rimzim Dadu: Lots of easy separates that can be styled multiple ways. I usually prefer carrying oversized dresses or tops that can be belted or cinched for evenings and left loose during the day. I also love to layer a lot when travelling. For beach holidays, I always carry statement throw-ons that can take me from the beach to a lazy lunch.
T+L India: How would you describe your fashion aesthetic while on holiday?
Rimzim Dadu: Holidays are the only time I actually have the mental bandwidth to dress at leisure. I'd say my fashion aesthetic is quite eclectic. Usually, I'm in oversized jeans and t-shirts when in the studio or in power jackets for meetings, but on holiday, I have fun mixing things up with more feminine styles, depending on my mood.
T+L India: What are some of your go-to shopping destinations?
Rimzim Dadu: In Delhi, I love shopping at the Dastkar market and Dilli Haat. There is a small town just outside of Jaipur called Sanganer. I often buy locally-made block-printed home furnishings like quilts there. Himachal Pradesh is a favourite for rugs.
Related: In Conversation With Restaurateur Zorawar Kalra On Stepping Into Dancing Shoes
Written By