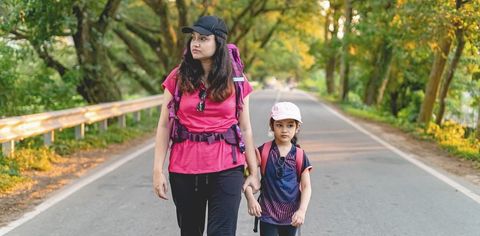 Having a baby didn't stop Deenaz Raisinghani from exploring the world. Instead, it only fuelled her backpacking desires, convincing the 'Backpacking Indian Mama' to undertake adventures across the world with her daughter. With journeys that date back to 2016, she has many tales to tell—some of which she reveals in a conversation with us. By Debomita De
Travel + Leisure India: What inspired you to travel with your daughter?
Deenaz Raisinghani: I have been travelling for the last two decades, but it was mostly with my husband, friends or solo. My real journey started when I was pregnant with my daughter. I always wanted to backpack across Europe, but when I got pregnant, the desire to travel with my baby became even stronger. I wanted to bond with my little baby in a foreign land, away from everything else. I started making plans even before she was born and discussed them with my husband. Fortunately, my family was supportive of my travel dreams and I decided to backpack across Germany when she was just a year old.
Travel + Leisure India: Tell us about some of your initial trips and planning. Deenaz Raisinghani: My first few trips were to test the ground within India and see if I could manage the baby on my own. For this, we took a lot of road trips and domestic flights when she was just a couple of months old. I took her to a music festival when she was nine months old. We also travelled to Bhutan and Kerala as a family. I saw that she was adapting to travel quite beautifully. That is when I decided to see if I can take her as a solo parent.
In 2016, my first trip with my daughter to Germany changed everything. I planned and prepared for the trip by starting a fitness routine at home, carrying her for longer periods and managing everything for a couple of weeks before we left. I packed a rucksack, a baby carrier and stroller, and emergency supplies. I also read up a lot about Germany and downloaded offline maps, language apps and and made a thorough packing list. That one backpacking trip taught me more than I had ever learnt during my past travels. I had to manage her on my own, stay in hostels, cook for her in common kitchens, and enjoy the destinations as well. Those few initial trips were a mix of anxiety, curiosity, exhaustion and an incredibly rewarding experience for me. I bonded so well with her. I also learnt that people across the world are generally very welcoming and helpful towards a mother and baby travelling alone.
Travel + Leisure India: Did you travel a lot as a child yourself? What are some of your fondest childhood travel memories?
Deenaz Raisinghani: I have travelled a fair bit as a child, although it wasn't very frequent. My father would take us on annual holidays when he would have leaves, and we managed to see a lot of places within India. My brother and I enjoyed and picked up a love for history from my parents, and we made it a point to learn on every trip we made as a family. I also went on a couple of school trips for competitions, but I truly enjoyed those experiences. My fondest childhood travel memories are stepping into the water at Marina Beach, Chennai [then Madras] and eating a paper dosa for the first time; feeding deer at Alipore Zoo in Kolkata [then Calcutta]; and walking around the majestic Taj Mahal and feeling the warmth of the marble beneath my feet. I remember travelling by train and meeting different kinds of people who became very friendly with us. I also remember a lot of planetarium and science museum visits. Because we were very inquisitive as kids, my parents would take us to a lot of these kind of places.
Travel + Leisure India: How did your friends and family react to your backpacking expeditions? Deenaz Raisinghani: My husband has been a source of motivation for me because he is quite an avid backpacker himself. I have picked up a lot of travel tips from his journeys. When I told him that I wanted to go off with the baby, he was very supportive. My family and his took some time to understand exactly what I was planning. They were a little concerned about our safety in a foreign land. I assured them and kept speaking to them throughout my trip over WhatsApp. They began to see how much I enjoy travelling with my daughter and how much it helps other mothers plan their journeys. Now they are extremely supportive of my expeditions. Now they trust me and they trust the fact that I will ensure the safety of the child and myself while travelling the globe.
Travel + Leisure India: How has wandering around the globe impacted the growth of your child?
Deenaz Raisinghani: My daughter Arianna has become empathetic towards others, especially people who do not look like her. She has definitely developed a global taste palette and does not shy away from trying out different kinds of local food from around the world. She has slept on all kinds of beds, so she can adjust to rooms of any size or type. I have been very particular about giving her a mix of experiences: some very rustic and local, some more relaxed and luxurious. She has camped in the open, gone over-landing, cooked on a bonfire, gone on treks and hikes, swam in the sea, taken different types of public transport, gone rafting and kayaking, and interacted with children from across the globe. She is learning to be a global citizen and I appreciate the patience with which she takes in every experience. Wandering the globe has truly changed my child's life, and I plan to keep introducing her to more experiences like these.
Travel + Leisure India: Concerns for health, hygiene, and safety are paramount while travelling with a child, especially with the pandemic ravaging the world. How do you approach these concerns? Deenaz Raisinghani: Of course, these are very valid concerns. I was initially a little sceptical about venturing alone during the pandemic and stayed indoors for a really long time. In the beginning of 2021, I started by taking smaller trips within states. We did a lot of road trips as a family. Once the vaccinations rolled out, we started venturing out more with COVID-19 travel protocols in mind. I now try to book stays that are independent, as opposed to hotels; and prefer to travel by road.
I also am very particular about hygiene, pre- and post-travel; and I carry different kinds of disinfectants with me, starting from toilet covers and sprays, to wipes, luggage and clothes disinfectants. I avoid booking destinations that are at-risk. I avoid sitting in overly crowded places, and ensure that we eat more freshly cooked food. I mask up and my daughter also follows this completely. We wash ourselves completely and use a steamer regularly after arriving from someplace else.
Travel + Leisure India: Tell us about the #backpackwithmom initiative and the first experience you had with it?
Deenaz Raisinghani: I conceived this initiative in summer 2021, although I had been planning to start a group trip initiative since 2020. I have wanted to create a community of backpacking moms in India since my first travels with my baby. I spoke to a couple of tour operators but their approach seemed too commercial for my liking. I finally collaborated with a tour company called FreeFolk, who are based in the Northeast and have a lot of experience in that region. I discussed my vision for this trip with them, and I was happy to see an alignment. Thus we came together for this trip.
The main purpose of this trip is to encourage moms to travel confidently with their kids. There is hardly any such initiative in India which specialises in backpack travel for women and children, keeping the ethos of the mother-child relationship in mind. I wanted it to be a very customised experience for them.
The first #backpackwithmom trip took place in the first week of December 2021 across the beautiful state of Meghalaya. We opened the call for bookings on my Instagram page, and we were so surprised to see an overwhelming response for the same from mothers across India. We were completely booked within 20 days! Seven moms—including myself, and eight kids in the age range of five to nine years were a part of this trip. We camped on the India-Bangladesh border and did a lot of adventure activities like cliff jumping, kayaking, and zip-lining. We mostly stayed in home-stays, and gave them local experiences. Some mothers had never backpacked earlier, so it was a first-time experience for them. Thankfully, we had an incredible time and the reviews from the mom travellers and kids were really positive. There have been multiple enquiries for the next few trips from mothers. While we are currently on hold because of the Omicron scare, we plan to resume sometime this year.
Travel + Leisure India: As your daughter grows up, there will be stressors in terms of her academics and so on. How do you perceive the challenges that might come upon you in the long run? Deenaz Raisinghani: I am beginning to feel the heat because she will be reaching grade two this year. We travelled a lot more when she was in preschool, and fortunately we had a very supportive school that helped us with worksheets on-the-go and granted us leaves to take her along.
As parents, we are not very particular about Arianna's schooling goals and do not want her to take the extra pressure from us. She is going at her own pace. She is pretty intuitive. She has learnt languages and is interested in maths without us consciously pushing her towards these subjects. It's a far-fetched thought to stress about her career path because she is barely seven years old right now. I am not going to push her to excel in her schooling life.
In fact, we have travelled even with her remote schooling phases in place, and we have managed to keep up with her school work. I would have loved to home school her, but because I am a full-time working parent, that option is not possible for me at the moment. We have begun planning our travel calendar in line with her school holidays, but we travel during the school year as well. I think the opportunities for a child are limitless now, so I will support her with whichever direction she chooses to go in. This is not a very stressful issue for me currently, but we'll cross that bridge when we get there.
Travel + Leisure India: We know your side of the story. But what does Arianna think of her adventures with you?
Deenaz Raisinghani: Arianna has now started expressing her opinions about the kinds of travels we go on. I also take her opinion when I am planning trips. I ask her what kind of activity she would like to do or would she prefer a particular type of destination. She deeply enjoys them and prefers hostelling or outdoor experiences like camping or water activities. She loves exploring nooks and crannies, and will say something unique from her own perspective, which I may not see immediately. She wants to travel a lot, and has her own little backpack that she packs with her things. She is very inquisitive and asks a lot of questions during our trips.
Travel + Leisure India: Many mothers desire to travel but step back for varied reasons. Any advice you have for them? Deenaz Raisinghani: My advice would be to just go for that trip that you always wanted to go on. Any experience will be worth the effort. It's best to start with a closer destination with flight availabilities and emergency services at hand. Once the first experience goes off well, moms can start planning a more adventurous holiday with their kid and see how it goes. The only person they should listen to is themselves.
Family mostly comes around with the right kind of understanding and explanation, not rebellion. If they don't, then it is up to the mother to do her own thing, travel and let the family know what a rewarding experience it was upon returning.
Travel + Leisure India: Your most memorable trip with your daughter yet?
Deenaz Raisinghani: My first trip to Germany with her where I travelled across three cities, learnt so much, made so many mistakes and came back with a desire to travel the world with her.
Travel + Leisure India: What's next on your travel bucket list?
Deenaz Raisinghani: I can't wait to explore more destinations within India, and maybe a safe international trip once it's safe to travel again.
Related: The Story Of A Single Mother's Adventurous Escape To Dubai
Written By