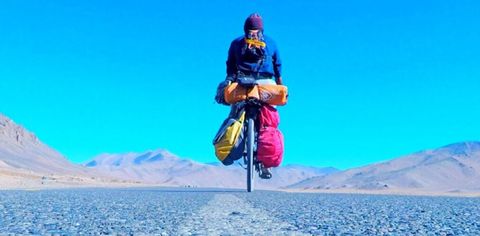 A former journalist, 32-year-old Ankit Arora from Jaipur, is a pan-India cyclist who began his journey aiming for a Guinness World Record for the longest journey on a bicycle within a single country. But along his journey, that idea made way for a greater purpose. By Kasturi Das
Travel + Leisure India: You've been on the go for over 1,000 days now. How did it all begin?
Ankit Arora: I started my journey on August 27, 2017. I wanted to explore India for 150 days and eventually go back home, to my normal life. Initially, I was only focussed on covering the maximum distance because my aim was to create a Guinness World Record. But by 2020, I had covered 15 states in North, West, South and Central India, and eight Union Territories. Since then, I no longer seek to create a world record. It has become much more than that. Travel + Leisure India: What changed your perspective?
Ankit Arora: It was in South India that I realised how much there is to learn about other people and their cultures. I learnt about organic farming and the sustainable way of living from the locals. That brought about a change in me. My journey was no longer about the kilometres. The idea of my journey now is to find homes away from home and merge into new cultures. My purpose now is to connect with communities. In ancient days people used to make journeys on foot. They would meet people along the way and learn new skills. This is what I am doing.
Travel + Leisure India: Your journey is mostly cashless. How do you manage without money?
Ankit Arora: To prepare for my journey, I spent INR 80,000 to buy clothes, shoes, a camera, and a tent. But I have not used any money during the journey. I rely on the barter system as well as the goodwill of the people.
Travel + Leisure India: What do you think the future of travel will look like in the post-corona world?
Ankit Arora: I travel solo in an eco-friendly way. People who have chosen this way of travel will not be affected much by COVID-19 because firstly, this doesn't involve ticketed travel by air, rail, or bus. Most solo and experience-based travellers move on their own, by cycling, motorbiking, hitchhiking, etc. It also makes it easy to keep away from big gatherings. Secondly, we also don't stay in hotels or lodges. So, certain threats related to viruses are not present in this way of mindful travelling. Travel + Leisure India: What are some experiences that stand out for you?
Ankit Arora: I was in Dhanushkodi in January 2018. It is a ghost town that was destroyed in the 1964 Rameswaram cyclone. It was hot and humid. I had been cycling for hours and I was exhausted. I saw a boy selling lemon water and fried fish in a small shack. I pointed to the lemon water and a plate of snacks. The boy observed me for a while and offered me a parcel of lemon rice and black grams—his lunch. He could probably tell from my face and my cycle that I was on a long journey and famished. He also offered me some snacks and lemon water and refused to accept any money. It must have been worth INR 60. It could have been a big sum for him, but he gave it up for a stranger like me. People are generous everywhere. This holds true for other states too.
In Shopian, considered to be a 'troubled region' in Kashmir, I stopped at a tea stall and two kids came up to me. They were very surprised to know that I had come all the way from Rajasthan. They were happy to see my cycle and they took me to their home to have tea. By the time I was done with my tea, they brought me two kilos of apples and pears. During that time I was carrying 40 kilos of luggage. Now I only have two kilos. But they made space in my luggage for the fruits. That same evening it was starting to get dark and I was looking for a place to spend the night. A Sardarji saw me and came up to me. I told him my story and he said I could spend the night in the courtyard of a small gurudwara, as there was no extra room. The Sikh families of the village were coming in for prayers and they brought me tea and fruits. But this wasn't all. For the first time ever they let someone, me in this case, sleep inside the gurdwara. Their only request was to honour the Guru Granth Sahib by keeping my legs in the opposite direction.
I have stayed with surrendered Naxalites in Chhattisgarh. I listened to their stories about politicians, their revolutions, about the lives of the tribals. They were hospitable.
Travel + Leisure India: Have there been any funny incidents? Ankit Arora: Many! I have been mistaken for a 'hair chopper' in Shopian. There was a mysterious figure going around chopping women's hair in Kashmir during that time. The locals thought I was the one doing it. I explained my journey to the villagers and they were convinced of my innocence. I was also mistaken to be an opium smuggler when I was passing through the remote areas of Jaisalmer. In Pokhran, I was almost mistaken to be a terrorist, when I asked for the address of a Major that my friend had asked me to meet.
Travel + Leisure India: How have you changed as a person during your travels?
Ankit Arora: I am more compassionate now, more peaceful, happier, and more content. I have also become spontaneous. I don't plan anymore. I accept everything that comes my way.
Travel + Leisure India: What is that one thing you often get told by people?
Ankit Arora: People are always advising me to "settle down". For me, being settled is a state of mind. Perhaps it's the adamancy. I get energy from this. People ask me, "Don't you get tired?" No. This makes me happy. This whole process is about unlearning. Speaking to people about my journey gives me joy. People in return share their stories with me. I have received so much love from strangers.
Travel + Leisure India: Tell us about your lockdown experience.
Ankit Arora: My lockdown experience was very special. My [then] host was an artist named Sreedevi Balasubramanian who lived with her two children, and two cats in Bengaluru. Sreedevi's husband serves in the Indian army and was posted in another state. I lived with them as a family member. We cooked together and divided our chores. I also learned some traditional Tamilian recipes and I taught them some of mine.
I learned traditional art like Madhubani, Gond, Pichwai, alcohol painting, and wall paintings, from her. We also made organic soaps, kitchen compost. I also learned how to make kokedama, the Japanese art of growing a plant; and Madhubani paintings on wood.
Sreedevi made a four-feet high painting on canvas as a gift to me. This painting is a depiction of my journey of 1,000 days. It includes my learnings from farmers, tribals, weavers, potters, artists, sculptors, musicians, labourers, students, and urban families who made me a part of their lives. Travel + Leisure India: What will you do once you are done exploring the entire country?
Ankit Arora: My journey will only change its form. My cycle journey will end, but I would eventually like to make this my way of life. My wish is to live in a few selected places, and indulge in meaningful work that benefits the people of the region.
Related: Meet Indranil Roy: A Backpacker Who Covered The Entire Konkan Coast On A Bicycle
Written By