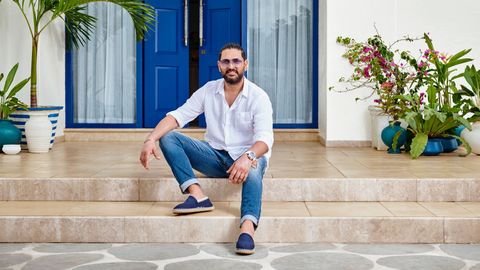 Sportsperson Yuvraj Singh recently became India's first international cricket superstar to list his home on Airbnb for an exclusive stay. In an interview with Travel + Leisure India & South Asia, the cricket icon talks more about his Goa home and all the memoirs that find a spot in the house. By Bayar Jain
Excerpts from the interview with Yuvraj Singh
T+L India: What made you decide to offer your home to strangers for an exclusive Airbnb stay?
Yuvraj Singh: I have always loved interacting with my fans, and this collaboration was the perfect opportunity for me to do so in a way that has hardly ever been done before. Casa Singh is an extremely personal space for me. It's a second home where I share many memories with my friends and family. To open the doors of such a private space for my fans, for them to experience a day in my life, would not be possible without Airbnb. Airbnb's success has always been in fostering human connections and making experiences more authentic, and I feel such collaborations are testament to that. And so, I am extremely excited to be a part of one such iconic campaign.
T+L India: Do you use Airbnb when you're travelling? If so, any memorable experience you'd like to share with us?
View this post on Instagram
Yuvraj Singh: I have not had the chance to travel with Airbnb yet, but I am hoping that changes in the coming months! I would love to explore Japan with Hazel [his wife] and Orion [their son]. I hope that we can finally tick it off our bucket list with Airbnb.
Working with Airbnb has really given us some insight into how they function and the part a host plays in taking your trip to the next level. I would love my family to experience that. Travelling with a little kid can be daunting, but I think finding a home away from home with Airbnb would be the best way to travel! By hosting my own home, I have personally experienced the amount of effort that goes into being an Airbnb Host. I have planned the perfect Goan getaway for my guests and am hoping to experience the same when I travel soon.
T+L India: How have you decorated your home—what's been the inspiration?
Yuvraj Singh: As a family-oriented individual, quality time with my family trumps everything else. And that has been my main inspiration. My home in Goa is the place that my family and I visit to enjoy that much needed time off. It is our happy place that has been built to display the love and affection that our family has to offer. It is also a reminder of the numerous memories we have created. You will find moments from my life that have been captured and framed tastefully places across the home, as a constant reminder of our time together. From birthdays and anniversaries to trips with friends, this home has not only seen it all but has also captured it.
T+L India: Tell us about Casa Singh, your home in Goa that is available on Airbnb for an exclusive stay. Yuvraj Singh: A beautiful getaway for my family, Casa Singh offers a serene setting from which one can explore the colourful charms of Goa's sun-kissed villages. The house is laden with expansive decks and terraces that burst with potted plants and greenery, dotted by pops of colour from bougainvillea and flowers. A luxurious pool features a swim up bar and several nooks for lazy afternoons spent reading or enjoying leisurely meals alfresco.
I built this home five years ago and I truly believe that it was one of the best decisions I made. Named Casa Singh and located in North Goa, this Airbnb home is perched on a hilltop with spectacular 180-degree panoramic views of the sea. It is just a few minutes away from the beach and embodies a nautical theme with a serene combination of white and blue as its primary colours.
T+L India: As an Airbnb host, what are the things you'll offer to your guest?
Yuvraj Singh: I want the guests to be able to experience the warmth and memories that this Airbnb house holds. As a part of this stay experience, the guests will get a sneak peek into my life. The special stay includes a virtual meet-and-greet with me, curated meals throughout the stay with some my favourite food, sundowner on the outdoor deck, an e-bike tour of a nearby tropical island, as well as personalised keepsakes as souvenirs and more. I just want the guests to be comfortable, and have a great and memorable experience from this stay.
T+L India: Any special corner in your home that is close to you, and the story behind it? Yuvraj Singh: It's hard to pick, but I absolutely love the sundowner deck overlooking the sea and the greens. It's where I like spending some time with myself, or just watching the sunset in the evening. Not only is the view breathtaking but coming up here gives me a sense of peace and calm. Another spot that I do enjoy spending time by is the pool. I personally just enjoy being close to the water, whether it's the pool or the sea, as you can possibly tell by looking at my home! I love to kick back and just watch the sky with my feet dipped in the pool. It's extremely relaxing and something I hope my guests will enjoy as well. Another place in this house that is the most special to me is the 150 wall that my family has created. As one can imagine, my family is my biggest cheerleader! When I scored 150 in 2017, to commemorate this achievement they had all the images framed and put up near the dining area.
T+L India: What does Goa mean to you?
Yuvraj Singh: Goa is one of my favourite places to visit in India. It offers the best of both worlds – an energetic, upbeat vibe while at the same time, a relaxing, peaceful tempo to unwind. I am extremely fond of spending my days by the beach, watching the sunset, or just lazing around in the pool. Goa has always been my go-to place when I need some time off to rejuvenate and I feel lucky to have a home in the sunshine state.
T+L India: What kind of a traveller are you? Yuvraj Singh: I would say, a laid back one! I have always been fond of travelling and believe that it really helps me relax and rejuvenate. I am an easy going traveller and I enjoy lounging by the pool or the beach, spending time unwinding.
Quick questions with Yuvraj Singh
Bucket list destinations: Japan
One word to describe your residence: Peaceful
Favourite travel companion: Orion
Related: Cricket Icon Yuvraj Singh Lists His Home In Goa To Turn Airbnb Host And We Have All The Details
Written By