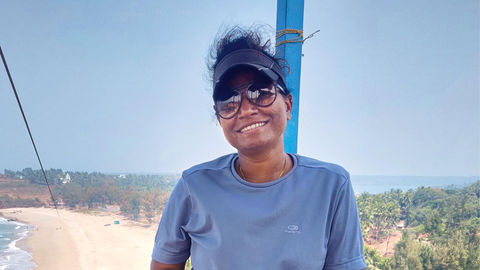 Vaishnavi Joil, co-founder of India's first and longest coastal zipline, has involved the local communities in her venture, back at her hometown, Devgad in Maharashtra. With a zeal to uplift the youth and put her hometown on the path to development, Joil shares her ideas with us. By Simrran Gill
Excerpts from the interview with Vaishnavi Joil:
T+L India: You co-founded India's first coastal zipline. How did it all start?
Vaishnavi Joil: As an IT engineer and a robotics expert, I was as far away from starting an adventure tourism company. But the pandemic happened and the dream to form a tech start-up transformed to do something to uplift the people of my hometown Devgad and put it on the tourist map. And hence came, Flying Konkan Devgad Zipline, the first and the longest coastal zipline of India. It was conceptualised as a curious idea in 2016, and finally took shape and materialised in January 2021, after years of meticulous research, planning, permissions, paperwork and several trials. However, the pandemic and the lockdown in 2020, was a pivotal point in the way the venture would shape out eventually. T+L India: How is Devgad different from the rest of Konkan?
Vaishnavi Joil: Devgad is a quaint little town in the Sindhudurg district located on the Arabian Sea in the coastal region of Konkan Maharashtra. It is highly secluded, with a cleaner coast. Apart from this, there are historical forts, ancient temples and petrographs, making it a charming getaway
T+L India: Would you call yourself an adventure enthusiast?
Vaishnavi Joil: Absolutely! I love trekking, hiking, spending time outdoors in nature with my friends or other people who share similar interests. In my free time I try to travel and experience newer destinations and adventures. T+L India: What is your favourite memory from your hometown?
Vaishnavi Joil: Devgad is the place where my brother and I spent most of our childhood summer vacations lapping up delicious mangoes. Family picnics and outings involved picturesque temples perched on the cliffs, overlooking the ocean below or visits to historical forts with strategic views of the sea. Even when I grew up, it remained this magical escape from the hustle and bustle of a busy corporate life and never ceased to amaze me with its overwhelming natural beauty and picturesque locations.
T+L India: Out of the two activities at Flying Konkan—ziplining, and surfing—what's your pick?
Vaishnavi Joil: I would choose surfing as it is more than just a tourist attraction. I have recruited a group of local youth who are being trained by certified surfers. While they are assisting, teaching, and helping tourists, they are also being trained to become certified surfers themselves. With this they can explore national and international opportunities in both competitions as well as teaching opportunities. T+L India: Five things we'll find inside your travel bag?
Vaishnavi Joil: Sunglasses, a box of mint, sunscreen, hair bands, and my favourite set of silver rings.
Related: Learn All About Wildlife Photography From T+L India's A-List Member Latika Nath
Written By