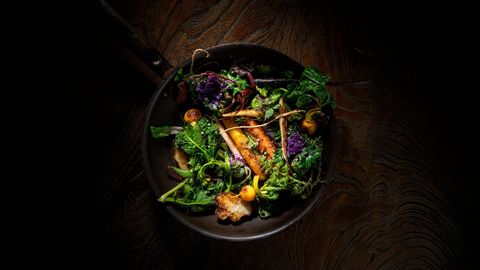 Opened in 2007, DEN has been a recurring entry in Asia's 50 Best Restaurants since 2016. This year, the Japanese restaurant in Tokyo has been bestowed The Best Restaurant in Asia title, sponsored by S.Pellegrino & Acqua Panna. Travel + Leisure India & South Asia speaks to Chef Zaiyu Hasegawa about what it took to overcome the pandemic's challenges, his gastronomic adventures around the world, and the restaurant's four-legged mascot, Puchi Jr. By Sumeet Keswani
T+L India: DEN has been a regular in Asia's 50 Best Restaurants since 2016. What does it mean for you to reach the zenith?
Chef Zaiyu Hasegawa: It is a testimony to our team's hard work and efforts, as well as the immense support we have continued to receive from our suppliers and friends from around the world.
T+L India: Which factors do you think helped you climb the charts, especially after two years of a pandemic?
Chef Zaiyu: Due to COVID, we had to abide by many new rules. We had to stick with limited reservations and stay strictly within the confines of our restaurant. But this gave us a new perspective, and we reflected deeply on what and how we can serve our customers. Our guests thought the same for us, and we had new and old customers come support us anew because of COVID.
View this post on Instagram
T+L India: What is your cooking philosophy at DEN, Tokyo?
Chef Zaiyu: It's not a philosophy. I'm just always thinking about how we can make our guests happy, how my dish will be received, and how they will most enjoy their time at DEN.
T+L India: Yours is the first Japanese restaurant to top the list since 2013. What would you say makes your restaurant stand out among your peers?
Chef Zaiyu: It is not that we are special, but rather that the producers who support the team and the people around us are highly motivated, and that we are also pursuing ways to make each customer happy. We are also encouraged and helped by the fact that Japanese cuisine is in demand and people from around the world are beginning to understand Japanese cuisine better than before.
View this post on Instagram
T+L India: What are your five favourite dishes on DEN's menu?
Chef Zaiyu: Our favourites are our customer's favourites: monaka (our signature starter), otsukuri (slices of sashimi raw fish), DEN salad, donabe (claypot) rice, and DEN's atmosphere.
T+L India: Tell us about the restaurant's canine mascot, Puchi Jr!
Chef Zaiyu: He is our best service staff, because he can say Arigatou (thank you) in many languages to our customers.
View this post on Instagram
T+L India: How much has your travel impacted your food?
Chef Zaiyu: Travel has impacted me immensely. I get inspiration from everywhere. If I am traveling to a new place, I discover something new. Even if I have been somewhere before, there are always new and different discoveries.
T+L India: What has been your most memorable gastronomic adventure?
Chef Zaiyu: D.O.M. in Brazil by Alex Atala. When I went to Brazil for the first time, he served pineapple with ants from the Brazilian Amazon. I will never forget the special taste, ingredients, and adventure.
T+L India: What are your favourite ingredients?
Chef Zaiyu: Wild mushrooms and fish from Japan. Because I am cooking in Japan, I want to showcase ingredients from the natural Japanese environment.
View this post on Instagram
T+L India: Is there a major culinary trend you foresee for the near future?
Chef Zaiyu: In the last few years, there have been many innovations, so going forward, local food, nostalgic tastes, [and] comfort food may start to trend. I think so, because I would like to eat such food myself.
T+L India: How does being rated No. 1 in the continent shape your future plans for DEN?
Chef Zaiyu: We are so grateful for the award, but one thing that does not change for us is to continue thinking about what we can do to make our customers enjoy themselves and come back to DEN in the future.
Related: Asia's 50 Best Bars 2022 List Is Out, And India Has Bagged 5 Spots
Written By