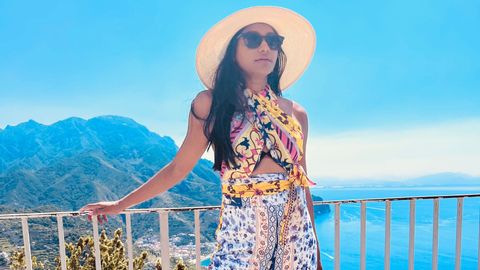 Stylist Eshaa Amiin is no stranger to the fashion world. With a roster of clients from Bollywood including Karisma Kapoor, Saif Ali Khan, Jahnvi Kapoor, Pooja Hegde, and more, this trendy diva wows audiences with striking prints and contemporary designs inspired by her travels. Back from her trip to Italy, the entrepreneur (Amiin is also the founder of The Style Elevator, a styling consulting firm) recounts her favourite shopping spots in the country, her go-to outfits, and more. By Ralan Kithan
Excerpts from the interview with Eshaa Amiin:
T+L India: You've been exploring Italy. How did this trip spring up? Eshaa Amiin: Siddharth [Amiin's husband] and I were planning on where we could travel to celebrate our wedding anniversary. After some initial research, we were both convinced that we needed to look no further than Italy with its old charm and romantic vibe.
T+L India: What was the highlight of your trip?
Eshaa Amiin: Hotel Cipriani Belmond in Venice is an experience one must not miss! I highly recommend a meal at the Cip's Club here, which is perched right by the sea.
T+L India: Which places in Italy connected with you? Eshaa Amiin: The Armani Silos in Milan was quite an experience. It is an archive of Giorgio Armani's designs from the inception of the brand. I also visited Antonio Marras' concept store in Milan—which is so unique and ahead of its time. Meeting the humble designer there was quite refreshing too. We also spent time at the scenic Lake Como while enjoying the Italian summer cruise.
T+L India: Your favourite shopping spots in Italy?
Eshaa Amiin: Milan is a shopper's paradise, but Corso Venezia and Via della Spiga are amazing—not just for the big brands, but also for the many homegrown Italian labels. While in Rome, I would recommend Castel Romano which is located at a 30-minutes drivable distance from Rome.
T+L India: You also visited the picturesque town of Amalfi. Which are your favourite spots in Amalfi? Eshaa Amiin: Terrazza 17 at the Marina Riviera, with its spectacular view and sumptuous food! Glicine, a Michelin-starred restaurant at Santa Caterina Hotel is a charming fine dining experience. Ja' Dior lounge at Capri Palace Jumeirah on Capri Island is a fun, cool place. It can only be accessed by boat which makes the experience so much fun.
T+L India: What should we not miss out on when visiting Amalfi? Eshaa Amiin: Some of the smaller towns around Amalfi like Ravello, Maiori, Minori, and Positano. One must spend some time at the local gelato ristorante and coffee shops to experience the Italian charm. This restaurant called Sal De Riso in Maiori has the most amazing lemon gelato and cakes!
T+L India: Are there any destinations that made an impact on your life? Eshaa Amiin: Amalfi has to be one of them! Spending a day on a boat traversing the Amalfi coast, exploring the towns as you sail up to Sorrento and then to Capri is by-far the most therapeutic experience I've had. You pass through so many beautiful caves and grottos. We stopped by one of the grottos and took a dip in the clear blue water. It was an out-of-this-world experience!
T+L India: Your go-to outfits for a vacation? Eshaa Amiin: I plan my outfits depending on the weather and the place I'm travelling to. My go-to outfits are jumpsuits, co-ord sets, shorts, and crop tops with some fun colours and prints. I also carry separates that can be mixed and matched for day or evening. I prefer travelling light so I can shop wherever I travel.
T+L India: What are your must-have travel essentials?
Eshaa Amiin: A light jacket, sunglasses, sunscreen, sneakers, and a pair of nude heels.
T+L India: What kind of traveller are you? Eshaa Amiin: Spontaneous and eccentric explorer of culture, history, costumes, and a thrill seeker.
T+L India: Does travel inspire you in your designs for your eponymous label Eshaa Amin?
Eshaa Amiin: Yes, very much! A lot of my inspiration comes from my travels and holidays— from the people, culture, history, art and craft, and the scenic beauty of the place. T+L India: Which styling project has been your most interesting one?
Eshaa Amiin: Each project has its own challenges and experiences. Having worked with so many achievers, picking any one would be very difficult. However, from amongst some of my recent assignments, styling Saif Ali Khan and Neeraj Chopra was a lot of fun!
Related: Going Places With People: Actor Aisha Sharma Gives A Glimpse Of The Parisian Life
Written By