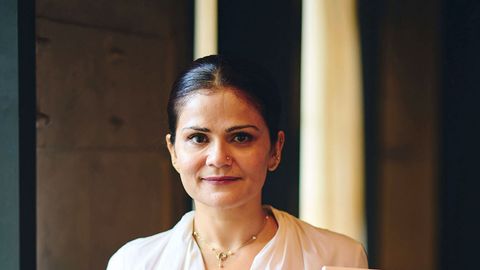 From being a yoga instructor to hosting a podcast on alternate treatments to authoring two books, Vasudha Rai has done a lot to transform the beauty industry in India. The multi-hyphenate talks to Travel+Leisure India & South Asia about the evolution of the industry, tips to keep your skin healthy, and her new book, Ritual. By Simrran Gill
Excerpts from the interview with Vasudha Rai:
T+L India: How do you think the beauty industry has changed since the time you started off as a beauty writer?
Vasudha Rai: It hasn't just changed, it has transformed. Now beauty, health, and wellness are all interlinked; there are more natural beauty brands; and many more homegrown brands. We have the best of everything in India today— holistic beauty, dermatological treatments, spas etc. In 2002, when I started out, there were just a handful of beauty brands, and the concept of wellness was very niche.
T+L India: Your recent book, Ritual, talks about natural energies of the day and night and age-old practices. How did the idea for the book come about? Vasudha Rai: I wanted to honour not just the circadian rhythms of the day and night, (living according to them is the best investment in health) but also the yin and yang inside us. Sometimes, we need energy and at others, we need rest. So, the sun and moon aren't just literally day and night but also our sunny and shadowy sides.
T+L India: What is your daily skincare routine like?
Vasudha Rai: I do a daily face massage, starting from the breast upwards, along with face yoga. This happens daily even if I'm not regular with skincare. I also like to apply a DIY kasturi manjal and red sandalwood face mask after my massage, without washing the oil underneath. Next, I wash my face, rubbing the mask off gently, which gives me gentle exfoliation. I follow the same routine day and night—SK-II Facial Treatment Essence followed by African Botanics Silver Rescue Cream. And of course, during the day I wear SkinQ Sunscreen.
T+L India: What skincare routine do you follow while travelling?
Vasudha Rai: Stay hydrated—I always carry two big bottles of water with me on a flight. If you can, carry a small bottle of oil. Rub the oil all over your face and body and sweat it out in the steam room. Ideally, a few minutes of steam followed by a cool shower for three rounds should do. Lastly, pack some fruits and nuts.
T+L India: Which country is the best for skincare products? Vasudha Rai: London. I go to Liberty and Sally Beauty on Shaftesbury Avenue. Tell us about your favourite travel destinations. The only travel that helps me unwind is if it has something to do with wellness. Therefore, my favourite places are Beppu in Japan, a city famous for its onsen baths (more than 300), and Baden-Baden in Germany, a spa town with old thermal baths (perhaps the oldest in Europe) that were built by Romans.
Related: Sanjay Garg, Founder & Designer Of Raw Mango, Reveals His Connection With The Awadh Region
Written By