Kiran Nadar's delightful, diverse collection of 5,000 artworks represents all the major phases of modern and contemporary Indian art at the two venues of the Kiran Nadar Museum of Art. The iconic art connoisseur speaks with us about the importance of accessibility, digital and immersive exhibits, and her favourite cities and museums. By Sumeet Keswani
Travel + Leisure India: What role does art play amid a global pandemic? Kiran Nadar: Art can be a therapeutic outlet for many people. This is in all forms, be it viewing, experiencing, or engaging in the creation of it. It allows the viewer to get completely lost in the beauty of a piece, being absorbed by the mesmerising brushstrokes of a painting or the smooth contours of a sculpture. The wonder of the human hand that has created such beauty, and the attempt to create something similar with your own hands can be an absorbing journey that requires an almost meditative effort, which can calm the mind and allow for some much-needed downtime. With gatherings out of bounds, museums had to adopt novel ways to exhibit art over the last year-and-a-half.
Travel + Leisure India: What was your take on these, and how did the Kiran Nadar Museum of Art (KNMA) adapt?
Kiran Nadar: It was interesting to see the quick uptake of digital. At KNMA, one of our big achievements was the introduction of virtual tours of some exhibitions, allowing audiences a 3-D viewing experience. With audiences confined to their homes and looking for engagement of any kind, KNMA put together and continues to offer a well-rounded digital programme. This includes, but is not limited to, workshops, discussions, DIY, online film festivals, contests, virtual tours, virtual exhibitions, [and] a new digital series that includes Art x Fashion, Art x Design, Art Meets Street, Art x Food, and The Art of Sustainability. Many of the Art X series were filmed totally on mobile devices. The workshops have been crafted to encourage creativity and concentration as a restorative activity.
Engaging in art can also be a form of communication, allowing people to share their experiences amid lockdowns and social-distancing requirements. From creating simple musical instruments to recycling items, creating masterpieces using paper-cutting techniques, pottery, and origami, the list of activities is endless.
Travel + Leisure India: What aspects of the museum experience get stripped away in a virtual exhibit? On the other hand, what are the benefits?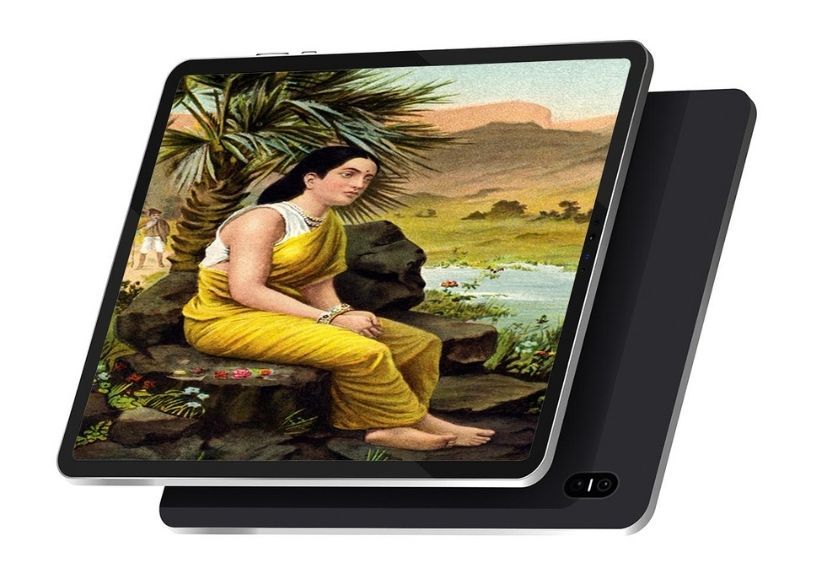 Kiran Nadar: The joy of viewing and experiencing art in person can never be replicated online. However, the upside of online exhibitions or walkthroughs is that they enable access to new audiences. Making art accessible to all is our main objective. We are constantly looking for ways to engage people, young and old.
Travel + Leisure India: As the rules are relaxed once again, what is the future of virtual exhibits?
Kiran Nadar: I think they are here to stay; the accessibility is unparalleled. It can be used to spark interest in audiences and perhaps convince them that seeing the exhibition in person will be an exciting and worthwhile experience.
Travel + Leisure India: Even before COVID-19, tech was changing the nature of art consumption. For instance, Immersive Van Gogh Exhibit and Beyond Van Gogh projected his paintings on the installation space itself. Your thoughts on this fusion of classical art and technology?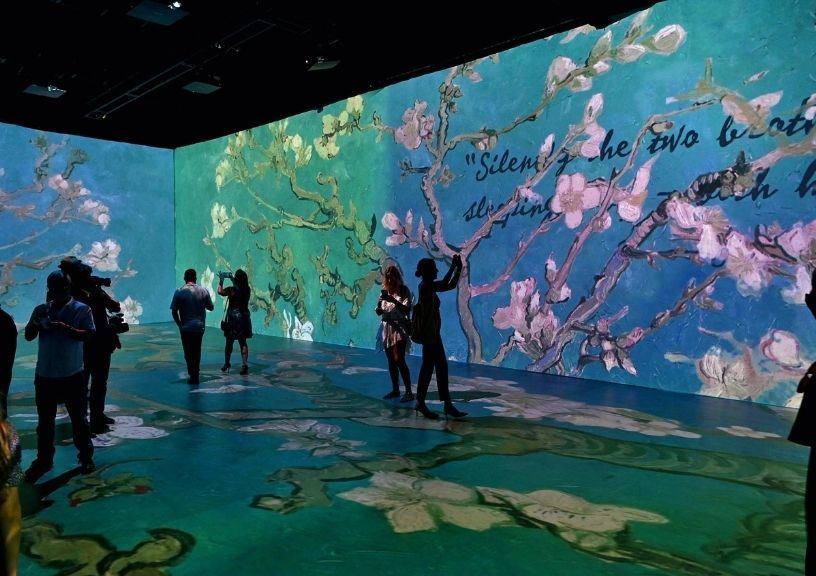 Kiran Nadar: Immersive art is a very interesting concept, and it is picking up as parts of the world emerge from lockdown. In a way, exhibitions like the various immersive Van Gogh ones are offering escapism to audiences who are limited in travel and now by social distancing. It is a fascinating way to attract new audiences and to experience art in a different manner. We had organised a flash mob-style choreography at Select CityWalk [in Delhi] a few years ago. The dancers performed to catchy beats, to bring to life the legendary artist Raja Ravi Varma's painting A Portrait of a Family.
Travel + Leisure India: Every generation of artists has been influenced by landmark events. In what ways do you think this pandemic will reflect in this generation's art?
Kiran Nadar: I think the pandemic will have a deep-rooted effect on artists and their creative process. The long-term effects are still emerging as we continue to grapple with the ebbs and flows of the pandemic. Nobody has had to face anything like this in our lifetime, and it will definitely have a marked influence on this time period in history.
Travel + Leisure India: What's been your most memorable exhibit—in India and overseas?
Kiran Nadar: Overseas, The Alexander McQueen show at The Met was not really art but fashion. However, it was absolutely stunning. Another show that was phenomenal was the Basquiat show at Fondation Beyeler in Basel. Within India, our show Stretched Terrains [in 2017], which featured many of the moderns such as Raza, Souza, and Husain. We also had a memorable, first-of-its-kind fashion show in collaboration with Gauri & Nainika.
Travel + Leisure India: Your favourite travel destinations for art consumption?
Kiran Nadar: New York, London, and Paris.
Travel + Leisure India: Destinations that you haven't visited but would love to?
Kiran Nadar: In India, I would love to visit Hampi. Overseas, I feel that I haven't spent enough time at the Smithsonian in DC, especially after the new National Museum of African American History and Culture designed by Sir David Adjaye [opened].
Travel + Leisure India: An artwork that changed your life?
Kiran Nadar: Raja Ravi Varma's paintings hold a special place. I enjoy taking in his works.
Travel + Leisure India: Five must-visit museums/art galleries in India?
Kiran Nadar: KNMA, National Museum, National Gallery of Modern Art, Chhatrapati Shivaji Maharaj Vastu Sangrahalaya, and Kochi-Muziris Biennale.
Related: Singapore-Based Non-Binary Visual Artist Sam Lo's Take On Street Art