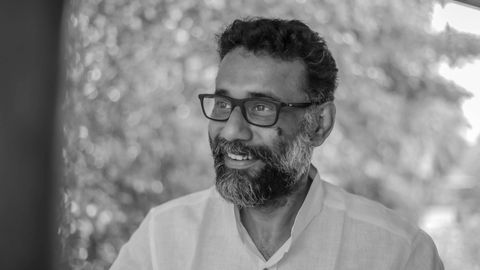 Vinod P Cyriac was one of the key architects involved in the setting up of 'En Uru', Kerala's first tribal heritage village, in Wayanad. In the 90s, he co-founded Spaceart, an environmentally conscious architecture firm that continues to create sustainable housing and communities in Kerala. Travel+Leisure India & South Asia catches up with the visionary and ardent fan of British-Indian architect Laurie Baker to decode what drives him to be a champion of conscious living.
Excerpts from the interview with Vinod P Cyriac
T+L India: A lot of people talk about green architecture. What exactly is green architecture?
Vinod P Cyriac: Construction technology is an integral part. The material used is definitely very crucial, and much more than that is the social sustainability, and purpose of that particular construction. It is not only about construction, but the most sustainable architecture is also about how less you have built. For instance, you're asking me to make a beautiful home, I come to the site and find that there's nothing to be built there, instead the trees should be preserved and maybe a hut can be made, and the house can be built somewhere else in a completely different way which is acceptable for you as well. That is my challenge—to give a much more exciting idea, which is financial viable, environmentally viable, creative, and sustainable in the larger sense.
T+L India: Why is it challenging to build socially responsible structures in the current times? Vinod P Cyriac: When Laurie Baker constructed old buildings, he made most of them with local bricks, which were available. At that time, people were sensitive enough to remove the topsoil and take the soil which has clay content and process it and make it into a brick. So, it was convenient and locally available, minimum resources were used and construction was faster. So, in many ways that was very sustainable. Right now, the land per cent is much less. Agriculture lands are getting converted into built forms. The absorption capacity of the earth is diminishing. So, removing that earth and making those bricks is a terrible mistake right now. But then what do you do? In places like Calicut and the Konkan region, there is this soil called laterite soil. It is the most abundantly available material on the Malabar coast of Kerala. But that is also getting depleted, because of quarry mining. So that natural resource, though locally available, can also not be considered sustainable. So, one can take a very balanced decision and do less– it is the only possible methodology, that's the only way.
T+L India: How challenging was it to create the tribal village 'En uru' in Wayanad? Vinod P Cyriac: It's a fragile ecosystem, it has a very spongey kind of nature where only shrubs grow, but these shrubs are extremely critical for the ecosystem, and it has got a purpose. So, we decided to do it in a much more sensitive way, respecting the terrain of the land. We adhered to the roots of tribal architecture, which includes the scale and proportions, and reinterpreted it with modern construction as it has to sustain there. We used laterite for the wall and plastered it with mud, and the roof is made of steel and was later thatched. We also employed the locals in the construction.
T+L India: What are some of your favourite sustainable structures in India?
Vinod P Cyriac: Laurie Baker's Loyola Chapel in Thiruvananthapuram is one structure in India that I love.
T+L India: Which country or city do you look to for design inspiration?
Vinod P Cyriac: Sri Lanka has been consistently producing some of the most creative architectural structures. Architect Jefferey Bawa who is Baker's contemporary created a lot of wonderful structures there. He has inspired many architects with his tropical modernism style. And Vietnam, Bangladesh. I feel where there is calamity, poverty, and struggle for life, there is great architecture.
T+L India: You design public spaces like libraries, schools, residential houses, and you also design resorts. Which do you enjoy doing most and which is more challenging?
Vinod P Cyriac: There are challenges for building anything. The smallest project I have done is a memorial for Sister Lily (who was a victim of Nipa virus)—a bus stop in her memory in Kozhikode. But that was very challenging because it's a memory that is being honoured. The sad part of that is the way it is being treated by the people. It is heartbreaking how we treat public spaces. We litter it and have no care.
We focus majorly on community living projects; I like the idea of people being forced to meet and greet each other. We also made a mini residence for a homeless woman in Calicut, that was very aspirational.
T+L India: Which is one hotel or resort in Kerala that you admire for its sustainability efforts?
Vinod P Cyriac: There are many of them created by CGH Earth, all of them are exceptionally good. Kayal Island Retreat in Kochi is a small property, which I would recommend too. Vythiri Resorts in Wayanad was the pioneer of all this, so that too.
T+L India: What are your bucket list destinations?
Vinod P Cyriac: There are many places in Palakkad that I am yet to explore. I've never been to Istanbul and Turkey, which have been raved about but then again it has become very touristy.
Related: How To Do Good With Food, As Revealed By Chef-entrepreneur Thomas Zacharias
Written By