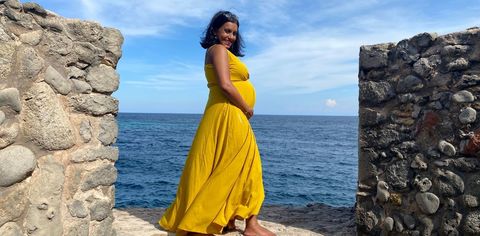 A passionate traveller, Mumbai-based Anindita Chatterjee—known as Travel Chatter—had set a goal for herself: to visit 70 countries before having a baby, the final steps of which she took while being seven-months pregnant! Her babymoon came with its own unique set of experiences, lessons, and memories. She recounts many of those in a chat with us, while also sharing that the adventures go on, with her newly born daughter in tow. By Bayar Jain
T+L India: Tell us about the trips you took with your baby girl, Kiara. Where did you go?
Anindita Chatterjee: Kiara's travel journey started when she was in-vitro. She travelled to four countries over 45 days while she was getting baked in my tummy during my seventh month of pregnancy. She could hear and feel everything that was going on. She could also taste all the mouthwatering local cuisines and my favourite foods in all these countries, given her sense of taste was in an advanced state of development then.
View this post on Instagram
After she was born, she travelled extensively in her motherland for the last five months and has already covered seven destinations in India so far. She was probably the youngest tourist to usher the New Year in Kerala and Goa, doing what she does best—feeding and sleeping. She has also been to mountains and monasteries of Dharamshala and Chandigarh, tasted the yummy food in Amritsar, and been 100 metres away from a leopard and various other animals in the wilderness of Pench Forest.
T+L India: What motivated you to take these trips?
Anindita Chatterjee: The motivation to travel never stopped. A happy mother will always raise a happy child. I have lived by this belief throughout my pregnancy. Pregnancy is a gift and it should always be celebrated, and hence I set out to do all the things I love to, in order to make these nine months the most memorable ever. After becoming a mom, I never wanted to lose myself or my identity. Hence, I continued following my passion with my new favourite travel partner!
T+L India: You travelled during the latter months of pregnancy as well. Where did you go and what did you do?
View this post on Instagram
Anindita Chatterjee: I have always been an avid traveller; nothing brings me more joy than exploring new countries. Hence why should this special phase of my life be any different? After being at home for a while—during my first and half of second trimester—I wanted to set out to see more of the world with the baby in my tummy. I knew this would be a very special and memorable holiday, given there were two of us! I also wanted to hit my 70th-country milestone before having the baby, which I was ecstatic about!
I went to Mexico, Colombia, Aruba and Curaçao for 45 days while I was seven-months pregnant. During my holiday, I would walk 10 kilometres a day on an average. I floated in a 50-feet mud volcano in Colombia; went swimming into cenotes and sea caves in Mexico (where I felt her first kick!); danced with the locals at the Pink Lake; snorkelled in Curaçao; hiked 18 kilometres by a beach and on sand dunes in Aruba to watch the most beautiful sunset of my life; hiked up a hill to see Lake Guatavita; drove a car in the Caribbean islands—from one end of the island to another—solo, etc.
T+L India: What were some measures you took to ensure your safety and wellbeing as a pregnant traveller?
Anindita Chatterjee: Before you plan an international long trip like I did, go for weekend getaways and see how your body reacts to it. I did shorter trips to Nashik (Maharashtra) and Mulshi (Uttarakhand) before planning a 45-days international babymoon trip.
T+L India: What are some of the best moments of travelling with your baby?
View this post on Instagram
Anindita Chatterjee: I felt I had achieved the impossible on my 18-kilometre walk in Aruba. It was a very tough terrain and I thought I would not be able to make it to the natural pool. I kept walking and I was totally mesmerised by the surroundings. I took breaks, hydrated myself and kept going. This trek taught me that nothing is impossible as long as you put your heart, mind and soul to it. In this case, my body also adapted to my will power. Like people say—it's all in the mind!
Another memorable time was floating in a 50-feet-deep mud volcano, which felt like a bottomless pit! (However,) buoyancy ensures you don't sink. It was a surreal experience. Initially I was scared since it looked slippery, but people helped me get in and out. It was magical! The locals in the nearby lake help wash the entire mud off you later. I even danced out to their local songs out of happiness—it was so much fun!
I even celebrated my 40th birthday on the island of Curaçao. It had some of the most beautiful beaches I have ever seen. Snorkelling in these waters was surreal. I felt my baby's first kick while swimming in a cenote in Mexico—something I will remember for a lifetime. I Hiked and got lost in the Grey and Red Tatacoa desert in Colombia, which was nothing less than a moon-like landscape. We also watched the desert from a hilltop bathed in full moonlight with cute pups playing around us. We danced with locals in Cartagena, Colombia; and saw three countries from a 15-seater aircraft while landing in Aruba from Curaçao at night.
T+L India: …and the challenges? How did you overcome them?
View this post on Instagram
Anindita Chatterjee: Heartburns because of eating food outdoors, and getting tired. I am usually a powerhouse of energy and I don't get tired. But by the end of a good day, I would be deadbeat! I would ensure I sleep early by 10 pm and get at least 8-10 hours of rest. I also couldn't indulge in adventure activities. I am an open water diver and a lover of the oceans. Obviously I could not go diving at all during this trip, and that was quite disappointing. I kept reminding myself that this gives me a reason to come back again to these countries and go diving along with my baby.
T+L India: How has travelled changed for you—from pre-baby to now travelling with Kiara?
Anindita Chatterjee: Travel has become even more exciting and I am loving showing Kiara how beautiful this world is! I have embraced slow travel, and try not to have an overpacked schedule. I triple-check everything like visa, car bookings, and COVID-19 requirements. I pack more judiciously so that I don't have any heavy bags.
T+L India: You've visited 71 countries so far. Which has been your favourite one so far and why?
View this post on Instagram
Anindita Chatterjee: Patagonia Argentina. A wise man once said, "If you only visit one glacier in your entire life, Perito Moreno would be a good one to pick." I couldn't agree more! It was my first month-long solo trip, and my first time standing on top a glacier of this expanse. It was, by far, one of the most beautiful things I have ever seen in my life. Trekking that glacier solo was one of the most adventurous things I had ever done. I will never forget that adrenaline rush and the endorphins kicking in while being surrounded by the most beautiful sights ever.
T+L India: How do you choose your next destination and plan for it?
Anindita Chatterjee: I have a list of my dream destinations and I figure out the best time to visit them. I usually club different kinds of landscapes or cities. I try to match my travel schedule with spectacular events that happen in various parts of the world such as lavender fields in France, Diwali in Varanasi, or Carnivals in the Caribbean.
T+L India: Your most memorable trip yet?
View this post on Instagram
Anindita Chatterjee: Cyprus. I travelled to Cyprus with a handwritten visa from the Cyprus embassy in Egypt. It was the most difficult and most impossible stunt that I pulled off during my travels.
T+L India: Do's and don'ts for pregnant travellers?
Anindita Chatterjee: Listen to your body; take a break when it asks you to. Carry a snack or a meal so you don't stay too hungry. Wear a good pair of shoes because your feet will swell up from time to time. Take lots of breaks—there would be days I would just relax at a beach and do nothing! As soon as you land in a city, map all the hospitals close to you in case of an emergency. Be in touch with your doctor online and keep updating them about your progress. Stay in Airbnbs rather than hotels so that you can cook healthy meals. Don't always depend on outside food—I would pack home-made food for myself, even during day-trips. Rent a car so that you are flexible and can do things at your own slow pace.
T+L India: What can one do to ensure a comfortable vacation for their baby?
View this post on Instagram
Anindita Chatterjee:
Take a nanny with you if you can. Not only do you get time off when you are travelling, but you also get to show a person little more of the world—which they otherwise might not get to see.
Enquire at the hotel for babysitters. For those who have younger kids and may not feel comfortable leaving your baby with someone you don't know, carry a mobile or portable camera and place it in the room.
Try to get an airbnb with a kitchen so that you can make fresh meals for your baby or sterilise all the baby items.
Research about your destination and plan your sightseeing schedule such a way that you can take breaks to feed your baby.
Carry a baby carrier or stroller with you.
Rent a car so that you can do things at your own pace and carry baby supplies at the back.
Map the hospitals and doctors around as soon as you land in your destination. Have a list of commonly-used words like 'medico', 'hospital', 'pharmacy', and 'paediatrician' if you are in a country that speaks a different language.
End your sightseeing tours before you baby is over-stimulated or tired.
Carry their favourite toys to keep them engaged. Don't wear jewellery that can hurt them.
Take non stop flights if possible and sync the flight timings with the baby sleep timings if you can.
Engage your baby and explain to them what they are doing, where they are, what they are eating etc. Even though they may not seem to respond, they process everything.
T+L India: Any message that you would like to give to pregnant women who wish to travel as well but are unable to do so?
Anindita Chatterjee: Believe in yourself. As long as you have no complications and your doctor allows you, go ahead and live your best pregnancy that you have always dreamt of so that you cherish this period for the rest of your life. As the saying goes, "you have only one life, but if you live it right, one life is enough!"
T+L India: Any advice for parents who wish to travel with their babies?
View this post on Instagram
Anindita Chatterjee: It's not hard; it often sounds like a bigger deal than it is. Be more patient with yourself and your baby, and everything will be fine.
T+L India: What's next on your bucket-list?
Anindita Chatterjee: Waiting for me to make enough money to fly to Mars!
Related: Going Places With People: Here's Why Single Mum Evie Farrell Travels The World With Her Daughter Emmie
Written By