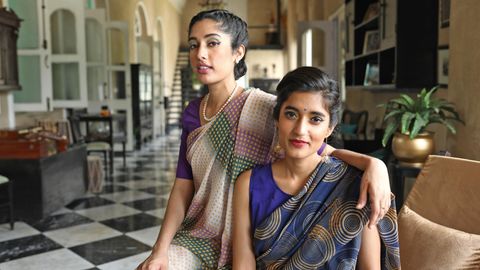 Princesses Akshita and Mrinalika Bhanj Deo of the Bhanja dynasty of Mayurbhanj, Odisha created a buzz in the travel industry when they restored their 200-year-old palace and opened it to the world. Today, The Belgadia Palace stands as a powerful symbol of their vision and dedication to preserving heritage. The social entrepreneurs talk to Travel+Leisure India & South Asia about their journey.
T+L India: What inspired you both to pursue a career in the hospitality industry? Mrinalika Bhanj Deo: Our family has always been entrepreneurial and promoted social enterprise in Mayurbhanj. Belgadia was restored keeping in mind that travel can be a means to sustainable development and that homes can be seen as a platform with social impact as the core ethos.
Akshita Bhanj Deo: Mayurbhanj has such an illustrious history and contributed so much to make the fabric of the nation richer that we decided we could reconceptualise the idea of a palace. It was a way to engage with local communities, promote conservation, and continue culinary traditions for a new age audience.
T+L India: In what ways do you incorporate sustainability practices into the daily operations of The Belgadia Palace?
Mrinalika Bhanj Deo: The Belgadia Palace is dedicated to preserving local flora through edible landscaping and restoring indigenous and exotic plant species. We prioritise waste segregation, energy efficiency with Energy Star appliances and LED lighting, and sustainable water management. Our property utilises sustainable building materials and promotes the use of refillable dispensers and eco-friendly products. We engage in nutrition farming and composting. We support local artisans through artist residencies and prioritise hiring and upskilling youth from the community. Additionally, we partner with sustainable brands for our boutique store, providing market linkages and free marketing.
T+L India: How do you curate a mindful experience for guests during their stay at The Belgadia Palace?
Akshita Bhanj Deo: A percentage of the funds generated from room bookings and dining experiences directly support non-profit organisations focussed on education, health, sports, arts and architecture, and conservation. As we are a state prone to natural disasters, we work on making sure we stick to guidelines on energy savings and water savings, and have calculated our carbon footprint to monitor ways we can reduce that year on year. The key ingredients of our cuisine are millets and local spices, and we have tied up with the Odisha Millet Mission to procure millets. We also promote dying crafts like Dokra and the folk martial arts tradition of Mayurbhanj Chhau, which is on UNESCO's List of Intangible Cultural Heritage.
Mrinalika Bhanj Deo: We offer tailor-made experiences focussed on heritage, arts, culture, culinary delights, wildlife, and rural tourism. Our experiences involve interacting with locals, shopping in local markets, cooking and eating together, and engaging in activities like paddy field sowing and learning adivasi tunes. With over 20 distinct adivasi tribes in Mayurbhanj and a staff at Belgadia that represents 15 of these tribes, we provide an immersive, earthy, and conscious approach to tourism.
T+L India: Are you involved in any initiatives to revive and promote the lost art and culture of your region, in addition to restoring your family palace? Mrinalika Bhanj Deo: Yes. We have built an in-house boutique store which houses handlooms and handicrafts of the district that day visitors and guests can buy as well as learn about the craft. We have a fifth generation Dokra artist who comes every evening to meet guests and speak about his art form. Guests can purchase wares from him or place orders directly for commissioned work. We are also launching an artist's retreat later in the year for creative minds to come and explore the region's rich art and culture. Last year, Mehrangarh Fort Trust and Musuem [officials] came down to Mayurbhanj to do a restoration report and train select members of our staff to understand restoration and importance of heritage conservation.
T+L India: The Belgadia Palace has put Mayurbhanj on the world tourist map. How do you ensure that this recognition translates into sustainable livelihood opportunities for the local community?
Mrinalika Bhanj Deo: A percentage of funds generated from visits to The Belgadia Palace is dedicated to our philanthropic arm, the Mayurbhanj Foundation. This enables us to support and invest sustainably in local non-profits focussed on healthcare, sports, arts and culture, conservation, and education.
Akshita Bhanj Deo: Last year, we conducted a digital literacy and entrepreneurship training in collaboration with Creative Dignity and Digital Entrepreneurship Foundation. The programme empowered 30 individuals in sabai grass weaving and Dokra and to market and scale up their businesses using online platforms and technology.
T+L India: What are your plans for The Belgadia Palace?
Mrinalika Bhanj Deo: To promote wellness and craft and expand the property with more keys, to have an in-house spa, be known for its yoga retreats and craft tourism, create craft clusters especially in and around Simlipal, where wildlife tourism will be the next big outdoors circuit.
Mindful Mentions by Akshita & Mrinalika Bhanj Deo Favourite environmental author: Shalini Devi Holkar for Cooking of the Maharajas The Royal Recipes of India and Almond Eyes, Lotus Feet: Indian Traditions in Beauty and Health
Favourite eco-friendly destination: Pondicherry and Leh, Ladakh
Related: Entreprenuer Sahar Mansoor Sheds Light On The Realities Of Running A Zero-Waste Brand
Written By