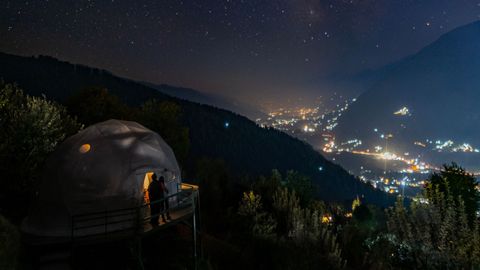 From being a mountaineering enthusiast to being an adventure documentary filmmaker, Akshat Jain, co-founder of GlampEco — India's first eco-friendly glamping stay– is doing it all. In a conversation with Travel+Leisure India & South Asia, the sustainability champion reveals all that goes behind setting up the country's first eco-friendly glamping stay.
Excerpts from the interview with Akshat Jain:
T+L India: You are an engineer turned mountaineer. What was the journey like for you and what inspired you to make the shift? Akshat Jain: As an engineer turned mountaineer, I discovered my passion for the untamed wilderness while starting an adventure club at university. Mountaineering courses spoke to me more than engineering as being in the wild, pushing my limits and taking care of my teammates is a huge part of who I am. Combining my engineering knowledge with mountaineering, GlampEco was born. Now, as an adventure filmmaker, I capture unique stories in remote areas, thanks to my mountaineering skills. This journey has been transformative, allowing me to embrace my calling and capture the essence of untamed exploration through my camera lens.
T+L India: Tell us about GlampEco and how it all started. Akshat Jain: In 2018, as a mountaineer and filmmaker, I stumbled upon a photograph of Eco Camp Patagonia, the world's most sustainable hotel. I was captivated by the idea of bringing similar dome structures to the scenic landscapes of Himachal Pradesh. Joined by my wife and former Zostel colleagues–Kush and Swagata–we embarked on this ambitious venture, purchasing a dome before securing a location. Eventually, we found the perfect spot at the base of an incredible trekking destination, offering breathtaking views of Manali, the adventure valley of India. We aimed to create a visually stunning, eco-friendly space, showcasing the possibility of blending beauty and comfort without compromising sustainability.
T+L India: GlampEco is known for fusing together sustainability and luxury. How do you achieve this? Akshat Jain: All four founders of GlampEco–my wife, Shilpi Rawat; Kush Tevatia and his wife, Swagata Paul; and I–had envisioned creating a successful, luxurious, and sustainable place. With over 40 years of combined experience in the hospitality and service industry, our main challenge was to design something environmentally friendly, which was essential considering the untouched nature of the location. To achieve this, we developed geodesic domes suspended on cantilever structures, leaving minimal impact on the ground. We prioritised eco-friendliness throughout, incorporating solar water heaters, solar electricity generation, and biodigesters that convert sewage into grey water and methane gas for reuse. We also minimised the use of plastic, implemented waste segregation practices, and actively supported the local community by generating income and empowering locals through various initiatives. Despite being a remote camping site, we ensured our guests experienced the utmost luxury, whilst offering eco-friendly yet comfortable accommodations and exclusive, high-quality experiences that integrate the local community. From tours guided by trained locals to indulging in local cuisine at local dhabas, our aim is to enrich guest experiences while preserving the land and empowering the community through sustainable practices and conservation efforts.
T+L India: What were the challenges you faced in creating a sustainable glamping site in the middle of the mountains and how did you overcome them?
Akshat Jain: In 2018, when we started, we were just young and wild. The first challenge we encountered was the unique structure of the geodesic domes, which had never been seen or attempted in an Indian context. Setting them up ourselves involved a steep learning curve, with trial and error guiding our progress. Being located at an altitude of 2,700 meters meant coping with heavy snowfall, which taught us valuable lessons in managing and clearing snow from the structures. The harsh winter of our first year resulted in damage and breakages, prompting us to redesign everything to withstand future snowfall.
Another significant challenge was finding and retaining skilled manpower in this remote area, as delivering a consistent and high-quality experience relies on a dedicated team. Our staff not only ensured the smooth operation of the site but also prioritised guest safety in challenging weather conditions. Additionally, our commitment to sustainability presented further obstacles. Creating infrastructure and processes that aligned with our eco-friendly goals required continuous R&D, as the extreme environment tested the durability and effectiveness of sustainable solutions such as solar panels and water heating systems. These challenges shaped our journey, and our determination to overcome the setbacks has made our sustainable glamping site a reality.
T+L India: Why did you choose Hampta to create this ecospace? Akshat Jain: I think you have to visit Hampta in all seasons to understand how beautiful this hidden gem is! As residents of the site, we feel incredibly blessed to wake up to breathtaking views, surrounded by the pleasant hospitality of nature—be it the cheerful birdsong or the charm of the glistening winter landscape. The concept of our geodesic domes seamlessly integrates with the exquisite scenery, offering guests a panoramic 180-degree view that showcases the ever-changing splendour of Hampta throughout the year. From monsoon clouds to snow-covered mountains and lush green valleys—the visual spectacle is unparalleled.
Moreover, Hampta serves as a gateway to the renowned Hampta Pass trek and other notable trails such as Sethan Dome and Lamadugh. It has also gained popularity as an exciting bouldering destination, an igloo village during winters, and a haven for backcountry skiing and snowboarding. In close proximity, waterfall trails beckon just a short stroll away, while authentic Himachali houses welcome our guests to immerse themselves in the warmth and hospitality of the local villagers.
T+L India: The stay also has a refurbished 50-year-old mud home. How did you come up with such a unique concept?
Akshat Jain: Originally abandoned for several decades, we felt a deep connection to this house as it epitomised the true essence of the land we sought to preserve. Instead of constructing a modern structure, we decided to restore and transform the dilapidated house into a cosy and vibrant space that we now affectionately call the mud house. This central structure serves as our common area, staff accommodation, dormitory, private rooms, the art kitchen, and cafeteria. It acts as the heart of our site. The juxtaposition of its heritage and contemporary elements creates a harmonious blend, allowing guests to immerse themselves in the authentic feel of the place while enjoying modern comforts. In fact, even before the completion of the geodesic domes, the mud house garnered immense attention and became a viral sensation, attracting visitors who yearned for the unique experience it offered. We incorporated original wooden features and utensils found in the house, repurposed the cow shed into a state-of-the-art kitchen, and successfully showcased how old-world charm can coexist with modern conveniences without compromising comfort.
T+L India: Could you share a story of a traveller who stayed at GlampEco, that you consider very close to your heart? Akshat Jain: One of the most memorable stories at GlampEco involves my dear friend Puneet—a traveller who sought respite in Himachal Pradesh during a break between his startup gigs. Drawn to GlampEco's popularity, Puneet initially stayed in the mud house meant for solo travellers, while the domes catered more to couples. Intrigued, Puneet approached me after a few days, assuming I was a volunteer due to my hands-on involvement. When I revealed I was the owner, he expressed his desire to volunteer, coinciding with our search for volunteers. He happily joined our team for an extended period, channelling his love and passion for the place, and transforming it into a friendly atmosphere where guests became friends and extended their stays. Through Puneet's influence, the affection for GlampEco grew, leading him to return to Manali after a year and settle here to find love and fulfilment in the mountains. He has become an integral part of our circle, a testament to the remarkable impact GlampEco can have on people's lives.
T+L India: How does travel influence you?
Akshat Jain: Travel has profoundly influenced me, drawing upon my 10 years of experience in hospitality and mountaineering. It has broadened my understanding of people and cultures, enabling me to embrace their uniqueness and extract the best from each encounter. This transformative journey has made me a more compassionate and well-rounded individual, particularly in curating memorable experiences for those visiting my destination.
Travel has played a pivotal role in my life, even leading me to meet my wife during a magical full moon night at the Taj Mahal. Moreover, it has fuelled my creativity, particularly in the realm of documentary filmmaking focused on adventure. Engaging in spontaneous road trips allows me to connect with the universe and delve into the depths of my subconscious, unearthing ideas that elude me when confined within the walls of my room. Ultimately, travel invigorates the artist within and contributes to personal growth, shaping us into more holistic individuals.
T+L India: What is your favourite travel memory? Akshat Jain: One of my most cherished travel memories took place in Chamonix, France–widely recognised as the ultimate destination for mountaineers and adventure enthusiasts. I had the incredible opportunity to join a crew from Decathlon—a renowned brand designing technical and mountaineering gear for global adventurers. As a representative of India, we embarked on a week-long trek in the Mont Blanc range, thoroughly testing their gear. This experience unveiled my true purpose and passion in life, immersing me among individuals who shared my deep enthusiasm for these pursuits. The trip fuelled my commitment to further explore my passions for mountaineering and filmmaking, as I recognised the prospect to contribute meaningfully to the community I wholeheartedly believe in.
T+L India: What's on your travel bucket list?
Akshat Jain: It's all the mountaineering and adventure destinations in the world. My idea is to put myself in places where not many would prefer or like going—like mountaineering, trekking, bouldering, or rock climbing in extreme destinations. From Patagonia to the Rocky Mountains, Yosemite National Park to the majestic Alps, including climbing the Dolomites and even aspiring to conquer Everest in Nepal someday. These pursuits fuel my daily motivation, pushing me to maintain mental and physical fitness. I am determined to check off these bucket-list adventures to seize life's exhilarating opportunities before my time is up. Reflecting on a life filled with wonder and adventure is my ultimate goal, ensuring profound satisfaction in the face of my remarkable journey.
Related: Inside Dolkhar, Ladakh's Zero-waste Luxury Resort, With Founder Rigzin Wangmo Lachic
Written By