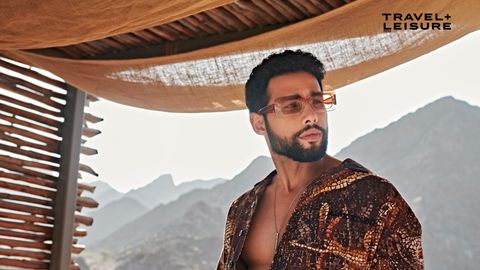 From a street rap artist to a cheating husband, actor Siddhant Chaturvedi effortlessly slips into the skin of his characters. As the millennial star's horror comedy movie Phone Bhoot releases in theatres countrywide, we take him to rugged Hatta near Dubai for a cover shoot. In a chat with Travel+Lesiure India & South Asia, Chaturvedi talks about his love for Mumbai, travelling, and more. By Bayar Jain
T+L India: You explored Hatta—what was the experience like? Siddhant Chaturvedi: Hatta was a place for explorers and adventure junkies. The scenery was stunning! There was a good mix of activities and relaxation. It felt like the perfect holiday destination for all kinds of travellers. I was most impressed by the art and culture of Hatta.
T+L India: What are your thoughts on Dubai?
Siddhant Chaturvedi: Dubai is the one-stop location for everything! Name the most bizarre things you can imagine and chances are, the city will have it. It's a melting pot of cultures and urban landscapes. It's like a second home.
T+L India: spent a lot of your growing years in Mumbai, what are some hidden gems you've discovered in the city over the years?
Siddhant Chaturvedi: Many! There are a bunch of places in the city that are quite hidden from the public eye. On the top of my head is the Vasai Fort, Sassoon Docks [Colaba], and the Chhota Kashmir Park in Goregaon. Mumbai might exude a lot of glamour, parties, hustle, and all that jazz, but if you look closely, there are tons of hidden gems worth visiting.
T+L India: have your travels influenced your work as an actor?
Siddhant Chaturvedi: Every city has a different vibe and unique take on things. I'm always fascinated by the local food! Language and art [of a place] also have a huge impact on me. As an actor, it is important to keep improvising, bettering your craft, and looking for nuances that shape the characters I play. Travelling helps me do just that.
T+L India: What does travel mean to you?
Siddhant Chaturvedi: Travel means being free. I can't find the same sense of wonder, amazement, and independence in my daily life. While I love the hustle and crave the constant chase of conquering my dreams, it's also very important to pause and enjoy moments of calm. Travel allows me to do that.
T+L India: What kind of traveller are you?
Siddhant Chaturvedi: I'm the 'last-minute, pack your bags and leave to unexplored places' kind of traveller! I like vacations that involve my bike, beautiful mountains, a few of my friends, my guitar, and no network.
T+L India: Tell us about your most memorable trip as an independent traveller?
Siddhant Chaturvedi: I don't travel solo. I love being surrounded by my people, and they are the best company when I travel. There's always music, laughter, banter, and space to be by myself.
T+L India: Are there any destinations that have moved you deeply?
Siddhant Chaturvedi: I recently went on a bike trip to Leh-Ladakh that I thoroughly enjoyed. Although my work takes me around the world, my favourite destinations are always in India. We have a vast history of culture, traditions, and breath-taking views. I'm constantly keen and excited to explore the places in my country.
T+L India: What are some of your favourite destinations in India?
Siddhant Chaturvedi: I visited Dharamshala with some of my friends. The weather, people, food, and the scenic beauty of the place make it a true gem!
T+L India: What projects are you looking forward to?
Siddhant Chaturvedi: A bunch of exciting projects are in the pipeline. Next is Phone Bhoot with Katrina [Kaif] and Ishaan [Khatter], which is a laughter riot. Then is an action flick Yudhra, for which I have donned a completely different role. Kho Gaye Hum Kahan is a coming of age story. I love how all three of them are poles apart from one another— making it even more exciting and thrilling.
Rapid Fire
Favourite Cuisine: Indian food in international locations
Bucketlist Destination: Japan
Solo or group travel? Even if I travel solo, I'll make a group of inspiring people I meet along the way.
Related: Discovering Hatta, The Adventurous Hub Of Dubai, With Actor Siddhant Chaturvedi
Written By