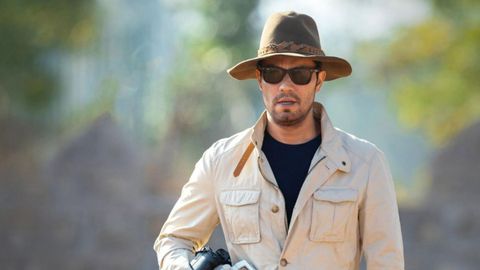 In a candid conversation, actor Randeep Hooda tells Travel+Leisure India & South Asia about his efforts to protect wildlife and their habitats, and why he wants to visit lesser-known national parks in the country. By Chirag Mohanty Samal
Excerpts from the interview with Randeep Hooda:
T+L India: There's a lot of buzz around Swantatra Veer Savarkar, for which you lost 15 kilos to play the character. How was your experience of working in the movie?
Randeep Hooda: The experience has been a consuming one. I did not know a lot about Veer Savarkar, but I learnt while preparing for the character, so it has been an enlightening journey. I had to lose weight to play the young Savarkar and I am now 18 kilos down. I have been deeply involved with the character and I am absolutely fascinated with his (Savarkar's) life.
T+L India: How does travel impact you as an actor? Randeep Hooda: Jim Morrison once said: 'There are only two ways to unravel, one is to sleep and other is to travel'. And I try to do a lot of both. Travelling gives you a larger perspective of life. You realize that you are a drop in the ocean and your problems, though not similar, are shared by many. And acting is basically understanding this perspective and putting it to use.
T+L India: One of the perks of being an actor is that you get to travel a lot. Tell us about some of the exotic places you discovered on the job.
Randeep Hooda: I did a road movie called Highway. We travelled a lot while shooting for it. We went to beautiful offbeat places. I saw a lot of Rajasthan, Himachal Pradesh, Kashmir, and areas in and around Delhi. I stumbled upon many exotic places where we had to put up in rest houses, where there was no electricity and water had to be heated separately. When you go to a place to live there and not see it like a tourist, you imbibe a lot of the local culture.
T+L India: What kind of a traveller are you?
Randeep Hooda: I often travel for a purpose. For instance, if I go to a jungle, I go for photography and for the purpose of conservation. I speak to local people, understand their problems, and think of ways in which I can help them. I can never sit by a beach and relax on a holiday because there's so much to explore and learn.
T+L India: Tell us more about your passion for wildlife—were you always fascinated by it? Randeep Hooda: I was always fascinated with animals and jungles. But I hadn't been to a forest, till I went to Dudhwa National Park. I stood at the gate and looked at the forest in amazement. It called out to me and since then, I have been going there a lot. I got to know about the legends of Dudhwa and that got me hooked.
T+L India: How did you get into wildlife photography? Randeep Hooda: Through Instagram, I met a wildlife photographer, Sarosh Lodhi. By then, I had already bought a camera but had kept it aside as it looked too complicated. Lodhi asked me to join him on one of his trips to Kanha National Park. On the very first day, I saw the male tiger Chota Munna and clicked my first ever images. That's how my journey started. Over the years, I have travelled to many national parks—Jim Corbett, Ranthambore, and Satpura and shot many images. My aim is to go to lesser-known parks, click photos, and create awareness about wildlife habitats. I want to show people how beautiful nature is and it's for us to preserve, enjoy, and admire.
T+L India: You are part of wildlife conservation projects. Tell us about them. Randeep Hooda: I have been a part of many conservation projects. I believe 'Save the Tiger' has become passé because the tiger population is now increasing. The bigger problem is to save the people around the tiger. We can't do that sitting in cities. I closely work with Lodhi's wildlife group CLaW. We organise medical camps regularly, we had sent ration to people in Dudhwa and Tadoba during the pandemic. We are constantly in touch with forest officers to understand the requirement of the locals. I also talk about the measures we need to take to conserve wildlife on social media—we need linear infrastructure in wildlife areas and mitigation measures to avoid clashes with roads and railway lines.
T+L India: What are the few things that you can't travel without?
Randeep Hooda: My phone, green khakis, hat, sunglasses, camera, and boots.
T+L India: What's on your travel bucket list?
Randeep Hooda: I want to go to lesser-known parks and meet the people there—IFS officers and the ground staff—to understand how I can help. And also, to see and capture the beauty there and make people aware of it.
Related: Going Places With People: Meet Rathika Ramasamy, India's First Woman Wildlife Photographer
Written By