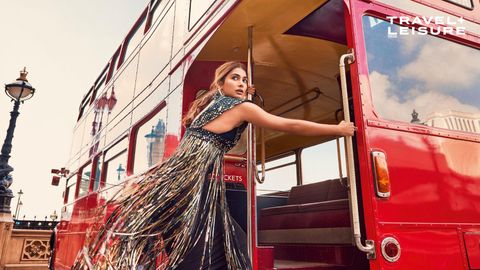 Travel+Leisure India & South Asia's anniversary cover star Pooja Hegde talks about her transformative vacations, how travel helps her avoid burnout, and why The Londoner Macao rates high on her experience list.
Excerpts from the interview with Pooja Hegde:
T+L India: You've shuttled between the south and the Hindi film industry. How challenging is that? How has working in both industries impacted you as a person and as an actor?
Pooja Hegde: It has taught me to hustle. India is diverse, so shuttling between the industries has helped me understand women in different places better. For instance, a woman in a small town would react differently to situations than a woman in Mumbai or Hyderabad. I get to work with directors who don't speak the same language as me; their work ethic is different, there's a lot of hard work and sleepless nights, but it's worth it.
T+L India: It's not easy for an outsider to create a niche for themselves in the movie business. But you have managed to do that well. How would you describe your journey? Pooja Hegde: It's been a roller coaster ride. It's had its ups and downs. When you're not from the industry, your first film always becomes the most important thing. If that becomes a hit, there are always more opportunities. But if that's not the case, you have to go back to square one and hustle again. Having said that, I think I've just gone where work has taken me. And I'm happy that I did that. When I look back, I feel it's not bad for someone who doesn't have a mentor in the industry. I've had to learn from trial and error.
T+L India: How does travel impact you as an actor?
Pooja Hegde: It opens my mind. One needs to travel to see different cultures and meet different people, otherwise you exist in a bubble and don't realise there's a whole world out there that's larger than yours. Especially for a workaholic like me, it's important to take these holidays to not burn out and to keep my mental health in order.
T+L India: The regional movie industry in India is getting big wins—RRR bagged the Oscars, Allu Arjun's Pushpa became a national hit. Do you feel regional films are now racing ahead of Bollywood?
Pooja Hegde: I feel that good content or films are succeeding and not just industries. As the director of Parasite said, if we can get over the barrier of a subtitle, we'll be introduced to a whole new world. I feel that films have the power to connect. There are so many different cultures in India; when watching a film from the south or Bollywood, you get to see their life and step into their lives.
T+L India: Which is the vacation that transformed you? Pooja Hegde: When I went to Europe, I saw people who are so free with their bodies. They're accepting of who they are. And I used to be so conscious about how I looked. I realised it is not about how big or thin you are. It's how you see yourself. I come from a conservative South Indian family and have led a protected life. I travelled to Istanbul solo and met people who didn't speak English, I stayed in a girls' hostel and travelled like a backpacker with a map. I met a bunch of girls there and ended up joining them, it was fun.
T+L India: Which has been your most memorable trip?
Pooja Hegde: Last year, I took my parents to London; it had been a dream of mine to take them on an all-expense-paid holiday and fly them in business class. I just wanted to spoil them. Little things like taking my dad out to eat ice cream gave me pleasure because as a kid he took me out to eat ice cream.
T+L India: What impressed you the most about The Londoner Macao?
Pooja Hegde: What's impressive is that Macau is all in one—if you want to just relax and see Big Ben without having thousands of tourists in front of you, this is the place to be. I have one of those touristy pictures with my parents in front of Big Ben in London and there are 50,000 people with us. If you want to experience London without any hassles, this is the right place.
T+L India: What's on your travel bucket list?
Pooja Hegde: I want to do an Alaskan cruise, go to Japan, and want to see the Northern Lights in Norway.
Related: British Vibes, Macau Magic: Exploring The Londoner Macao With Actor Pooja Hegde
Written By