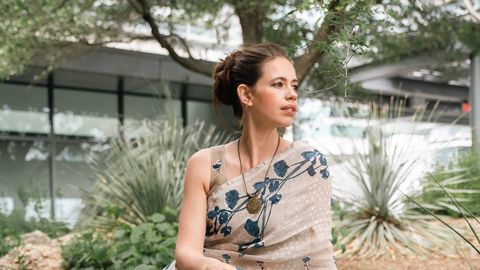 In an exclusive interview with Travel +Leisure India & South Asia, actor Kalki Koechlin gets candid about her memorable travel experiences, sustainable living, on embodying diverse roles and more.
Kalki Koechlin, known for her versatile portrayals, fearlessly embraces the essence of authenticity, both on and off the screen. Beyond the realm of acting, Koechlin's spirit takes flight as an intrepid traveller. But not just any traveller; she ventures into uncharted territories and embarks on rugged journeys akin to thrilling bike tours.
This indomitable traveller, as revealed through her own travel show Kalki's Great Escape alongside her father, showcases a deep-seated love for rugged exploration, immersing herself in the rawness of unfamiliar landscapes and cultures. Yet, her passion extends beyond personal adventures. She amplifies her voice as an advocate for social change, unafraid to speak out on critical issues that resonate deeply with her. Moreover, she wholeheartedly embraces sustainability, embodying her commitment through conscious choices and actions.
While this formidable spirit embarked on another journey, we caught up with her and delved into her favourite travel experiences, her fearless pursuit of unique acting roles, motherhood, and more.
Excerpts from the interview with Kalki Koechlin:
T+L India:
You have portrayed a wide range of complex and diverse characters. How do you approach the process of embodying these roles, and what drives you to choose such varied projects? Kalki Koechlin: I believe that the projects find me rather than me seeking them out. I am always open to diverse roles and enjoy challenging myself as an actor. Fortunately, I have been fortunate enough to be approached for such projects. I have an eclectic nature and a desire for continuous learning, which drives me to seek roles that offer new perspectives and opportunities for personal growth.
T+L India:
You are also an accomplished writer. How does your passion for writing enhance your creative process as an actor?
Kalki Koechlin: Writing and acting go hand in hand for me. When I write, it allows me to express myself in ways that I may not be able to in everyday life. It helps me articulate my thoughts and emotions, which ultimately contributes to my performance. Writing monologues and poetry, in particular, help me dive deeper into my work and gain a better understanding of myself as an actor.

T+L India:
You have been vocal about social issues and actively participate in activism. What drives your passion for these causes? Kalki Koechlin: As a woman in a patriarchal society, it is vital for me to fight for my rights and the rights of others. Some issues personally resonate with me, such as child rights, as I strongly believe that every child deserves protection. When you have a personal connection to an issue, it fuels your drive to advocate for it.
T+L India:
You
advocate for sustainability. What are some of the key environmental issues that concern you the most?
Kalki Koechlin: One of the main concerns, particularly in India, is the lack of information we provide, especially in schools. I feel that environmental education should be an essential part of the curriculum by now. My daughter's generation seems to be more aware, as they learn about recycling and other sustainable practices in school. Considering the imminent challenges of climate change in the next decade, it is crucial to address these issues adequately.
T+L India:
Has motherhood made you more conscious of your choices?
Kalki Koechlin: Definitely! Becoming a mother has made me more conscious of my choices. When you have a child, you constantly seek engaging activities for them. I experienced the challenges of living in a city like Mumbai, where there are limited spaces for children to play that aren't centred around consumerism and plastic. A year ago, we made the decision to move to Goa. We wanted a garden, trees, and an environment where my daughter could freely explore and get her hands dirty. We now grow our own papaya, chikoo, and lemon trees, ensuring that what we consume is not solely store-bought.
T+L India:

And how has Goa worked out for you?

Kalki Koechlin: Goa remains convenient for me to commute to work since my work is still based in Mumbai. We often drive as a family, and Goa provides a pleasant journey. Another reason is the availability of a good community for toddlers. It was important for me to find friends for my daughter who has young children, as I had very few friends with kids in Mumbai.
T+L India:
How do you incorporate sustainable practices into your own travels?
Kalki Koechlin: I tend to choose destinations that promote sustainability in general. Instead of staying at resorts, I prefer immersing myself in local communities, tasting local food and staying at a local guest house. I often find that connecting with locals offers a more authentic experience than being a mere tourist. Additionally, I try to utilise local public transportation systems or opt for cycling whenever feasible, depending on the specific location.
T+L India: Share with us the most memorable travel experience that has had a profound impact on you.
Kalki Koechlin: I travelled a lot on a motorbike with my father growing up. We went on numerous bike trips, and I believe those trips were a significant learning curve for me. We were alone on the roads, facing all kinds of challenges like extreme heat, cold, and even hailstorms. Sometimes we had to stay in the tiniest places or ask strangers if we could stay in their houses. It taught me a lot about depending on the kindness of strangers. I also learned a great deal about bikes and how to fix things on the spot.
T+L India:
Which was your favourite place from
your travel show Kalki's Great Escape
?
Kalki Koechlin: I really liked Arunachal Pradesh. The changing geography from rocky terrains to lush greenery and snow-capped peaks was captivating. The entire mountain range offered a unique experience.
T+L India:
Are there any destinations on your bucket list that you are yet to explore?
Kalki Koechlin: I would love to visit South America. However, I'm waiting for my daughter to grow slightly older because it can be quite a challenging journey. Moreover, it requires a significant amount of time due to the distance.
T+L India: Is there any

sustainable destination that you would love to visit?
Kalki Koechlin: I have heard a lot about Bali and its sustainable practices. I would love to visit the place at some point and experience it firsthand.
T+L India:
Can you share any upcoming projects or collaborations that you are particularly excited about?
Kalki Koechlin: I recently completed a film called Goldfish, which features Deepti Naval and myself. It revolves around a mother-daughter relationship, where the mother has dementia. It's a deeply moving project, and I'm excited about its release later this year. Additionally, the second season of Maybe is also set to release, and I know many people are eagerly waiting for it!
Related: Dia Mirza: "A Sustainable Way To Travel Is To Be Mindful Of What You're Consuming."
Written By