Travel+Leisure India & South Asia's special issue Weddings & Honeymoons' cover star, actor Aditi Rao Hydari, gets candid about her idea of a romantic getaway, an idyllic honeymoon spot and why she likes close, intimate weddings. By Chirag Mohanty Samal
Excerpts from the interview with Aditi Rao Hydari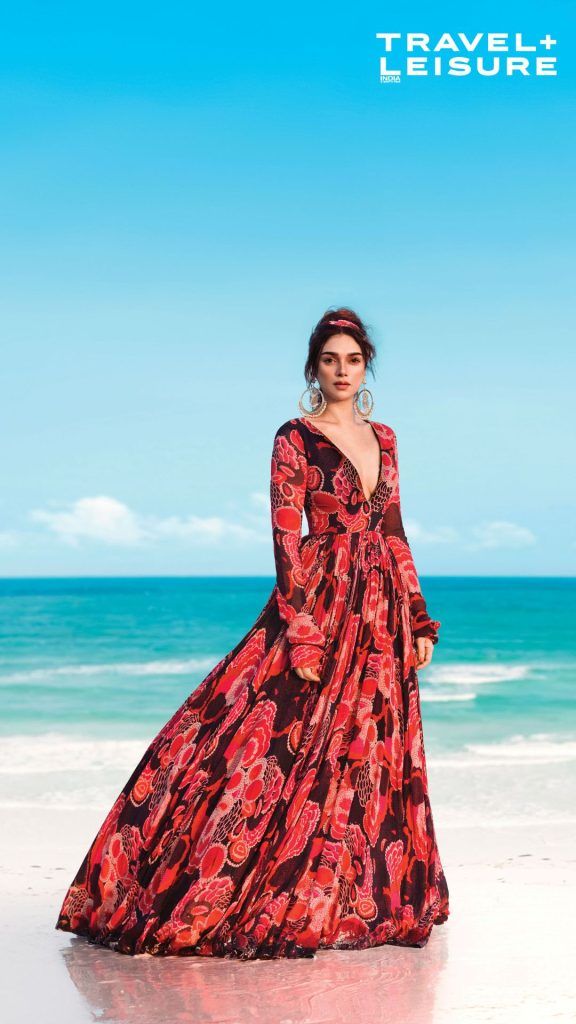 T+L India: How hard is it to always be your best version? What do you do for your glowing skin and fit body?
Aditi Rao Hydari: I've studied and become nerdy about it now. Earlier I wasn't, I just relied on genetics. But, over time I have become more mindful because as actors we have erratic schedules and odd sleeping hours. A lot of directors that I have worked with, have wanted me to be on screen without makeup. So, it's about the little things that add on over time—like not abusing your body.
But at the same time, you need to understand what works for you and what doesn't. You need to eat healthy, but once in a while give in to your cravings – eat those chocolates! It's all about balancing things out.
Most importantly you need to stay happy, then you can channel that happiness into whatever it is that is happening around you. Happiness is infectious and people latch on to it. You could be the most beautiful person in a room, but if you're unhappy, you aren't going to make anyone happy.
T+L India: How do you stay fit while travelling?
Aditi Rao Hydari: The simplest thing would be to do a 10–15-minute functional routine. I feel that if you have behaved with your food and maintained your timings, then just 15 minutes is enough to keep you feeling good.
I'm not a gym fanatic and I don't want to be dependent on that kind of thing because it's addictive. I want to be able to work out when I can and not feel terrible when I don't. I really love yoga and dancing, so I try to do that whenever I can.
T+L India: How does travel inspire you as an actor?
Aditi Rao Hydari: Travel expands your mind, and it makes you less judgmental. It makes you accepting of different people and cultures. To me, travel is about celebrating differences and diversity. I feel like a five-year-old when I'm travelling because there's so much to take in. There's a sense of adventure in the unknown and I love that.
T+L India: What is your idea of a romantic getaway?
Aditi Rao Hydari: When you're with the person you love, any place becomes beautiful. It's about two people being comfortable and happy in each other's company.
But with the work that I do, it would be good to go away to a place where you can just be a part of another environment seamlessly. Where you can just chill, let your hair down and not worry about someone identifying you. I crave for that anonymity.
T+L India: What according to you is an idyllic honeymoon destination?
Aditi Rao Hydari: Tuscany and some places in Portugal are beautiful. I generally like Europe because I love history and the culture is quite varied in different parts.
T+L India: You shot at Jumeirah Sadiyaat, what did you like about the property?
Aditi Rao Hydari: The expanse of an empty, private beach and the blue sea. I love being near the sea—I find it very romantic, beautiful and musical. I love the sound waves. Just being here (at the property) made me breathe easy and it felt peaceful. Everything was moving in slow motion, I enjoyed that feeling.
T+L India: What kind of wedding would you prefer—a lavish destination wedding or a close intimate affair?
Aditi Rao Hydari: I'd prefer an intimate, destination wedding, which is a close affair because I feel celebrations need to be done with your closest people. It's their blessings that matter the most, and it's about feeling the love at that point.
Rapid Fire
What's on your travel bucket list? South America and Korea for their beauty industry.
A place in India you really want to explore? The Northeast and Madhya Pradesh.
First thing you do on reaching a new place? Figure out where to eat!
Most memorable holiday till date? Each holiday I took as a little girl with my mum, grandparents and cousins in Mangalore and Ooty.
Related: Actor Aditi Rao Hydari Plays Bride At Saadiyat Island, Home Of Dreamy Wedding Locations