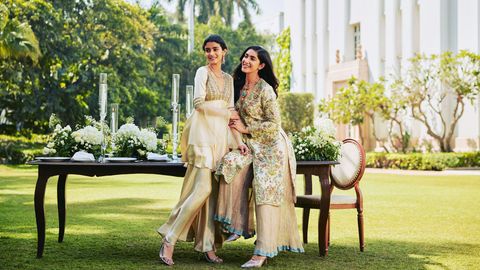 From timeless bridal ensembles to ethereal home furnishings, veteran couturier Ritu Kumar shares the art of assembling a sustainable bridal trousseau. By Arpita Kala
Excerpts from the interview with Ritu Kumar:
T+L India: Sari blouses with statement sleeves are an integral part of your collections. How can sustainability-focused brides-to-be style these pieces? Ritu Kumar: Over the years, we have seen the sari blouse evolve and transform into a trendy piece of clothing. What once used to be a basic essential to style your sari has today become a primary piece of clothing. Extravagant blouses are very popular these days and re-purposing them is even more exciting. You can pair your statement blouses with a number of outfits—high-waist skirts, dhoti pants, palazzo pants, a contrasting lehenga. If you really put your mind to it, the possibilities are endless. Statement blouses have become an essential for women, who like to experiment with their wardrobes.
T+L India: As brides opt for more minimalistic weddings, what colours do you think will dominate this wedding season? Ritu Kumar: While deep, earthy tones are always more preferred during winter weddings, pastel shades never go out of style. Picking a minimal outfit in a stunning shade could instantly uplift your look.
T+L India: What are some things to keep in mind while picking a wedding outfit for a sustainable and eco-conscious wedding? Ritu Kumar: One thing that lies at the centre of sustainability is the idea of reusability. I always encourage brides to opt for evergreen silhouettes that can be easily transitioned into more wearable pieces down the line. Apart from that I also urge brides to explore sustainable handloom fabrics like silk, where not only are these pieces sustainably sourced and ethically manufactured, they are also very durable, making them ideal for transitioning later on.
T+L India: According to you, what is the quintessential sari in the trousseau of a sustainable bride, that will be timeless and can become a family heirloom? Ritu Kumar: Gorgeous Banarasi silk is a wedding wardrobe staple—the richness of the fabric and the way the cloth picks up its colour makes it the perfect choice of textile while considering a bridal look.
T+L India: What would you suggest as the perfect wedding gift? Ritu Kumar: I feel a beautiful dining set with classic patterns or prints will always make for a lovely wedding gift. It also is a very thoughtful and functional present since the newlyweds will be starting their journey together at a new home.
Related: Designer Ritu Kumar Talks About Exploring India For Her Exhibiton, Kanaat
Written By