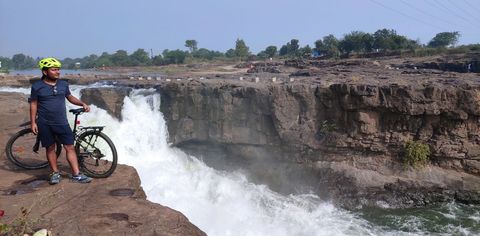 Nothing spells slow travel better than cycling for hours. Avid backpacker, Indranil Roy, understands this. Having already traversed 500 kilometres in Kumaon; 700 kilometres in Igatpuri, Nashik, Shirdi, and Pune; and at least a thousand kilometres along the entire Konkan and Malabar coast, the riding enthusiast has since made it a mission to ride the entire length of Ganga in India and Bangladesh, both. By Bayar Jain
1. What motivated you to take up cycling for your travels? I'm an extremely spontaneous person and believe in living in the moment, so the motivation for this, too, was kind of spontaneous. As a slow traveller, I like to experience things at my own pace, and what better way of doing that than cycling?
2. How did you prepare your body and mind for long-haul cycling adventures? I started cycling in June 2020 and have been regular on Gurgaon-Delhi roads since. I've gradually gained kilometres in three months. I still remember when I did my first 100-kilometre ride on August 15, 2020; I thought I would give up cycling. The following week, however, I rode 10 kilometres extra. Since then, I haven't looked back.
More than one's physical stamina, one's mental strength helps in long-distance cycling—and I possess that immensely. As a backpacker, I have always challenged myself to explore without any guides on difficult treks. I have even walked for long distances in the remote Himalayan terrains.
3. How do you combat weather-related challenges during your journeys? I consider myself blessed to have the ability to quickly adapt to new altitudes or topographies. However, some basic protection is required in terms of clothing. While riding in hot weathers, hydrating at regular intervals is essential, particularly since I prefer sticking to fresh-yield rather than supplements.
4. As a solo traveller, how do you ensure mental wellbeing, particularly when riding alone for several hours on the road? Strangers and their warmth convince solo travellers to never quit the road. Every morning when I sit on the saddle, there's a huge grin on my face and a rush of adrenaline. The roads are an inspiration for me. As a cyclist, accumulating kilometres keeps me going. As a matter of fact, even today, before starting any long-distance ride, I worry whether I'll be able to finish it on time and reach my destination.
5. How do you overcome difficulties or hurdles while riding, such as broken chains, lost routes, etc.? I always ensure that I keep very close contact with the locals, particularly for navigation. However, in places such as faraway hamlets in the mountains, it becomes difficult to find immediate solutions. One must be patient. For example, my chain broke twice in a place close to Munsiyari in Uttarakhand's Pithoragarh district. I had to wait for more than two days to get a new chain. Eventually, I got an expert from Decathlon to guide the local mechanic via video call.
With regards to routes, I also keep a close eye on the GPS. However, there are moments when the phone's battery could die out. Then, verify the routes with as many locals as possible; don't be shy.
6. Since most of your long-distance cycling adventures have been in 2020, did the ongoing pandemic hamper your trips in any way? I was extremely paranoid about coming in contact with people, but it eventually faded while I was riding in Uttarakhand. I have been taking all the necessary precautions laid down by the government bodies and doctors. Luckily, the pandemic hasn't posted any hindrance to my trips so far.
7. What has been your longest journey yet, and how was the experience? My longest journey, so far, has been from Pune to Mumbai wherein I covered a total distance of 174 kilometres under 10 hours (including an hour-and-a-half-long break). The experience was very good, but the hot weather posed a challenge. Since I had started around noon, most of the ride was under the burning sun.
My second-longest one was 163 kilometres long in Kerala. That, too, was quite challenging because of the super narrow roads and rowdy drivers. Plus, every 200 metres, there was an elevation or a steep climb.
8. What are some hidden gems you've discovered during your journeys? There are many, but one I can recall very well is a place called Shama in Uttarakhand's Bageshwar district. I reached there on a very cold night after riding from Munsiyari. The extremely steep climbs had worn me out. The following morning, I hiked for four kilometres to witness a breathtaking view of the Himalayan ranges. I bet only a handful of travellers have seen that!
9. What are some of your most memorable experiences while on the road? Once, I was guided by an SUV's headlight through a forest crossing near Chaukori in Uttarakhand. Every single person had warned me that the place is infested with leopards. Another time, near Mangalore in Karnataka, an auto driver offered me lunch at a restaurant and enquired whether I had enough food or water to survive the road. I was touched.
The most memorable time was when my chain broke and I had to stay put near Birthi Water Falls in Uttarakhand. While on trek, I found some abandoned cows who were nearing death. I used all my contacts and paid villagers to help save them. That day, we ensured the cows reached an animal shelter.
10. Going forward, you wish to cover the entire length of Ganga in India and Bangladesh. How are you preparing for this mission? Regular rides. I have also started running to further amp my endurance. Before starting the expedition, I also plan to ride in different locations of varying altitudes. This way, I'll be comfortable during my ultimate journey.
11. Any tips for budding long-distance cyclists?
Be very cautious on the road; hydrate very well; eat light, before and during the ride; and always wear a smile.
Related: Bucket List Material: 20 Ways To Slow Travel Through India
Written By