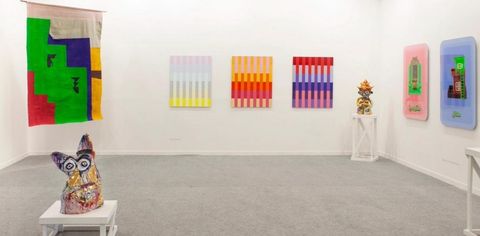 Mavericks in their own right, here are a few women artists who presented at India Art Fair 2022 that you should know about. By Shalini Passi
The thirteenth edition of the India Art Fair opened its gates for art enthusiasts on April 28 – May 1, 2022 in New Delhi, after a long pandemic pause. IAF Parallel and IAF Metaverse debuted as few of the key features of this edition. There were several curated events, talks and exclusive previews, some of them starting as early as April 27, hosted by India Art Fair, respective galleries and museums. India Art Fair 2022 resulted in a much anticipated art affair after being postponed, with a great footfall, all four days. A few galleries even accounted for being almost sold out within VIP preview days. Bharti Kher is a leading contemporary woman artist renowned globally. She uses bindis as a symbolism that has formed the core of her materiality for a larger part of her career, post her transition to India. This everyday dressing object used by Indian women underplays several metaphors, historical connotations and narratives. In Kher's work, the bindi transcends its mass-produced diminutiveness and becomes a powerful stylistic and symbolic device, creating visual richness and allowing a multiplicity of meanings. Little Truths was exhibited at the Nature Morte Booth at the 2022 edition of the India Art Fair. Shilpa Gupta is renowned for her thought provoking conceptual artworks. She delivers the social and political injustices of the society with a ray of hope. She has found her niche in curation of free speech. The work 'Untitled (Spoken poems in a bottle)' was displayed at the Chemould Prescott booth and is an ongoing artwork. Gupta meticulously curates her words, which are verses from censored poems, handwritten on empty but sealed medicinal glass bottles, highlighted by a traditional bulb. In a manner, preserving these invaluable verses for the future audiences. Sudipta Das is known for her paper sculptures characterizing human figures from various walks of life. 'Home' by Sudipta Das envelopes a stainless steel home structure filled with thousands of human figurines, layered on top of one another. This particular work is inspired by the pandemic, where the world was confined to their respective homes for months straight. Each figure is distinguishable from each other, holding umbrellas, suitcases, varied outfits, signifying the urge to travel back home. The stainless steel structure is metaphoric of the open yet inaccessible world, outside our homes. The sculpture exhibited at the Latitude 28 booth, conceals multiple layers and meticulous detailing, caught several eyeballs. Rana Begum is globally renowned for her multi-media practice. Her works span across site-specific installations, sculptures, paintings where she has been exploring the play of light and color in urban environments. She intertwines sculpture, architecture and painting with her minimalist abstraction. Her works showcasing the same, were exhibited at the Jhaveri Contemporary booth. With clay as her primary medium, Lubna Chowdhry derives meaning and context from urbanization. She traverses across various disciplines of architecture, sculpture, design and painting and translates them into ceramic pieces. Her works reflect multi – cultural references, testimonial of her Asian – Islamic origin, and her current British inhabitat. Her ceramic works Marker 15, Marker 16 and Marker 21 were exhibited at the Jhaveri Contemporary booth.
Anita Dube at Chemould Prescott Anita Dube is widely known for her multi-media practice, ranging from installations, performances and videography. Her former education as an art historian and critic is reflected in her meticulously detailed conceptual artworks. She takes cues from language, history, mythology and personal experiences. Her works Duo 1 (Politics/Erotics) and Duo 2 (Reason/Ecstacy), was displayed at the Chemould Prescott booth.
Gauri Gill at Chemould Prescott Gauri Gill is a well celebrated Indian Contemporary photographer. Her works are thoughtful and sensitive to regional and marginalized communities. She commenced her series Rememory in 2003 which were formerly semi-rural landscapes and later grew into cosmopolitan urbanscapes. The photographs are composite of contrasting hybrid architectural aesthetics. A part of this series was displayed at Chemould Prescott Booth. Tayeba Begum Lipi isone Bangladesh's most celebrated contemporary artist. She highlights social inequality/biases, sexual stereotypes and social injustices in a patriarchal society. Her sculptures imitate and recontextualise everyday feminine objects like beds, nightdresses, undergarments and dressing tables with materials like safety pins and razorblades in stainless steel. Her sculptures were exhibited at the Shrine Empire booth.
Related: Directors Of The Vadehra Art Gallery, Roshini And Parul, Reveal Their Favourite Art Destinations
Written By