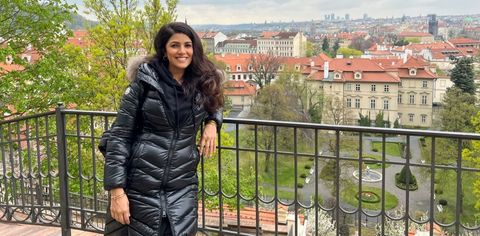 Actor Nimrat Kaur shares how being born into an army family instilled a love for travel in her, some memorable destinations that she has been to, and a few must-visit places in Prague, where she was recently shooting for season two of the hit American TV series Foundation. By Chirag Mohanty Samal
Nimrat Kaur is not your regular Bollywood leading lady. A look at her diverse body of work will tell you why. She debuted with Anurag Kashyap's Peddlers in 2012; earned accolades for playing the tenacious housewife Ila in a poignant love story with another man in The Lunchbox in 2013; and in 2014, landed a part in American television's Homeland, where she convincingly pulled off the role of Tasneem Qureshi, an ISI agent. Recently, she made quite an impression as the housewife-turned-power-hungry politician in Dasvi. Her comic timing struck a chord with the audience and at the same time it reminded us that she can't be stereotyped. She will be seen next in the season 2 of the hit American series Foundation, where she will share screen space with Emmy Award nominees Jared Harris and Lee Pace.
In an exclusive interview with Travel + Leisure India & South Asia, Kaur tells us how travel has shaped her into the person she is now and lets us in on some of her happiest travel memories around the globe. T+L India: Your role in the movie Dasvi was much appreciated. What kind of preparations went into it?
Nimrat Kaur: Stepping into the shoes of Bimla Devi was one of the most incredible experiences. The role not only required me to learn the Haryanvi accent but also needed me to put on weight. By the end, I was approximately 15-16 kgs heavier from when I began. It was an interesting process to learn to speak and look like someone who is diametrically opposite to what I am in real life.
T+L India: Any anecdotes from the sets of Dasvi that you would want to share with us?
Nimrat Kaur: Working with Abhishek was an absolute pleasure. He also happens to be a great storyteller and narrated several anecdotes about his childhood. I recall, when we were on opposite journeys, wherein he had come out of a movie having put on some weight and I had to gain some weight. We were on different diet regimes and it was interesting how we ordered different things on the sets while working together.
T+L India: You recently went on a trip to Prague. What did you enjoy the most over there?
Nimrat Kaur: I was in Prague to shoot for Foundation season 2. I loved the weather the most because Bombay was boiling hot when I left. I landed in Prague during spring time and there were apples, cherry trees, tulips, daffodils, and other flowers in full bloom everywhere. And I loved walking around one of the most revered and loved European cities. Everything in Prague falls within walking distance, it's a compact city. I would walk aimlessly and end up in beautiful places without a map. T+L India: What are the must-visit places in Prague that you would recommend?
Nimrat Kaur: The Castle of Prague is beautiful but the gem of the city is its National Library. It's one of the most beautiful spots I have ever seen. It's a gorgeous ornate structure. You need special permission to visit it because it's not open to everyday tourists. The Letná Park is also my favourite. It has a vantage point from where you can see all of Prague. Petřín Lookout Tower in Prague is quite interesting. It's like the Eiffel Tower in Paris. The tower is equipped with elevators which will take you up to a place from where you get a spectacular view. The Charles Bridge and Lennon Wall are the other big attractions.
T+L India: What are your favourite eating joints in Prague?
Nimrat Kaur: Café Savoy, Grand Café Orient, Café Louvre and the Globe Bookstore and Café in the old city are frequently visited by tourists. I love this special dessert called doughnut ice cream cones that you get at the Charles Bridge. There was a long queue, when I went, but the desert was amazing.
T+L India: Are there any shopping destinations in Prague or the whole of Czech Republic that you would want to go back to?
Nimrat Kaur: Old Town Square is where most of the shopping and high street brands are. Shopping there is a delightful experience. One can spot all kinds of stuff from glassware to puppetry. The shops there have been aligned into historical buildings and monuments and they look stunning. T+L India: How fond are you of travelling and how often do you travel?
Nimrat Kaur: I am extremely fond of travelling. I was born into an army family, which means I had to often pack my bags and move to a different city every two to three years. I don't know any other way of life or how to stay put in a single place for too long. All my life choices have always led up to a nomadic life. It is amazing that my work takes me to all kinds of incredible destinations. I always make it a point to explore these places whenever I get some time off work. I mark places that I would like to explore and decide whether I want to go trekking or hiking since I am a huge nature enthusiast. I live to travel!
T+L India: Does travel inspire you as an actor?
Nimrat Kaur: I don't think anyone can come out unaffected or uninspired after a trip somewhere. Travel enhances your personality. You feel alive in different ways when you travel, you interact with different people, understand their lifestyle, get exposed to various cuisines, languages, architecture and belief systems. It changes your perception of life, it puts things in perspectives and personally travelling is always levelling for me. As an actor it helps you keep in touch with people you may need to play at some point of time.
T+L India: Your most frequented destination?
Nimrat Kaur: My most frequently visited local destination is Mulshi (in Maharashtra). I love that place. It's gorgeous in the rains and is easy to get to. Whenever I get some time off, I go to Mulshi. Otherwise, I love going to New York, my sister lives there.
T+L India: Your happiest travel memories?
Nimrat Kaur: My happiest travel memories are of Cape Town. I was shooting there for Homeland season 4 and I have never seen a land so rich in vegetation, flora and fauna. The happiness quotient of the town is quite high. I loved going on hikes there, the ocean was mesmerising. I drove the length and breadth of Cape Town. I would love to go back there as it's one of the places that impacted me the most. Some of the best restaurants and finest cuisines that I haves tried is also from there.
View this post on Instagram
T+L India: Which city impacted you both personally and professionally?
Nimrat Kaur: It has to be Mumbai. I migrated to Mumbai from Delhi and what I am today is an extension of this city. Within two or three weeks of living in the city, I felt a sense of belongingness. This city has nurtured me and given me an identity.
T+L India: At T+L, it's all about #GoingPlacesWithPeople. Did you feel a personal connect with the people of any particular place?
Nimrat Kaur: Recently, I was shooting in Tenerife which is a Spanish territory. I was shooting for Foundation season 2 in the Canary Islands at the beginning of the year. There was something remarkably enduring and lovely about the locals there. They were loving, and warm. I connected with them instantly. There was a girl called Gara, she drove me around Tenerife and took me to small restaurants, cafes, lookout points and hikes. I was there for a short period of time, but I will never forget these experiences.
T+L India: What's on your travel bucket list?
Nimrat Kaur: I can't wait to get to Japan. I also want to visit Yosemite National Park and Serengeti National Park. I want to see Nagarhole Tiger Reserve [in Karnataka] as well because I love nature and wildlife.
Related: Going Places With People: MasterChef Australia Judge Jock Zonfrillo Says He Wants To Eat At Every Street Food Stall In India
Written By