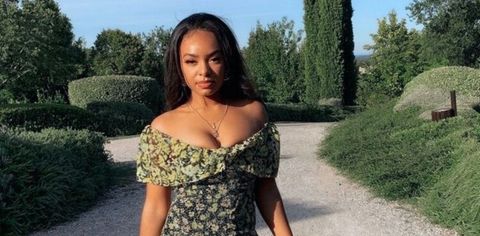 Moscow-born UK-based travel photographer Nancy Lova enjoys making connections as she traverses the globe, all while noting cultural differences along the way. Her visit to India in 2019, however, shifted her gaze inwards. The curious traveller tells us more. Text by Bayar Jain; photographs by Nancy Lova
T+L India: What did you explore in India? Nancy Lova: I visited India in April 2019. I stayed in Udaipur, also known as the city of lakes, in Rajasthan. I spent much of my time alongside Lake Pichola, and visited places such as the City Palace and Jagdish Temple.

T+L India: What were your first impressions of the country? Nancy Lova: The people stood out to me the most. Every person I met was so warm and kind, and wanted to welcome me to India in the best way possible. Driving through the city offered an insight into what Udaipur—and the country as a whole—was like. The streets were vibrant and colourful; the architecture was eye catching; and although the roads were busy and filled with traffic, it created an exciting experience.
T+L India: What were some moments that stuck out for you during your trip to India? Nancy Lova: Every encounter I had with someone was so wholesome and meaningful. I learned about various stories from individuals—from those working at hotels and restaurants to the guides at temples. Each person had their own story to tell about where they were from and their love for India.
I felt embraced everywhere I went, through kind gestures such as local women often placing a bindi on my forehead. Also, usually when I travel, I'm very cautious about how I get around. But in India, I felt safe and at home. I jumped onto tuk-tuks and allowed the drivers to show me around Udaipur whist educating me on the history of the city.
T+L India: An Indian dish that you loved? Nancy Lova: Although there are some great Indian restaurants in the UK, for me, it's not the same as eating in India itself. There are some dishes I would love to have again when I return such as saag, biryani with raisins, samosas with chai, and pani puri.
T+L India: Places you'd like to visit the next time you're here? Nancy Lova: I would love to visit Goa for its beaches, Mumbai for its city scene, and Amritsar for its Golden Temple.
T+L India: According to you, what's so special about India? Nancy Lova: India is the most spiritual place I've ever visited. There is a certain wholesome energy that revolves around religion and God that influences visitors to leave feeling different compared to when they arrived. I never knew what to expect upon arrival—and I visited during a challenging time in my life—but I left feeling at peace and with more clarity than ever before.
T+L India: Define India in a sentence. Nancy Lova: India is holy; India is whole.
T+L India: Why did you choose to focus your work on "Indian and Arabic influences, with some European twists?" Nancy Lova: This is where I naturally gravitate to. I'm intrigued by cultures different to my own and how they are represented through architecture, places of worship, traditions, and the people. Whether it be in India or Morocco, for example, I am fascinated by the way in which different cultures blend together in places, languages or food, creating an interesting and unique history. It's something I always want to learn about and share the knowledge in my work.
T+L India: Many believe that India offers transformative experiences. Your take? Nancy Lova: Absolutely! I have always heard the same. Many often go to India in search of a new beginning or awakening within themselves and, although this wasn't my intention, I experienced a transformation. It seemed as if India knew I needed this. I didn't go to India in search of anything or for work or photography. In fact, I hardly used my camera! I just wanted to be 'present' somewhere far away from home. I visited during a time when things were challenging for me and whilst my trip was sudden and unplanned, everything started to fall into place for me after my visit and because of that, I am forever grateful to India. It will always be the best trip.
T+L India: Any tips from your experience as a solo woman traveller visiting India? Nancy Lova:
Engage in a conversation with the locals, regardless of language barriers. Kind gestures and a smile go a long way.

Trust your gut whenever on the move in India. If something feels good or bad, trust your intuition.

Visit places of worship and learn about the history. I found this to be fundamental in learning more about India.

Research or allow your accommodation to create an itinerary of things to do. This would provide a clear sense of direction and plan for the day.

Have emergency contact numbers, as well as the hotel's number saved in your phone and written on paper, just in case you get lost or lack phone connectivity.

Try to use the same tuk-tuk or taxi driver when getting around. I personally find this comforting when I meet a driver I feel safe with and can trust. I also like to build relationships with people when I am away as the trip becomes more meaningful this way.
Related: Your Ultimate Guide To Udaipur: All You Need To Know About The City Of Lakes
Written By