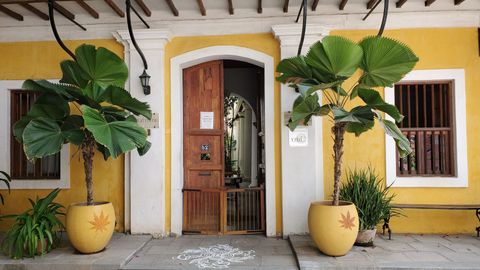 With over a decade-long career of hosting on Airbnb, Kakoli has found the balance between sustainability, heritage, and immense hospitality. The Pondicherry-based Superhost talks about her homestay Kariappa House, blending Tamilian elements with French styles, and more.
Excerpts from the interview with Airbnb superhost Kakoli:
T+L India:

Can you tell us about the cultural or historical elements that are significant to your homestay Kariappa House, and Pondicherry, especially its French influence? Kakoli: We have restored part of our homestay in the traditional local Tamil style and part of it has been rebuilt in the Franco-Tamil style using traditional materials and techniques. Apart from that, all the wood, wooden pillars, doors, and windows that we have used are from old houses that have been torn down or demolished. We adapted these windows and doors to suit our current needs by adding extra shutters for glass and mesh.
T+L India: What inspired you to focus on preserving and promoting the heritage of Pondicherry through your homestay?
Kakoli: Pondicherry has a rich architectural heritage. Many of its old French and Franco-Tamil houses have been preserved. At the same time, many such private houses are also being demolished because they require extensive effort and maintenance. As someone who loves and appreciates vintage design, architecture and lifestyle, I felt that we must do our bit–not only to restore such buildings but also to inspire others to do the same by making it a success story. I love that I get to share this story and home with so many people through Airbnb!
T+L India:

Can you tell us about your hosting journey with Airbnb? Kakoli: I have been hosting on Airbnb for more than a decade–probably for about 15 years. Airbnb has brought me closer to my guests because of the personal connection built through directly interacting with the guests. Whenever I am around [at the homestay], I love meeting the guests we are hosting. This enhanced level of personal connection makes the overall experience more meaningful and memorable for me as well as for my guests.
T+L India:

How do you strike a balance between preserving tradition and offering guests the comfort and modern amenities they demand?
Kakoli: While we ensure that we provide reliable high-speed internet, we do not provide TV in the rooms. This is because we nurture and promote a habit of quietness so that others are not disturbed. We provide an old-world tea room, but not individual tea trays in the rooms. We make sure all rooms are air-conditioned but we have also invested in solar panels and solar inverters so that we use resources as consciously as possible.
While making bookings, we ensure guests know that we are not a typical hotel! Once they have gone through our house guidelines, they have the freedom to decide. And once they stay, we know they will have an experience unlike any other!
T+L India: Can you tell us how you offer your visitors a taste of Pondicherry's authentic local cuisine and flavours? Kakoli: We recommend our favourite places and also conduct a street food walk. We support local home chefs who explore and experiment with local traditional food. We also take orders for a multi-course local meal, cooked and served at Kariappa House but available only for our guests.
T+L India:

Are there specific traditions, practices, or architectural elements in your homestay that reflect Pondicherry's heritage? Could you describe them?
Kakoli: The main building has been built in the traditional Franco-Tamil style which is a hallmark of Pondicherry's heritage. Every bit of the construction, materials used and finishes, fall back and draw from the practices used in the early 1800s and later.
T+L India:

Are there any memorable guest experiences that you fondly recall?
Kakoli: Many! [It's] difficult to name a few. Most have become friends over time.
T+L India:

What are your thoughts on Airbnb's partnership with the Ministry of Tourism to promote heritage stays across India? Kakoli: Most heritage properties are typically either privately owned or operated by five-star hotels. [Through this unique partnership] it is great to see homestay owners getting a global platform with Airbnb and the Ministry of Tourism to promote the rich heritage our country has to offer.
Heritage properties, steeped in history and architectural brilliance, offer an authentic glimpse into India's rich cultural tapestry but can tend to be neglected and forgotten sometimes. This partnership casts a vibrant spotlight on India's rich cultural heritage, revitalising its presence. Another commendable facet of this partnership is Airbnb's support to Hosts in untapped tourist areas, assisting them in promoting their homestays, building host capacity, and fostering a culture of responsible hosting.
T+L India:

What is your approach towards hospitality?
Kakoli: Today it is imperative to embrace sustainable and responsible tourism. In the realm of hospitality, I find contentment in hosting as long as it aligns with my ethos of embracing a slower lifestyle while concurrently benefiting the local community and economy. However, on some occasions, overcrowding of tourists can become a cause of discomfort or displeasure for the local community. Prioritising quality over quantity should remain our guiding principle.
T+L India:

Is there any experience that has proven to be more popular or memorable for your guests?
Kakoli: I think any kind of personal guidance, personalised service and attention to detail makes a huge difference and leaves a profound impact — that is what guests remember the most!
All photographs courtesy of Airbnb
Related: Discover The Soul Of India As Airbnb & The Ministry Of Tourism Join Hands
Written By